The rise of the octogenarians
View(s):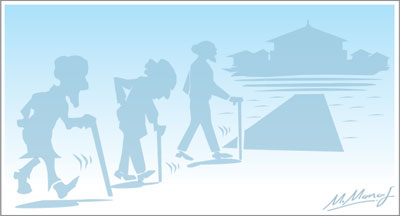 In April last year, I celebrated my eightieth birthday.
It was, I realised, a great privilege that I have been granted to have lived beyond the three score years and ten allotted to us men by the ancient Jewish Psalmist. It is a privilege, however that is tinged with some sadness as I realise that many of my friends of childhood have now passed on – the doctors who were so busy looking after the health of others that they neglected looking after their own health, the lawyers who spent so much of their time prosecuting or defending those who had been arrested that they themselves suffered fatal cardiac arrests and the successful businessmen who devoted so much time and effort to earning money that they ended up in the prime of their lives as the richest men in the cemetery at Kanatte.
I, however, a simple journalist, have had a most interesting life. During my lifetime I have met many interesting people and have had a ringside seat to witness momentous events in our country. I have witnessed much in the pursuit of my profession and learned things far beyond my ken.
But over the last year, having passed the significant milestone of eighty years, I have realised that I am getting old.  My proverbial Get Up and Go has now virtually got up and gone. I cannot walk as fast as I would like to, and as for running – that is something of which I only have memories. I have aches and pains in parts of my body that I never imagined could ache or pain.
But this month I must admit that I have been given reason for hope and a new lease of life when I realise that my fellow octogenarians are doing very well for themselves and rising to prominence in this country.
Last month, Vasudeva Nanayakkara (who is actually older than I am — he was born in January 1939) was appointed Minister of Water Supply. The one time LSSP firebrand who has a reputation for using crude un-parliamentary language in parliament was elected last month as their parliamentary representative by the voters of the Ratnapura district — the same enlightened folk who at that very election also sent a felon convicted of murder to parliament. I suppose it is much better to be recognised as an octogenarian than a felon — but at an age when most of us over eighty are enjoying the twilight of our lives, it gladdens me to know that at least one of us has been entrusted with a responsible full time job. I wish Vasu every success.
These days, eighty years olds are not just aspiring for ministerial office. No less a person than one-time army lieutenant, Colombo mayor and Speaker Karu Jayasuriya has indicated that he is ready willing and able to lead the moribund 75 year old UNP. Jayasuriya will turn eighty later this month – on September 29th to be precise. If elected as leader (and I am sure the selection will be delayed as long as possible, the current 71-year-old leader wanting to hang on to the job as long as possible) he will have joined the ranks of us doddering octogenarians.
Let it not be said that this penchant for promoting octogenarians to political leadership is confined to the so-called majority race in our land. The Tamil National Alliance still has 87-year-old Rajavarothiam Sampanthan as its leader while the Tamil People's Alliance is currently led by an eighty-year-old retired Supreme Court judge from Manipay, C.V Wigneswaran.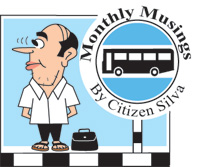 Not to be outdone by the Sinhalese and Tamils, the Muslim community could count on the mercurial A.H.M. Fowzie, who has during his long political career been at various times mayor of Colombo, MP representing the SLFP, MP representing the UNF and aspiring MP representing the SJB. The voters of Colombo, however, seem to have been more discerning than the voters of Ratnapura, Trincomalee and Jaffna and rejected oldies past their use by date like Fowzie and Ranil Wickremesinghe, sending only younger MPs to parliament this time.
So this new parliament seems to be having an eclectic collection of persons who have been elected as "honourable members ". We now have, inter alia, an MP convicted of murder, an MP accused and awaiting trial for murder, an MP who has openly and on a public platform confessed to murdering hundreds of soldiers – and three octogenarians.
And it is not only in Sri Lanka that old folk are getting into their own. Both candidates for the US presidential election to be held this November are in their seventies – while the immediate past prime minister of Malaysia, the hale and hearty Dr. Mahathir Mohamad was 93 years old when he was sworn in as PM in May 2018.
I have been rejuvenated by all this news about the current crop of eighty year olds holding the reins in our country.
It has been enough to
make even my aches and pains
disappear!