Man of many faces
By Anoushka Jayasuriya
Brindley Jayatunga's passion for portraits has taken him places
View(s):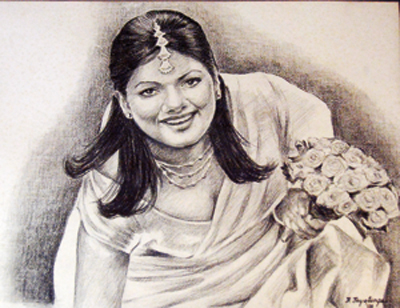 "There are 7 Billion people on Earth and every face is different," says portrait artist Brindley Jayatunga and in the little pocket book that he maintains, he has since the 1970s faithfully sketched over 18,000 of these faces in pencil, paint and pastels.
The current Vice President of the Ceylon Society of Arts and recipient of the Kalabooshana State Award in 2016, Brindley's passion for portraits began at the age of ten when he drew Montague Jayawickrama, the second Governor of the North Western Province. Brindley's father later gifted the sketch to the veteran politician. Honing his talent on his own, Brindley further expanded his skills at art schools in Germany and London. In Munich he attended Akthof where he learned life drawing. In London he learned portrait and figure drawing at Heatherley School of Fine Art and Camberwell College of Arts.

Brindley traces his beginnings of drawing portraits of the public  back to 1974 when he was in the German town of Heidelberg boarded at the home of an elderly couple. One day during breakfast he had completed a quick sketch of the lady and recognising his skill, she had urged him to set up his easel in an area of the main street free of traffic and filled with pedestrians admiring the sights of the town.
With two stools set up next to a sign in German which read "Ihr künstlerisches Porträt", or 'your artistic portrait' in English, Brindley didn't have to wait long as a crowd had begun to form around him almost instantly. "I started in the morning and I went on non- stop till evening, as they kept lining up one after the other," he recalls.
This practice continued across geographical locations when his brother who was also an artist and studied art in London, encouraged Brindley to join him there. Brindley began doing portraits at a spot near the National Portrait Gallery and spent his free time visiting the many museums and galleries in London.
Returning to Sri Lanka 1978, he ventured into tourism, making use of his knowledge of German to work as a tour guide. He went on to become a National Tour Guide Lecturer and is the recipient of awards from the Sri Lanka Institute of National Tourist Guide Lecturers. Successfully balancing both art and tourism, Brindley continued to visit Germany every year to draw portraits.
Brindley is also a familiar face at Kala Pola, Sri Lanka's annual open air art fair presented by the George Keyt Foundation in association with the John Keells Group.
Years of experience have helped him develop a keen eye for the finer details of each face right down to the eyelashes, where the light falls and which features should be highlighted in his sketch.
The finished product is a collection of minute details all unique and specific to each subject and how they frame the face and figure, he says.
Over the years, he has been teaching portrait drawing and sharing his knowledge on traditional art with his students while still adding to his portfolio of portraits.