Appreciations
View(s):

He was a visionary multitasker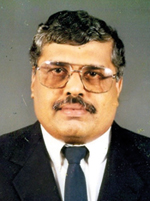 Prof. Ananda Samarasekera
The only child born to Ariyasena Samarasekera, a senior clerical servant and Priya Punchihetti, a schoolteacher and head mistress of Pimbura, Agalawatta in 1953, he was named Ananda by his father after his school – Ananda College.
Little Ananda obtained his primary education in Kalutara and secondary education at Dharmapala Vidyalaya, Pannipitiya and then at Nalanda College, Colombo.
He entered the Faculty of Medicine, University of Peradeniya in 1976 and graduated in 1981, completing his internship at De Soysa Hospital for women and General Hospital Colombo in 1981-82 respectively under the supervision of Dr. E.L. Joseph (VOG) and Dr. W.D. Wijekoon (VP).
Dr. Samarasekera joined the public service in 1982 as a medical officer at General Hospital, Ratnapura and then served at General Hospital, Kalutara as a Medical Officer during which time he worked as Acting Assistant J.M.O.
He was among the first batch of trainees under supervision of Dr B.A.W. Balasooriya, obtaining the Diploma in Legal Medicine in 1985. Thereafter he followed a training programme leading to MD in Forensic Medicine at the J.M.O.'s office, Colombo & Colombo South under Prof. M.S.L. Salgado and at the Department of Forensic Medicine, University of Colombo under Prof. Nandadasa Kodagoda, obtaining his MD in 1987.
He obtained a Diploma in Medical Jurisprudence (London) and Diploma in Forensic Medicine from the University of Glasgow in 1990.
He was Board certified as a specialist in Forensic Medicine from 1989 by the Postgraduate Institute of Medicine. After returning to Sri Lanka, he was appointed as the first consultant Judicial Medical Officer of Colombo North Teaching Hospital Ragama in 1991 where he served till 2007. He was the Visiting Consultant and Academic head of Department of Forensic Medicine, Faculty of Medicine, Ragama from 1993-2003.
He worked as a Fellow and later as a Locum Forensic Pathologist in Path center, Western Australia in 1995.  Dr. Samarasekera served as a Forensic Pathologist for ICTY, in Bosnia between 1999 and 2002 conducting war crime investigations and was the first from South Asia to hold this position.
He served as the Head of the Forensic Medical Examiner's office, Department of Justice, United Nations Mission in Kosovo (UNMIK) from 2004 to 2009 and functioned as a Forensic Pathologist for ICTY. During this period, he was the chief international forensic medical practitioner for United Nations in Kosovo. He served as a member of the International Advisory Board on forensic services of ICRC from 2007-2013.
He was the Chief JMO Colombo, Institute of Legal Medicine and Toxicology, Colombo from 2007 till 2013.
After retirement from public service, he joined the South Asian Institute of Technology and Medicine (SAITM) as the head of the Department of Forensic Medicine and held the chair in Forensic Medicine. In April 2015, he was appointed as the Vice Chancellor of SAITM.
He authored several publications in national and international journals and presented papers at national and international conferences
He served as the Vice President of the Sri Lanka Medical Council from 1998 to 2009 and was Chairman of the Preliminary Proceedings Committee (PPC) of SLMC since 1996 to 2007. In 2000, he pioneered the establishment of the College of Forensic Pathologists of Sri Lanka with three PG trainees and served as its President in 2008. He was also President of the GMOA and President of the Medical Specialists Association for several years, a Vice President of the OPA and President of the Medico Legal Society of Sri Lanka from 2009-2011.
Prof. Samarasekera had vast experience in the establishment and development of medico legal systems and centres nationally and internationally. He was enthusiastically involved in curriculum development of undergraduate and post graduate Forensic Medicine courses and in-service training courses for medical officers throughout his career.
His untimely death in June this year  left a huge vacuum in many sectors related to medico-legal field
His wife is a senior Consultant Histopathologist and their only daughter  is a Medical Officer at SJTH, Thalawathugoda and son-in-law a Medical Officer at BH, Karawanella.  Prof. Samarasekera was the grandfather of twins.
May he attain the supreme bliss of nirvana!
 President and Council, College of Forensic Pathologists  of Sri Lanka
There will always be this vacuum in our lives
It's not easy to write this heartfelt tribute for a close relative without tears welling up in our eyes.The sad news reached us on June 20 and we were shattered. We wanted to be with Ananthie and Lucky to share their grief but the situation did not permit us.When we sat down to contemplate on Ananda's life and how he gave importance to his relatives, especially to his in-laws, it was something admirable and extraordinary. We fondly remember his warm welcome, his broad smile, when we visited them at his home at Pepiliyana. He took a genuine interest to make us feel comfortable with his great hospitality. He never failed to participate in all our family functions. He treated us like his own family members and shared his dreams and achievements. He was a man of integrity and worked diligently to rise to the position of Chief Judicial Medical Officer and later Professor, but he was always the same Ananda to us.

He had a large heart to help people in need and took pleasure in doing so. We were very privileged to have him in our lives. He was very honest, impartial and sympathetic but on the flip side a fun-loving person.

When we went to his daughter's wedding in 2014 we spent a few weeks with them. The bond between us grew stronger and he insisted that we should visit more frequently from Canada, for the benefit of our children. Since we all have only daughters, he felt that the relationship between the children should be strong. In the midst of a busy schedule during the wedding he found time to take our daughter for special treats. He was a loving and dedicated husband and father and spent his time with the family whenever he could. We regret that we never had the opportunity to see him after that.

We miss you a lot Ananda! Words cannot describe the grief in our hearts. We always talk about the good times we had together and how Ananthie and Lucky would be missing you. Son-in-law Anju would do his best to keep them going but the vacuum can never be filled.

He fought a brave and strong battle for two years and took each day in his stride without complaints, hoping that the treatments would restore his health and he could enjoy his days with his grandkids.

His beautiful spirit will live on through his precious daughter Lucky and grandchildren, and they will feel his presence with them always and know how dearly he loved them.

Now our hope is that he rest in peace with the assurance that he had taken care of the wellbeing of his family members even in his last stages.

You enriched our lives

While you were here.

Now we must learn to live

Without you so near.

Time may soften the blow,

But your memory won't fade

Not a day will go by.

We wish you could have stayed.

Sadly missed and fondly remembered by:

Mohan, Thaya and Nibitto( Tirzah) 
---
To an unforgettable lady
Joy Ferdinando
Born in 1935 to the silent generation,
Made a rare distinction as a lady from Moratuwa who established an organisation on Duplication,
with the vision of passing it down to her generation.
With a passion for the future generation,
Introduced a new platform of education
Which immensely benefited Lankan future generation.Worried was she about the continuation of the organisation
After her expiration..
This desperate sensation,
made her delegate authority to her children to ensure continuation.
To be admired was her determination
Which caused the success of the organisation.
She encouraged me to gain qualifications,
that would help the progression of the organisation
After her expiration.
The family making efforts towards the organisation
Gives solace to her soul in her new destination.
There is no doubt that she was nothing but an inspiration to the present and future generation.
The great work she has done to society is beyond one's imagination.
She was no doubt an exception in the silent generation.
Recalling the adventurous 85 year journey of her life brings a heart melting sensation.
 Rehana Ferdinando Perera   (grand-daughter)
---
 Though small in stature he had a big heart
Hettige Sureweera
Sure, as we fondly referred to him, was born in1948 in a remote village in the vicinity of Sinharaja forest known as Mawanana, Neluwa. He is no more but his legacy lives forever. There is much to learn from his love towards everyone which we want to remember.
Starting from the village school he finished his schooling at Richmond College, Galle and later entered the University of Peradeniya qualifying as a mechanical engineer. After his training at the River Valleys Development Board (RVDB), he served the institution until he joined as an UNIDO volunteer to take an assignment with the government of Lebanon. Thereafter, he joined the BOI and for nearly 15 years, was a director at Biyagama, Seethawaka / Horana export zones. After his retirement, we together formed a company with the main objective of serving SMEs, by sharing our knowledge and experiences.
Though an engineer, he showed skills in many fields and sectors, from occupational health and safety, agriculture, livestock, health, GHG assertions and would boldly undertake even unknown territories and challenges. Delivering quality work was in his blood.
Though small in stature, he had a big heart which sensed the needs of anyone irrespective of race, language, caste, creed, religion, rich or poor, powerful or weak. He tirelessly helped his friend from Jaffna living in England to get his ID to apply for dual citizenship. In Lebanon he was an unofficial Ambas-sador to many Sri Lankans by helping in all official matters and correspondence.
He remembered his schools and teachers with love and praise.We remember him talking about the services  rendered by Rev. W. J. Small of Richmond College. In the 50th anniversary souvenir of the University of Peradeniya, Engineering Faculty 67/68 batch which he helped to compile he wrote: "Other than becoming engineers, we were moulded to be committed and disciplined in all our dealings, yet with compassion by our great teachers. We realized their real value while at work."
He had a good command of both Sinhala and English. In his early struggles with the English language when entering university he wrote,"Heavily handicapped with the language barrier as if suddenly landed in an alien planet, Good Samaritan – Emmanuel appeared as my great saviour from heaven to help me out". Emmanuel is one of our batchmates presently living in Sweden.
Sure's  love for his family was immense and he cared for them even if work pressure was high. After his dear wife passed away, he looked after his only child Sevwandi like the pupil in his eye and later his granddaughter.
Sure was always Sure. He was an extraordinarily humble person. We miss him very much and will never forget his sweet smile and friendship.
Sena, Kirthi,    Nihal and Joas
---
Amma, you made us what we are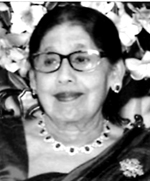 Soma Wimalasundera
On a day like today three
years ago
You left us, to an unknown abode
It pains to feel the absence
of losing
A mother as strong and
steady as you were
Amma stood firm
alongside Thattha
Encouraging and advising in his numerous ventures
She being the driving force
Behind that enterprising man
As the seventh
Among her brood of ten
Growing up was tough
None dared step beyond the boundaries she set
We grumbled and protested and showed our anger
Not realizing, the countless
sacrifices she made
With no privacy or time
for herself
Which we now cherish
and hold dear
Turning back now I see
How she planned and
moulded us
To give us, her children the strength and courage
To be responsible adults
Mano
---