Trial and error for traffic lanes
Pix and text by Amila Gamage
View(s):
The police will continue with trials of moving peak hour road traffic in dedicated lanes in select roads of Colombo and suburbs after shelving a decision to impose a fine of Rs 2,000 from tomorrow on offenders.
"We will not impose fines immediately, but we plan to call those violating rules for [road] traffic classes,'' Senior Deputy Inspector General of Police (SDIG) Deshabandu Tennakoon told the Sunday Times
On Friday, the traffic police allowed three-wheelers and motorcycles into one lane, having restricted them to the bus lane earlier. Bus operators had protested against allowing others into a lane marked for them.
But, the idea tried out on Friday for bike and three-wheelers is only workable when four lanes are available.
There were mixed reactions from the police and drivers, though many favour enforcing road discipline.
About 500,000 vehicles enter Colombo city on a working day.
Mr Tennakoon said the lane system tried out on Friday was the most effective so far.
"Our objective is not to penalise any one, but to introduce a disciplined road traffic system,'' he said.
In the next stage, rules violators would be tracked using CCTV.
The vehicle or bike license plate number will be obtained and they will be asked to join educational classes. Those who do not attend, will be fined.
"We are aware that we are being criticised, but it is for the benefit of all road users,'' Mr Tennakoon said. The plan would be expanded to other areas in the Western Province and elsewhere in the country.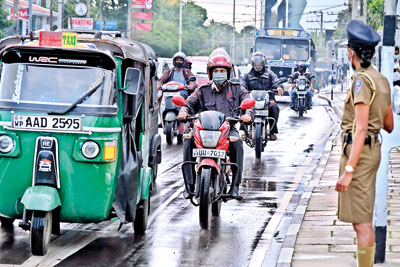 Director Traffic Senior Superintendent of Police, Indika Hapugoda said that based on Kotte road data, the  total number of vehicles entering Colombo city from the Sri Jayewardenepura side from 7 to 8 am  is 5,580. This includes 152 buses, 300 school and office transport vans and buses, 1700 bikes and 800 three wheelers.
The lane system is imposed from 6:00 a.m. to 9:00 a.m. and from 4p.m. to 7 p.m. from Polduwa junction near Parliament to Liberty Plaza junction, from Kelaniya Bridge to Kirulapone junction, from Anula Vidyalaya Nugegoda to Flower road, Colombo 7, and from William Grinding mill junction at Dehiwala to Galle Face junction.