Ten-shun! Army begins to shake up lacklustre public service
By Nadia Fazlulhaq
View(s):
Military-led training for future government servants commenced this week in 51 army centres, with the first batch of 10,000 graduates learning how to work more efficiently and earn respect as the government resolves to energise the public sector.
Participants will receive three-week residential training at security force headquarters, regimental headquarters and army training schools.
Army spokesman Brigadier Chandana Wickremasinghe said the programme will concentrate on leadership and team-building training, management training, training in private and state sector establishments, project work and field studies, cohesiveness and resilience.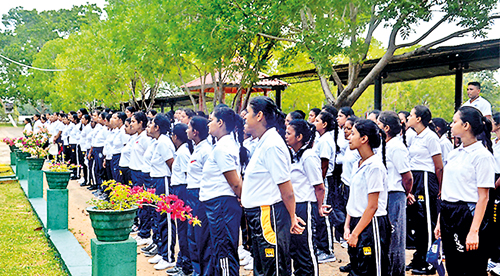 Graduates will be groomed in commitment, self-confidence, dedication and interest in their work to earn society's respect and recognition.
The graduate orientation programme will be conducted in five batches (September 14 to October 3, October 12-31, November 9-28, December 7-26 and January 4-21 next year.
Graduates have been asked to bring trackpants, white tee-shirts and canvas shoes/sports shoes for outdoor training and fitness programmes. They will also be asked to show a medical certificate and their National Identity Card.
Leave will not be permitted unless in an emergency. The use of phones will be banned during lesson-time.
All 50,000 graduates will receive Rs. 20,000 during the training period, directly deposited into their bank accounts.
The project is being closely monitored by the Ministry of Defence and coordinated and supervised at all seven security force headquarters levels.
Disabled, clergy and pregnant graduates will continue their training in their respective district or divisional secretariats. While 10,000 graduates are being trained at military bases, the other 40,000 will be receiving training at divisional secretariats at their areas until their batch is called for training.

Lecture topics will include the Constitution, the state service, social services, archeological sites and their importance, youth and sports, the country's social and economic goals, data collection, land management, poverty reduction, agriculture and irrigation management, development planning, child rights, women's affairs, and wildlife and forest conservation.
The trainees will be taken to state institutions in their areas to observe how these institutions function.
The Director-General of the Combined Services Division of the Public Services, S. Alokabandara, said job placements for the graduates will take place from the end of January 2021.
"Once all 50,000 graduates have received the orientation training, placements will take place. In the application it was requested that graduates state their fields of interest and their areas they are qualified in. Based on that, they will definitely be assigned," he said.
"These graduates most probably won't be unemployed as there are so many sectors that are in need of educated persons, from agrarian services to rural school education," Mr. Alokabandara said.
The army said preventive measures against infection from COVID-19 are in place at the graduate training centres, with instructors and trainees asked to maintain safe distance, use masks and observe other rules. The army will avoid using personnel returning from vacation or work-related absence from camp until health clearance is obtained.