Health guidelines not followed properly on Day 1 of the Book Fair
View(s):

While a high official of the Sri Lanka Book Publishers' Association assured that health guidelines (fever checks, hand hygiene, face-mask wearing and social distancing) were followed at the Colombo International Book Fair being held at the BMICH, a team from the Sunday Times which visited the venue on the first day (September 18) found it to be otherwise, posing the danger of a spread of COVID-19.

"The book fair is going on very successfully. From 8.45 a.m. to 3 p.m., around 30,000 people visited the fair," said the association's President Upali Wanigasooriya, explaining that health measures were adhered to.

Even though he said that as an incentive to help the authorities get the people's contact details, they announced a raffle, it did not happen during the time the Sunday Times team was there for about 1.5 hours.

Fever checks were carried out at the BMICH's main gate on the Sunday Times team. The tickets were sold near the book fair site of the Sirimavo Bandaranaike Exhibition Centre, where the queue was long with no social distance being maintained. There was no registration desk where people were supposed to give their contact details for tracing in case there was a COVID-19 outbreak. There were also many parents with babies and small children.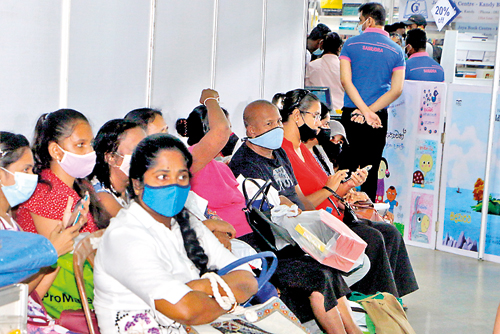 "We have advised people to wear masks and keep a metre's distance, hand-sanitizers are everywhere as well as washbasins. In Halls A and B, only a certain number of people can come in. Announcements are also being made about the health measures," said Mr. Wanigasooriya.
The Sunday Times heard these announcements in English, Sinhala and Tamil and saw a stall selling masks at Rs. 15, Rs. 20 and Rs. 156 each.
The book fair was spread over 15 halls with some halls having numerous stalls and others having just one stall. All 180 stalls had several people managing them.
In Halls A and B, the number of people entering and exiting was restricted, while hand-hygiene was being carried out. Here all the stall-holders were wearing masks but there was no crowd. However, in Hall J, health measures were lax and many were not wearing masks. The hall was packed with people disregarding social distancing. There was hand sanitizer only at one of the four entry-points.
The Food Court was teeming with people, most of whom had pulled down their masks and were seated close together.
With serious concerns that Sri Lankans are not thinking of the dangers of COVID-19, the Sunday Times carried out a vox populi online as well as in areas such as Town Hall.
Those who gave us their opinions included students, housewives, entrepreneurs, vendors, cleaners, lottery sellers and trishaw drivers.
While all of them were of the view that Sri Lanka had managed the pandemic "quite well and the situation was good", opinion whether people should keep adhering to health measures was divided, with 70% for and the balance 30% not sure whether there was a need.
A mother with two school-going girls was not wearing a face-mask but the latter were masked, while a trishaw driver and two women selling achcharu from plastic boxes under sun-umbrellas were also not using masks. Some people with masks were wearing them below their nose, making futile the reason for wearing them.
There was also a difference of opinion whether the book fair should be held or not, while the global Big Bad Wolf book exhibition due to be held in Sri Lanka from October 1 to 4 decided to go online.
Taking part in the vox pop, Imaad Cuttilan (24) said that even though people wear masks, social distancing and hand-hygiene levels have dropped.
He said that he may attend the book fair but there should be a restriction on numbers and it would have been better to hold it outdoors, with Heeran Lalvani (30) saying that it was "definitely not a good idea to hold the book fair. COVID-19 is still active and all it would take is one infected person".
"There's a huge chance of a new wave. There won't be social distancing and basic sanitizing," echoed Shamus Jayawardena (22) from Dehiwela, stressing that as a country we were able to contain the outbreak and efforts are needed to maintain this.
Terence K. Arachchi (49), the Dean at the Faculty of Management of Horizon Campus, said he will attend the book fair and with proper health protocols it should be fine.
"We must get on with our lives. Economic activity must forge ahead," he said, as Sue Yatawara (28) said she would not be attending.
"No amount of measures or sanitizer can control the crowd at the book fair. It's crazy! Literally thousands of people attend this fair from all parts of Sri Lanka, therefore it will be the ideal place for the virus to spread," said Sue, pointing out that although companies are active in enacting health measures, individuals have become lax.
Suggesting that an online or mobile book fair would have been better, Mirsab Samath (29) said that people have forgotten safety precautions when using public transport and at mass gatherings.
Risky to hold a book fair, said Shanelle Perera (17), adding that people are unlikely to wear masks properly and there would not be social distancing. If anyone has COVID-19, it would spread like wildfire.
Meanwhile, achcharu sellers W. Mangalika and Sithu Huseyma at the Viharamaha Devi Park who live in Grandpass said the economy has suffered and it is hard for people to earn a living. "If someone can earn an income from the book fair, it is good. We should face the situation, otherwise we will not be able to move on," they said.
A mother of two, Anusha Fernando, living in Rajagiriya had returned to Sri Lanka from Dubai just as COVID-19 struck. She feels that Sri Lanka has taken all the preventive measures so far. She was hoping to attend the book fair with her two children.
Trishaw driver A.L.J. Lasantha (50) said that his four daughters would be attending the book fair as COVID-19 is not an issue in the country. But the people should adhere to the health guidelines.
This was the same view expressed by Upuli Liyanage of Malabe who, however, felt that health measures should be implemented as otherwise it would be a "little" dangerous.
Lottery-seller K.G. Dharmaratne (54) from Kelaniya believes that the book fair is a good place to take children and did not see any problem in holding it, while Swetha Kariyavasam (38) from Hatton said she would attend the book fair wearing a mask to buy her son's school supplies in bulk.
A 21-year-old female student did not think it was a good idea to hold the book fair as it could set off a spread of COVID-19, as a flight attendant (23) added that if all steps are taken to protect the people, it should be fine. His argument was that if people can go clubbing and partying without any restrictions, a book fair cannot do much harm.