Forest of evasions shields those who raze forests
By Kasun Warakapitiya
Replanting strategy 'won't replace' priceless tall canopy
View(s):
Lack of co-ordination among state agencies and their failure to monitor and act on problems has resulted in a surge of mass-scale destruction of forests and environmentally sensitive areas including the Knuckles Range, investigations revealed.
The destruction of forest in Eluwankulama, Wanathawilluwa and of wetlands in Anavilundawa – both in the Puttalam district – clearing of forest in Panwila in the Knuckles Range in the Central Province, land-clearing in the Hantana area in Kandy and razing of mangroves in Negombo are among more than 25 incidents reported in the past two months.
A host of state agencies responsible for protecting forests, mangroves, environment and state land conceded that lack of co-ordination and poor supervision enabled the destruction of this natural heritage.
These agencies, while vested with responsibility to protect the environment, continually seek to duck this responsibility on grounds they are legally not empowered to take action.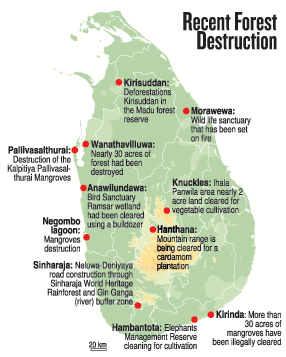 Investigations by the Sunday Times reveal that the agencies had more than one option to initiate action against culprits if they monitored the destructive activities.
The revelations came as the Government was making a desperate attempt to replant trees in despoiled areas, with some of the lost trees being more than 50-60 years old.
The Chairman of Central Environmental Authority (CEA), Siripala Amarasinghe, said the authority had complained to the police to take action against people who clear forests but the police had not acted.
He said the CEA would be more effective if it were given powers to directly arrest culprits.
Environmentalists and environmental lawyers say, however, that even existing laws were not being properly applied.
Environmental lawyer Jagath Gunawardena also said the culprits who direct illegal tree-felling get away while only those at lower levels are targeted.
Mr. Gunawardena said his research showed most forest clearing was being carried out by associates and family members of regional politicians.
The failure of police to satisfactorily investigate cases of environmental destruction was exposed on Friday when a court was informed that a key suspect sought over the destruction of two acres of mangroves in the Anawilundawa wetland could not be arrested.
The suspect, Jagath Samantha Perera of the Sri Lanka Podujana Peramuna (SLPP), a former Pradeshiya Sabha Chairman for Arachchikattuwa and current council member of the same body, and brother of State Minister Sanath Nishantha, has been evading arrest for more than two weeks.
Two other suspects arrested in connection of the clearing of the mangroves were released on bail and the case fixed for March 26 next year by Chilaw District Judge and Magistrate Manjula Ratnayake (see tying stories).
Government authorities claim they cannot take action against illegal clearing of privately-owned land or even land belonging to government institutes and corporations.
Environmentalists say these authorities are undermining President Gotabaya Rajapaksa's manifesto "Subhagyaye Dakma", which includes sustainable environmental policies and formed part of the platform with which the current government won two-thirds of the vote in the last election.
The manifesto states that measures will be taken to increase national forest cover by establishing parks in urban and semi-urban areas, developing metropolitan vegetation by establishing tree lines along expressways, and implementing tree-planting programmes on industrial premises.
CEA Chairman Amarasinghe pointed out that factory owners are clearing unused land to expand production in line with government wishes to promote local production.
Other land is being cleared in line with government policies to expand an agriculture-based economy.
The National Environmental Act stipulates that anyone clearing more than four hectares of land needs approval granted after Environment Impact Assessments.
No recent forest land clearances had Environment Impact Assessments attached.
A few weeks ago, it was reported that 200 acres of forest had been cleared in the Kuratiyamotte area in Wanathawilluwa. No official notice had been taken of this even though machinery had been used to fell trees and burn-offs conducted to get rid of timber.
Environmentalists say investigations into the incident have not touched politicians and government officials involved in destroying this forest land although police have arrested people paid to carry out the clearing.
The land is part of a 6,000-acre site belonging to the Cement Corporation. Its chairman, Gamini Ekanayake, said the land was now in the hands of a private cement production company and that the corporation would take legal action against this company because it had not protected the property.
The private company, Siam City Cement (Lanka) Limited (SCCL), in a statement, said it had leased 4,450 acres of land owned by the Cement Corporation in order to extract limestone and other raw materials necessary for cement production.
"Due to the lack of physical demarcations of the boundaries, the untouched and unmined land area located approximately 4km away from the quarry operational area has been encroached by surrounding village communities over the last two decades," the company said.
"The most recent land encroachment that occurred in early September this year resulted in the illegal clearing of approximately 29 acres of forest land in an isolated area located to the south-eastern boundary of the land."
At a meeting presided over by Wildlife and Forest Conservation Minister C. B. Ratnayake, the company said it had commenced rehabilitation of the deforested land and aims to plant 19,000 trees and shrubs in the affected area.
The Conservator-General of Forests, W.A.C. Weragoda rejected claims that the land cleared at Wanathawilluwa amounted to 100-200 acres. He said only 29.06 acres had been cleared, by burning.
He said the Forests Department would acquire the land at Wanathawilluwa within a month if the Cement Corporation failed to comply with orders to replant the cleared area.
Environmentalists point out that forests cannot be merely restored by replanting trees. They said forests are created through natural selection and had been propagated naturally for thousands of years.
Supun Lahiru Prakash, who heads the Biodiversity Conservation and Research Circle, said forests have their own ecosystem and keep a balance of animals and plants.
"When forests are bulldozed and burned, micro-organisms, small mammals, slow-moving reptiles and amphibians and plant life are killed, creating an unbalanced ecosystem," he said.
The government could never create tall canopies of forest cover within a few years as some trees in illegally-felled areas had been more than 400 years old.
Mr. Prakash rubbished government claims of inability to take action over illegal clearing on private property.
He said the government had a duty to protect forest on private land as well as land in semi-government hands, pointing out that there was residual forest on land belonging to at least 10 agencies including the Mahaweli Authority, Department of Wildlife, Forestry Department, state corporations and the Land Reform Commission.
The Convener of Rainforest Protectors, Jayantha Wijesinghe, pointed out that recent illegal clearances of land were on state property belonging to different regulatory bodies.
The authorities are now looking into illegal forest clearing in the Hantana mountain range in the central province where five acres of forest at 2500-3000 feet in elevation had been razed.

According to Gazette 1641/28, Declaration of the Hantana as an Environmental Protection Area under National Environmental Act, development in areas above 300 feet in elevation is forbidden (see side story).
The CAA said those responsible for the crime are being taken to court and the owner who cleared the land is being urged to replant the area.
Asked about the recent clearing of forest in the Knuckles Mountain Range, the Officer-in-Charge of Panwila Police, Chief Inspector Sampath Bandara, said by the time police heard about the affair around 2 acres of the 36-acre extent had been cleared and that even though further clearing had been blocked police were unable to take action as the persons involved stated they had deeds and would produce them before the Divisional Secretary.
The Conservator-General of Forests said the Forestry Department was in the process of acquiring land adjoining Forest Department land in the hill country, including the land at Panwila that was being cleared.
A senior official at the Panwila Divisional Secretariat said the Forest Department had taken too much time over this process at Panwila, including payment of compensation to the owner, and so the owner had sold the land to a businessman. Thus the government had not been able to stop illegal felling as the land remained privately owned.
The Wildlife and Forest Conservation Minister C.B. Ratnayake, denied reports that more than 200 acres of forest had been illegally cleared since the current government came into power earlier this year.
He said NGOs were wrongly posting reports of clearing of forests and lands belonging to the Department of wildlife Conservation and the Forestry Department in order to sabotage government economic policy.
 Additional reporting:  Hiran Priyankara Jayasinghe