'The Hunt' in town
View(s):

'The Hunt', the latest Hollywood horror thriller film directed by Craig Zobel, starring Betty Gilpin, Ike Barinholtz, Amy Madigan, Emma Roberts, Ethan Suplee, and Hilary Swank will be released in Colombo City Centre and other Scope cinemas from September 25.

Scripted by Nick Cuse and Damon Lindelof, in 'The Hunt', twelve strangers wake up in a clearing. They don't know where they are, or how they got there. They don't know they've been chosen – for a very specific purpose.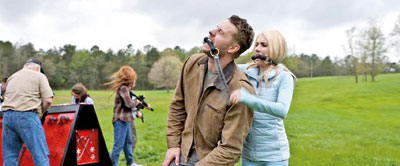 In a group text, Athena Stone anticipates an upcoming hunt of "deplorables." Later, on her private jet, she kills a man who staggers out from the cargo hold.
Eleven captives wake up gagged, in a forest, for the hunt. In a clearing, they find a cache of weapons and keys to their gags, but upon retrieving them, five are killed by an unseen enemy.
Three captives escape over a barbed-wire fence to a service station. The station's owners, an elderly couple consisting of Miranda "Ma" and Julius "Pop", identify their location as a point on Route 31 near Elaine, Arkansas. The three escapees, each kidnapped from a different part of the United States, realize their situation's similarity to the conspiracy theory "Manorgate". One of the three eats a poisoned donut and collapses, while Ma and Pop (who are amongst the captors' ranks) kill the rest with poison gas. They then clean up the station for the next person to come in.
First announced in March 2018, the film was originally scheduled for release on September 27, 2019. However it was theatrically released in the United States on March 13, 2020, with the onset of the COVID-19 pandemic resulting in the closure of most theatres within a week of the film's release  to which the film's financial shortcomings have largely been attributed. Universal made The Hunt available digitally on March 20.