Summer of cinema in Peninsula
6th Jaffna International Cinema Festival-2020
View(s):
Undeterred by Covid-19 pandemic that engulfed the entire world, Jaffna International Cinema Festival, in its sixth consecutive will take place from October 23 to 28 at three locations in Jaffna.
While the main festival location is Regals Cinemas, Cargills Square, Jaffna festival screenings will take place at Kailasapathy Auditorim in Jaffna University and Lakam Kandy Road in Jaffna.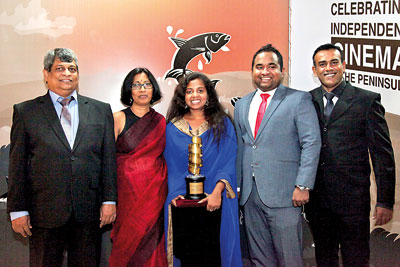 Submissions are now being called for the entries to the short film competition and the deadline is September 25. For films in languages other than English, subtitles in English have to be provided. A Director's first feature will be eligible for the Critics Award for the Best Debut Feature.
Selected short films are eligible for Best International Short Film, Ceylon Theatres Award for Best National Short Film and the Audience Award. The films should be less than 20 minutes in leangth and they should be produced after 31 December 2018.
 To join the competition completed applications with online screener of the film could be forwarded to jaffnaicf@gmail.com. or deliever 2 DVDS clearly marked with the original title, English title and Director's Name to Festival Secretariat: Agenda 14, # 6B/9, Pagoda Rd, Nugegoda 10250, Sri lanka. Tel: +94 112 826 027.
Referring to the cinema festival Dr. Cheran Rudramoorthy from the University of Windsor, Canada has stated,  "Jaffna is one of the major epicentres of Tamil culture with its own beauty and complexity. An International Film festival in Jaffna is long overdue and this is the beginning of a new and innovative film culture for Tamils all over the world."