Manoj marks milestone with 'Thablawa'
View(s):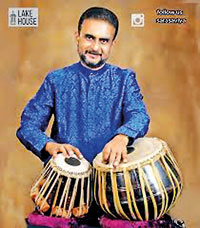 Popular musician and well known Thabla Player Visharada  Manoj Peiris celebrates his thirty five year tuneful career with his maiden musical literature 'Thablawa'
Manoj launched his maiden a musical guide book titled 'Thablawa' recently responding to numerous requests from many quarters. His guru Sangeeth Nipun Visharada Sanath Nandasiri and Dr. Rohana Weerasinghe wrote the forewords in the book. Manoj will preset 'Thablawa' to President Gotabaya Rajapksa and Prime Minister Mahinda Rajapaksa this week.
'I am glad that I was able to write this book to share my knowledge with students. Those who wish to learn the tabla as a profession or hobby can make use of this book. It can also be used as a guidebook for those who wish to pursue professional exams even up to Visharada stage' said Manoj.
Explaining the learning process of 'thabla', Manoj said there are four schools (Gharana) in tabla. 'I learnt the Delhi Gharana. I have included chapters about all four Gharanas in this. It is written in simple form so that anyone can grasp it. I later studied the art under D. R. Peiris, P. V. Nandasiri and also my other brother in law Wijeratne Ranatunga who are not amongst us today'. 'I have dedicated this book to my parents, family and all my teachers' said Manoj who received the Lifetime Achievement Award at the 'Raigam Tele Awards'on Saturday for his contributions to music.
'What excites me most was that I received this landmark award with other colossal figures –Sumitra Peries and Leoni Kothelawela. I have done a lot of music events for Dr. Lester James Peries and also been in theatre orchestras where Leoni Kothelawela acted. Receiving this award on the same platform with these two legendary figures is indeed going to be a memorable one' Manoj added.
Further he stated that there are hundreds of students who have learnt the table from him. These students and even people living overseas have requested him to write a guidebook for those passionate about learning to play the tabla.
'Some even ask me if I can conduct classes, but my schedules are so busy that I don't have such a luxury. I am thankful to MD Gunasena Managing Director Rajiv Gunasena, Publishing Manager Jayampathi Rajakaruna and Editor Thanuja Nirmalee who motivated me to make this dream a reality' Manoj concluded.