Firebreathing, whirling art
View(s):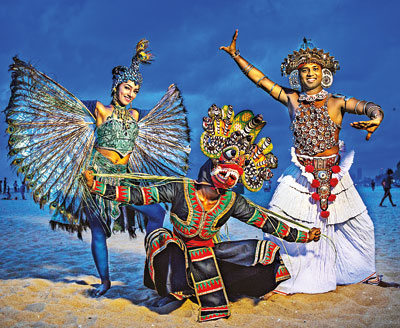 Growing up, it's not all that common to have a shared interest with your siblings. But Pulinda, Rusini and Janinda Gunawardena are three siblings who have always been passionate about Kandyan Dancing. So much so, that despite branching off into their adult lives and careers, they come together to form Thiwarna, a dance outfit that seeks to take forward this art form.
"I have been training in Kandyan Dancing for over 20 years, starting from school," explains Pulinda, the oldest. He studied under Kulasiri and Nemali Budawatta, and travelled internationally with the famed troupe. He has taught dancing as well as choreography, and plays Sri Lankan drums, mainly the Geta Beraya. He says it took him 9-10 years to gain full proficiency in Kandyan Dancing and earn the right to celebrate the prestigious Wes Mangalya.
He feels that many contemporaries and younger dancers don't respect the art form enough. "Nowadays most people are attracted to instant things, they want to be Wes dancers in a few months. But this is a long-term commitment, there are so many acts to learn and master," he says in earnest.
His sister Rusini agrees, "Some dancers have forgotten the sacred element of Kandyan Dance. Some also have no regard for the proper etiquette and even sport facial hair when in full costume." Rusini is an undergrad at the Kelaniya University, who has completed the Pahinpath Mangalya.
The youngest sibling, Janinda,is a student at St John's College Nugegoda studying for his A/Levels. Like his brother, in addition to dancing, he plays the drums. It was during the initial strict lockdown due to the pandemic that the three siblings set out on a new venture: showcasing their passion for, and talent in, Kandyan Dancing via YouTube videos. With work, university and school shutdown, they spent time at their home in Piliyandala indulging in their passion and perfecting their skills. Friends and family keen to watch them perform suggested they go online. They started streaming in August, and subscribers for their channel and viewers of their videos are picking up. "We are looking at doing more interesting videos soon," says Pulinda.
The three siblings are keen to share their passion through teaching and choreography. "We enjoy doing choreography for weddings – the couple as well as the entourage," says Rusini. "Also parties and school events. And we want to start giving dancing lessons," she adds.
The three siblings are grateful for all the support and encouragement they have received in pursuing their passion. "We won't be where we are today without all those who encouraged us: our parents, grandparents, teachers, family, friends and colleagues," the three chime in. Pix courtesy David Blacker
(NA)
Three siblings take their passion for Kandyan Dancing online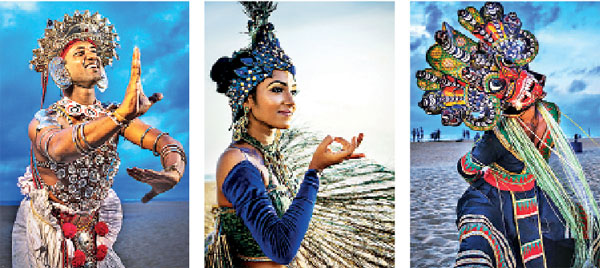 You can check them out on
YouTube - https://bit.ly/33A6e0w
Facebook - https://www.facebook.com/thiwarna.dance
Instagram - https://www.instagram.com/thiwarna.dance