'Be Sri Lankan, Buy Sri Lankan and also wear Sri Lankan'
View(s):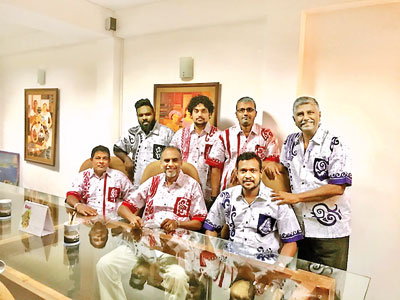 With the view of supporting Sri Lanka Batik industry, Worldlink Travel Group decided to go for Batik attire in their all office networks.
'Our motto is 'Be Sri Lankan, Buy Sri Lankan and also wear Sri Lankan'. This is an initiative by President Gothabaya Rajapakse to revive many of the Sri Lankan home industries and we all at Worldlink Travel Group geared up to support it in our own small way' said Ahintha Amerasinghe, the Chairman and Managing Director of the Worldlink Travel Group.  The Worldlink Travel Group started in 1991by the brothers Ahintha and Gerard has grown to be one of the leading travel companies, who have been in the industry for the past 29 years, since 1991.
Worldlink Travel is into, air ticketing, out bound holidays, inbound tourism, airlines GSA , cruise GSA and own and manage popular Amaara Forest Hotel in Sigiriya and the Amaara Sky Hotel in Kandy.  'Due to the current covid situation, the entire global tourism industry is hugely effected but we are confident that the industry will pick up, specially with Sri Lanka being one of the best Covid situation managed countries' added Gerard Amerasinghe , who is a co-founder Director of Worldlink.
'Years ago, the batik industry in Sri Lanka, was world famous.  For every tourist visited Sri Lanka, never forget to buy something in batik and it was a must in their shopping list' said Ahintha.  'Seeing our FB post, I got a message from my friend from Switzerland who visited Sri Lanka in 1977, he said that he still has the batik wall hangings that he bought during his visit 43 years ago. If other companies too start making one day of the week a batik day, the industry will see a huge growth' he added.