RISING IN CRISIS–A new strategy book For entrepreneurs and managers
View(s):

A novel book comprising a wide range of strategic insights for entrepreneurs and managers has been published by Shanta Rajapaksha Yapa. This book, probably the first in the world that focuses the post pandemic economic crisis offers several brand new tools. Among them is the R Hexagon which can be used to test strategies of a firm before they are implemented. Interestingly, this tool has been developed by looking at how Sri Lanka's COVID 19 task force fought against the deadly virus to safeguard the people of the island nation.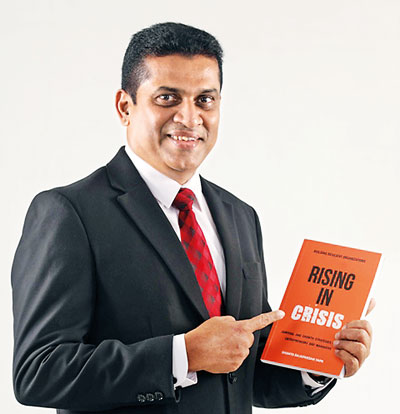 During the recent soft launch of the book at the ICBT Campus main auditorium the author had this to say. "We often rely on management theories, concepts and tools coming from the west. Reversing the trend, here is a tool from Sri Lanka to the rest of the world. It has been developed by studying how the word class operation of a dedicated and competent pool of Sri Lankan professionals manage the consequences of the pandemic. There are no comprehensive strategy testing tools and this fills the vacuum. Born in a crisis, the tool is robust and can help your organisation to be resilient."DrJagath Alwis, Chairman of ICBT was the chief guest and Professor Nalin Abeysekera from the Open University of Sri Lanka delivered the keynote speech.
The book is written in a reader friendly style. It bridges the gap between theory and practice. RISING IN CRISIS is a book that acts as an MBA pill for practitioners. It seamlessly integrates various functional areas of a business organization. The book is available at Avonet Technologies and interested readers can also order it through WhatsApp on 0773 908 262. You can also reach the author via shanta@theavo.net.
The author ShantaRajapaksha Yapa has used his extensive experience of over 3 decades in progressive positions in diverse industry sectors covering engineering, manufacturing, banking and ICT sectors in writing the book. Being a visiting faculty member teaching strategy, technology management, organizational behavior and research methods in postgraduate programmes of 20 local and international universities for 20 years, he has been able to give a comprehensive academic flavor to each chapter and topic discussed. The book offers over 200 strategic insights that will be immensely useful to managers who are struggling to ensure survival and growth of their companies amidst the biggest economic crisis of which the magnitude is not yet known.