How UTS Sri Lanka sets students up for success
What to expect in your first semester at UTS Sri Lanka
View(s):
With Orientation commencing at UTS Sri Lanka on October 29, and a new semester beginning on November 2, prospective students and their families may be wondering what kind of experiences that first semester might hold. How does UTS Sri Lanka lay a strong foundation for academic success? How does it help students feel at home?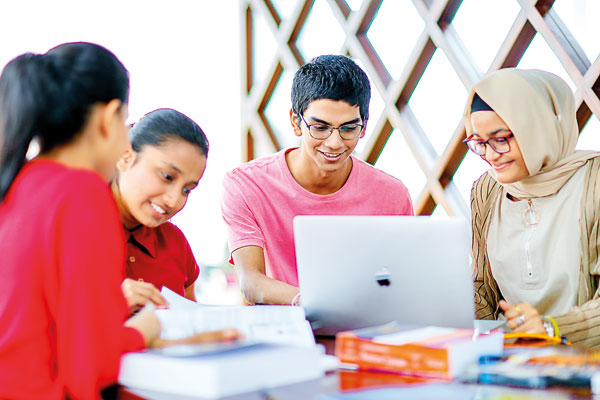 There is a significant body of research investigating what helps first-year students succeed in their transition from high-school to higher education. Researchers have found that students who thrive in their first year at university have developed a sense of belonging, made friends with peers, have been engaged intellectually, and have had sufficient support to help reduce the stress of study.
 A nurturing environment
From their first semester, it's important that students feel they are in the right place. That's why UTS Sri Lanka has created a nurturing environment, designed to help students thrive from day one of their courses. Lecturers are highly qualified and friendly and there is a robust framework of support services available to students. To ensure a more personalised learning experience, classes are kept small, with no more than 20 students in a class.
This reflects a deep commitment to helping students achieve their academic and career goals, and a strong belief that any student with the potential to succeed at university should have every opportunity to get there. UTS Sri Lanka prepares students here in Colombo for success at the University of Technology Sydney (UTS), Australia's top-ranking young university.
 World-class university standards
Programmes at UTS Sri Lanka are designed in collaboration with UTS, so students benefit from the same world-class university standards, with the security of knowing they're on a pathway to complete their studies at UTS.
Courses include English language programmes (developing a university-ready level of academic English), UTS Foundation Studies (suitable for students with O-Levels looking to gain the skills to meet university entry), and degree pathways (diploma programmes, equivalent to UTS year 1, for students who have attained their A-levels) in Engineering, IT, and Business. Written in partnership with UTS, the diploma pathways come with a guaranteed* place and full credit for the first year of the degree studied at UTS Sri Lanka. Students successfully completing UTS Foundation Studies can gain entry to many UTS undergraduate degrees, including Health Sciences, Creative Intelligence and Innovation, Nursing, Business, IT, and Engineering with some of these being subject to GPA/IELTS requirements.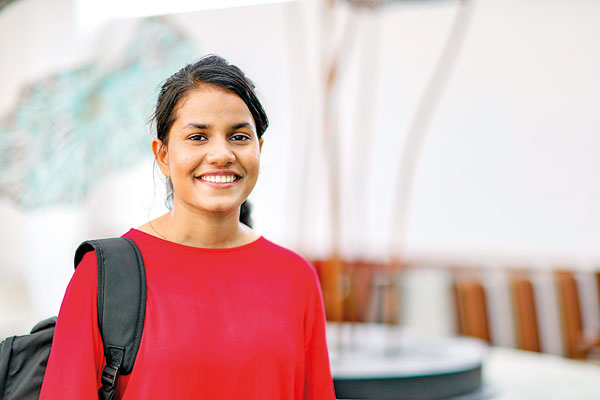 UTS Sri Lanka students are introduced to the UTS teaching style from their first semester. It's a model that's fresh, vibrant and collaborative, giving them a wealth of opportunities to make friends and build a strong social network. This is especially important for students who intend to complete their degrees in Sydney as their fellow students will be there to support them.
 Recommended by students
Nilasi, who plans to study her UTS Bachelor of Business degree in Sydney, has recently finished her first semester at UTS Sri Lanka. She is enthusiastic about her experience, saying, "UTS Sri Lanka provides countless opportunities for students to reach great heights in their respective fields of study. I happily recommend it to anyone who wishes to study in Australia in future."
Sanjana has recently finished his first semester of UTS Foundation Studies here in Colombo. He too has found the experience rewarding. "I came here after completing my O-Levels." he says. "My passion is to be a software engineer. I plan to go to Sydney when I've finished my Foundation Studies. It's a really good experience. I highly recommend you join the UTS Sri Lanka family to fulfil your dreams."
 Well-prepared for study success
Ms Alison Hiscox, Principal of UTS Sri Lanka, says, "We offer a unique and supportive pathway for students in Sri Lanka who wish to study abroad at UTS. It gives them the opportunity to spend an extra year at home in Colombo developing their academic knowledge and skills. Their experience here ensures they will be confident and well-prepared for study success when they commence their second year at university."
Students whose plans may have been affected by current international travel restrictions have no need to delay their studies. They can commence their courses very soon, right here in Colombo – with the security of knowing they're on a pathway to complete their studies at UTS when travel reopens. To find out more about courses available at UTS Sri Lanka, and how to enrol visit insearch.edu.lk/experience or call 0774 775 774.
About UTS
UTS is a dynamic and innovative university, ranked as Australia's top young university, and 133rd in the world in the QS World University Rankings 2021, reflecting its strength in employability, research, teaching, and internationalisation.
UTS Sri Lanka prepares students for entry to all UTS undergraduate courses though the UTS Foundation Studies Programme and offers a Diploma of Business, a Diploma of Engineering and a Diploma of IT. When students complete their first year at UTS Sri Lanka, they are ready to complete their UTS degree in Sydney.
* Subject to no more than two subject failures