Bachelor of Education Honours in Primary Education – The Open University
View(s):

The B.Ed. Honours in Primary Education degree programme offered by the Department of Early Childhood and Primary Education, Faculty of Education.

The overall aim of the Programme is to improve the quality of Primary Education in Sri Lanka and provide opportunities to enhance knowledge, attitudes and  skills in  the field.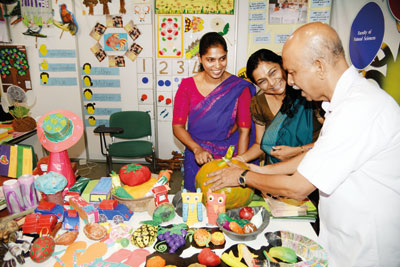 To open avenues for  higher qualifications and professional training to those who are engaged in teaching at Early Childhood and Primary Levels, and also to expand opportunities for students who have G.C.E (Advanced Level) qualifications and who have missed the opportunities to enter any other state university.
This programme duration is four (04) years and credit load of the Programme is 120 credits excluding the continuing education courses. This Programme is  offered to Teachers and Principals of primary schools, caregivers in Early Childhood centers and any other interested persons in the field of Early Childhood and Primary Education.
The objectives of the Programme is to:
Facilitate demonstrating a substantial level of knowledge and understanding in different areas of education.
Enable teachers to apply techniques related to their professional practices efficiently and effectively
Develop confidence in managing diverse issues in Early Childhood and Primary education systematically and creatively by making sound/professional judgments and communicating decisions clearly.
Facilitate demonstration in self-direction and originality in solving problems in a professional manner.
This Programme of study is offered in all three media: Sinhala/Tamil/English.
The uses several
modes teaching.
Adaptation of a mix of Open and Distance Learning methodologies and interactive learning strategies.
Self-Learning based on course study-guides, reference material, online material and academic counselling.
Teaching methodologies includes interactive day schools, workshops, activity-based day schools, presentations, Tutorial Sessions, Teaching Practice and, where appropriate, exposure visits
Come join us to get a world class education in Primary Education and be an influential teacher in building the capacity of the children of Sri Lanka. For more information visit us at www.ou.ac.lk .