The 'Rebel' who flew over the cuckoo's nest
By Lakshman Ranasinghe
Former Sri Lanka pace spearhead Tony Opatha passes away
View(s):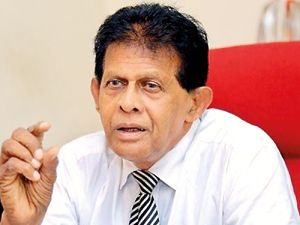 Tony Opatha, arguably Sri Lanka's finest new-ball bowler of the 1970s, passed away at the age of 73 after a brief illness. Playing during the pre-Test era, Opatha was a regular feature in the national team of the time and played league cricket in Britain. But he will be remembered more for masterminding the 1982 rebel tour to South Africa.
Having represented his alma mater St. Peter's College in the late 60s and 70s, Anthony Ralph Marinon Opatha showed signs of a bright cricketing future, making some impressive performances for Sri Lanka.
His exploits against the all-conquering West Indies, led by Clive Lloyd, in a four-day unofficial Test at the P Sara Stadium in 1974 was outstanding. Opatha, a medium pacer, tore the heart out of the feared top order with a stunning opening burst that had the Windies reeling at 4 for 32. He claimed the wickets of Roy Fredericks, Alvin Kallicharan, Viv Richards and Lloyd. And the West Indies were bowled for 119 shortly after lunch.
"I am deeply sorry to hear the passing away of Tony," said former Test skipper Michael Tissera. "He played at the end of my career and we played together against the West Indies in Colombo and in the inaugural Cricket World Cup in 1975 in England. He was a good, accurate bowler who moved the ball both ways and, of course, he was capable of bowling long spells which was an asset to any captain. At a time our pace bowling was not matured, Tony was right on top of the heap."
Opatha also played a crucial role along with D.S. de Silva in Sri Lanka's first ever victory in a World Cup game. It was against India in 1979 at Old Trafford. After putting on 238 for 5 in 60 overs, Opatha combined with de Silva to bowl out the more fancied Indian team for 191. Opatha returned figures of 3 for 31.
In domestic cricket, he featured in one of the most interesting games in 1972. He took 5 for 1 including a hat-trick to help CCC, led by Dan Piachaud, dismiss Tamil Union for nine runs in a three-day match at Maitland Crescent in 71-72 season.
All these were overshadowed by the rebel tour – one that prematurely ended the careers of several promising Sri Lankan cricketers like Anura Ranasinghe, Ajit de Silva and Mahesh Gunatilleke.
According to reports, Opatha was approached by Ali Bacher and Geoff Dakins, Chief Executive and President of the South African Cricket Union in July 1982 on the sidelines of the ICC meeting in London.
Geoff Dakins told Cricinfo: "We got negotiating and Opatha asked for $30,000 per player. Ali says, 'You think we have that sort of cash, you must be in cuckoo land.' So Opatha comes back, quick as anything: 'So tell me, Ali, how many cuckoos are there to the dollar?'"
For South Africa, the quality of their opponent was immaterial. Sri Lanka had only made their Test debut that February but what South Africa wanted was a non-white team visiting and bringing them legitimacy, helping to convince the world they were reforming.
Ali and Dakins met Opatha in July. By September, the deal was sealed with the tour's financial pull too generous to ignore. Each cricketer was promised a pay of 25,000 sterling pounds for the tour. At the time, it was a sum they wouldn't have earned during their entire career playing for Sri Lanka. A South African lawyer flew to Colombo with 14 contracts for a team that Opatha had secretly assembled, including Sri Lanka's first Test skipper Bandula Warnapura.
Other than Warnapura and Opatha, the team had international cricketers like Lalith Kaluperuma, Ajit de Silva, Mahes Gunatilleke and Anura Ranasinghe. Flavian Aponso, a member of the side, later came back to play for The Netherlands in the 1996 World Cup.
The schedule was organised by Opatha, who played for and managed the Sri Lankan side. This led to the side being called AROSA Sri Lanka (after Opatha and South Africa). Despite their poor show (Sri Lanka did not win a single match), AROSA Sri Lanka created history by becoming the first coloured team from a Test playing country to tour South Africa.
However, even before AROSA Sri Lanka made their first appearance, every member of the side was handed a 25-year ban by the Board and Ministry of Sports under the Gleneagles Agreement. Under the 1977 pact, Commonwealth Presidents and Prime Ministers agreed, as part of their support to the international campaign against apartheid, to discourage contact and competition between their sportsmen and sporting organisations, teams or individuals from South Africa.
"If you tell me a sportsman who is playing sports for fun, I will call him a liar," Opatha told reporters during the tour. "Because, today, the name of the sport is money." After the ban, he played cricket in Ireland and Holland. The ban was subsequently lifted nine years later.
He was also among 49 former Sri Lankan cricketers who were honoured by Sri Lanka Cricket two years ago for their contribution to the game before Sri Lanka became a full member of the International Cricket Council.
May the turf lie gently over him.