And when Wesley's call shall sound!
View(s):

Founded in 1874 by the Rev. Daniel Henry Pereira in the environs of Dam Street in Pettah, Wesley College Colombo, a Methodist school, today stands as a monument along Baseline Road, in memory of one of its greatest Principals, Rev. Henry Highfield, who contributed immensely towards uplifting and improving education both at Wesley and also in the country.
As a gesture of gratitude to his service in uplifting the standard of education in Ceylon, Rev. Henry Highfield was invited as a special guest by the state to be present at the event when Ceylon was granted independence on February 4 in 1948. Unfortunately he could not attend the celebrations as he was advanced in years and too feeble to travel.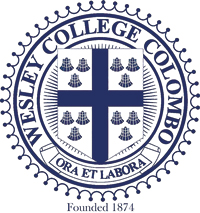 Rev. Highfield was the architect who convinced the think tanks of the Wesleyan Mission in the United Kingdom to shift the school from the dusty environs of Pettah due to its growing numbers. It was he who was responsible for the school's plan, architecture and construction in its current premises at Baseline Road since 1907.
Wesley has made vast strides since then and continues to improve and expand by introducing modern teaching techniques using state-of-the-art technology. Understanding what is currently required for the Country, the incumbent Principal, Avanka Fernando is exploring to include new innovations parallel to the syllabus by introducing technical-based studies for students.
His vision is to produce well-rounded students both in the fields of academics and sports, so they will be a valuable resource to the country. Producing brilliant 'men of grit' across the wide spectrum of society over its history of 146 years, many students have gone on to achieve accolades in their respective fields of professional expertise.
Standing out among the many are Sir Oliver Goonetilleke, Sir D.B. Jayathilleke, Sir Claude Corea, Sir Mohamed Macan Markar and Sir Gerard Wijekoon, who went onto be prominent figures in the history of Sri Lankan civil service. They have duly been recognised for their service to the country and decorated as Knights of the British Empire by the British Monarchy.
Wesley College has also produced educationists namely C.P. Thamotheram (Hartley College, Point Pedro), E.R. de Silva (Richmond College, Galle), P.H. Nonis (Kingswood and Wesley College), S.V.O. Somanader (Central College, Batticaloa), Rev. W.M.P. Jayatunga (Carey College, Colombo), E.D. Thambimuttu (Christian College, Kotte), F.N. Hettiarachchi (Cathedral College, Kotahena), P de S. Kularatne (Ananda College, Colombo), E.W. Adikaram (Ananda Sastralaya, Kotte) from the era of the great Rev. Henry Highfield.
In later years were Dr. Lou Adihetty, Dr. N.A.B. Fernando, Mr. M.A.P. Fernando, Dr. Shanti McLelland, Dr. Ben Manikkam, all of them old boys who went on to serve their alma mater as principals. Following their footsteps is the current Principal, himself an old boy, the young and energetic Avanka Fernando.
Among the numerous names, far too many to enumerate and mention, of those outstanding students who were educated at Wesley and went on to play a significant role in the public life of Sri Lanka were Harischandra Walisinghe, M.D. Gunasena (book publisher and the man who taught the nation to read), M. Zubair Caffoor (who had the distinction of being the first Ceylonese to obtain an air pilot's license), Gate Mudliyar M.S. Kariapper, Prof. E.F.C. Ludowyk, H.S. Ismail and M.H. Mohamed (both Speakers of the House) Air Vice Marshall E.R. Amerasekera (the first Sri Lankan to be Commander of the Air Force), Deshamanya Chithrasena Dias, Rienzie Wijetilleke (former Managing Director of the Hatton National Bank and banking guru of Sri Lanka).
More recently were Kumar de Silva decorated as a Chevalier in the Order of Arts and Letters by the French Government, Prashan De Visser, who has been bestowed with a Commonwealth Point of Light by the Queen of England. Besides, Wesley continues to produce several heads of prestigious institutions in the banking and corporate sectors.
From DIGs to Air Vice Marshalls to Major Generals and Commodores, and specially trained commandos, many students who walked through the portals of Wesley went on to defend the country by serving in our valiant security forces during the two World Wars and the country's 30-year ethnic conflict by sacrificing their lives. Some were fortunate to survive, to relate their experiences.
When Wesley College was located in Dam Street the first cricket encounter was played against Royal College in 1893 and since there was no ground the game was played at San Sebastian Hill. However with the school moving to its newly built premises in 1907, Wesley began using Campbell Park as its grounds and produced many exciting cricketers who went on to represent the country. Brilliant among Claessens, Dissanayakes, Harmers, and many more was the legendary Mahadevan Sathasivam, who had the distinction of captaining Ceylon (as it was known then), Singapore and Malaysia.
Interestingly the uncle of the current President and Prime Minister, D.M. Rajapaksa played on this very ground representing the Wesley 1st X1 in 1915 and 1916.
Campbell Park, as it was known, was also used as the grounds of the Tamil Union Cricket and Athletic Club, which had its own clubhouse which resembled a British countryside clubhouse. Securing a larger extent of land in Wanathamulla and developing it into a ground of international standards, the Tamil Union Cricket and Athletic Club moved to their new ground which is now known famously as the Colombo Oval.
P.H. Nonis, who went on to become Principal of Wesley successfully negotiated the purchase of the clubhouse from the Tamil Union in 1940. This over-100-year-old pavilion stands to this day and is still used to host the 1st X1 cricket teams of schools that continue to visit Wesley.
The ground was further developed and expanded to a full-sized cricket ground with the introduction of new turf wickets in 1991. Wesley continues to use this ground for hockey, football and athletics while it is used for rugby practices by the school's squads at junior and senior levels.
The Methodist Church of Sri Lanka was generous to handover 178 of its schools to the government in 1962 and retained only Wesley and Methodist Colleges Colombo under its management. Continuing to produce academics and sportsmen who continued to nourish the national interest of the country, Wesley College, today a semi-government school, which enjoys a rich heritage and history in the educational annals of Sri Lanka yearns to have its own ground so that it could improve its sporting portfolio and continue to produce sportsmen of the highest calibre.
Producing three All-Island School champion sides in cricket in 1963, 1969 and 1985, champion side in hockey in the 60s and 70s and a champion side in rugby in 2013, the church along with the school authorities and its stakeholders consisting of parents and old boys anticipates to see that their hope to own the grounds at Campbell Park, which they have been using for over a 100 years, will materialise and that those in authority will make this dream a reality.
Wesley will continue as she moves ahead to serve the country in the field of education by producing 'men of grit' and industry to be valuable assets beneficial to Mother Lanka.