Aiming high in a horizontal pool
By Ishan Samaraweera
SWIMMING
View(s):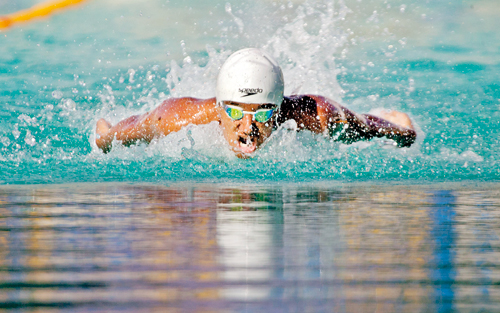 As the world gets ready to embrace the excitement of the Tokyo Olympics next year, a young champion swimmer Akalanka Peiris is determined to be part of it as he has set his sight on qualifying for world's biggest sporting spectacle. But this is no easy task.
With little support from the authorities, the former Peterite swimmer is putting the hards yards in Colombo under his mentor Shehan Dias while many of his national level colleagues are pursuing their goals elsewhere in the globe.
Akalanka is the only athlete from the current national relay squad comprising Matthew Abeysinghe, Kyle Abeysinghe and Cherantha de Silva who lives in Sri Lanka. Matthew, Kyle and Cherantha train in the USA.
"I have worked hard to come this far but to go beyond this point, I must expose myself to better professional training,", said the 21-year-old swimmer.
"When I was in Singapore, I observed the vast difference that exists between us and them. The government provides all the facilities including free nutrition for swimmers which is essential for them to pursue a career in swimming."
A good training stint in the United States of America or any other place with best trainers and facilities would do a world of good for Akalanka, eyeing a place at the Olympics. But so far he has not been lucky despite his contribution to the sport.
So, Akalanka feels the authorities should provide athletes with a social security system where they can focus on their respective discipline, rather than worrying about how they could make ends meet.
"It's really important for the government to step in and provide the best possible facilities for athletes to excel in their respective sports. We have burdened our families for a very long time and we cannot do that indefinitely," he said.
"If the authorities provide funds to enhance the sport it will be a great relief for the athletes, so that we don't have to burden our families," he added.
Up to now Akalanka has won over 30 international medals for Sri Lanka, since beginning his swimming journey early in his life. He was a quick learner and showed his abilities during a club meet in Ambalangoda where he became the champion. In 2008 he took part and won in his first All-Island swimming championship. From there he continued to dominate all age groups and became the national age group champion.
He was selected to the national squad in 2013.
"I didn't have a specific goal and I just wanted to enjoy the sport. That was my inspiration. My family was behind me all the time," he said.
2016 was a fruitful year for Akalanka as he won two silver medals at the Asian Schools Championships in China and also took part in the South Asian Games in India. It was a learning curve for him and considers it the turning point of his career.
A proud product of St. Peter's College, Bambalapitiya, Akalanka gave equal importance to studies as well. However, he made numerous sacrifices to make sure that he is not distracted from achieving his ultimate goal.
Grateful to Rev. Fathers Trevor Martin and Travis Gabriel for being the pillars to lean on during challenging times, his commitment paid dividends as he got through the Ordinary Level exam with nine As.
Akalanka underscored the fact that his concentration enabled him to be successful in both education and sports up to now.
2018 was a hectic year for him, as he had to take part in the Asian Games and became the first Sri Lankan athlete to do the A/L exam overseas. Despite having to race against time, he was able to get through with credits.
In 2017 he broke the national record during the Youth Commonwealth Games in Bahamas. In the same year he went on to break three more national records and the 20-year-old youngster also became the national champion in the 45th National Age Group Championships as well as at the 44th Sri Lanka Schools Championships. He also became the fastest swimmer in Asia.
The three years after the South Asian Games (SAG), can be considered as Akalanka's most memorable up to now.
Last year he won one gold medal, four silver medals and three bronze medals in the SAG held in Kathmandu. All these achievements were a results of a sheer commitment and hard-work he has put in and the support he gets from his parents and the coach but to go to the next level, he needs to be exposed to better facilities.
If given, Akalanka is ready to live his dream and make the country proud. With proper management, Sri Lanka's dream of winning another medal in Olympics would be a reality.