When words can make a difference
By Anoushka Jayasuriya
CCC Foundation's annual cycling tour to create awareness on the prevention of suicide culminates with the bikers being joined by walkers as part of 'Let's TALK and Walk'
View(s):
"A simple conversation can be the difference between an end and a beginning," says Jetha Devapura, founder of the Courage – Compassion – Commitment Foundation or CCC Foundation. September  10 marked World Suicide Prevention Day and for the Foundation, this day also marked the end of their 7th 1333 Bikeathon, 'Out of the Shadows', an annual island-wide cycling tour to create awareness and raise funds for suicide prevention efforts in Sri Lanka.
Bikers travelled a 1333km distance around Sri Lanka. The journey took place over the course of 13 days and in 13 locations beginning in Chilaw and ending in Colombo at the Independence Square.
On the 13th day- September 10, bikers were joined by walkers as part of 'Let's TALK and Walk', a walk organised to support the awareness campaign. It began at the Galle Face Green and ended at Independence Square, closely following the cyclists on their last ride to the finish line.
Founded in 2003, the CCC Foundation first began with the purpose of assisting the National Cancer Institute but has since expanded its operations to also provide services in mental wellbeing in the country. A major part of this expansion was the launch of CCCline 1333 in 2009, a tri-lingual toll-free telephone counselling service to support those who require help in the areas of emotional wellbeing and mental health care. The CCC Foundation partnered with the National Institute of Mental Health to provide this service islandwide.
'Let's TALK and Walk' was held by the CCC Foundation and CCCline in collaboration with Life Line International and the International Association for Suicide Prevention. Partnering with them were Rotary International, Rotaract District 3220 Sri Lanka and Maldives and Rotary International's District 3220 Interact.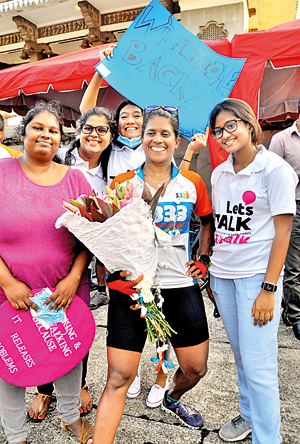 "We've made a difference and you can see it," Chairman CCC Foundation Sri Lanka, Suresh Mendis said at the closing ceremony speaking about the growing number of participants in events over the years. The CCC line 1333 is now in operation 24 hours a day. Rotary District Governor, Ajith Weerasinghe also joined Suresh Mendis in presenting the riders with certificates for their commitment to the cause.
Musicians and special invitees, Ashanthi De Alwis and Randhir Witana walked alongside other participants to show their support and shared a few words about the cause. "It was for me, a space where I wanted to champion a cause like suicide prevention and depression because I think it's a huge thing we need to talk about and need to support within our communities," said Ashanthi. Making a plea Randhir said, "There are lots of groups working to break the stereotype of men having to be very strong and silent and that it's not masculine to speak about your problems and your feelings. Speaking to all the guys out there; be a new age sensitive guy and share your feelings- just get out there and express yourself."
The event concluded with CCCline 1333 Manager, Ranil Thillakaratne inviting attendees to participate in a candle-lit vigil. "This is in remembrance of everyone who lost their lives to suicide. Today is World Suicide Prevention Day and everything we do is to remember the lives lost and to save one more life."
For more information, visit: cccfoundation.org.au