Appreciations
View(s):

Thank you for helping us to be a part of an iconic beach hotel

Walter Perumal

Though I had met Walter briefly before he started working at Browns Beach Hotel in Negombo, I really got to know him in the mid-70s when he assumed duties at the hotel.

He like the majority of us working there at the time was young – in his twenties. The culture created by his namesake Walter Masur, the Austrian Manager of the hotel was that of an international standard though in a country in the throes of socialism and restrictions. Masur's thumbprint was taken up by Walter who later became the hotel's fourth General Manager.

My work association with Walter was before this however. From day one, I found him to be full of boundless energy. He fitted perfectly into the culture of excellence we were all trying to create and establish, no matter the difficulties.

Prime Minister Sirimavo Bandaranake understood the essence of tourism and tried to ease the way of tourist hotels. All we the staff had to do was follow the work and ethics of the Browns Group. Walter was a great part of our reaching almost impossible heights within the constraints of a small and rather mediocre beach hotel in the 1970s.

The young hotel staff blossomed. Walter with his absolute honesty and integrity was a great example to all and firmly helped establish the norms and standards of not only professionalism but also personal, no compromise moral standards.

Justice and fairplay ruled as Walter became a pivot and example of what was the right thing to do. He was helped later by his wife Cordelia whom he married while at the hotel. Their three sons Colin, Wendell and Keith were born while he was there.

Thank you Walter for your decency and lack of guile in all you did. Thanks for helping us all to be a part of the great icon Browns Beach Hotel which came to enrich our lives forever.

Rest in peace my good friend. May God bless you and your family.

 Prasanna W. Jayewardene
---
He left behind a legacy of love for his close friends and family
Kumar Anthony Paul Fernando
"Beautiful Memories silently kept of one that we loved and will never forget" is what was inscribed on Kumar's tombstone by his family.  It's been one year since my good friend Kumar Fernando  left us on September 12 to go to his Creator. Even though he is no more with us, his memory and influence will always live on, in the lives of those who knew him, and were touched by his generosity and kindness.
I got to know Kumar initially in 1972 whilst we were in school, but it was much later that we both entered the same profession as planters, worked in the same area and thus became close friends. This culminated in him inviting me to be his 'best man' at his wedding in 1976, a moment I still cherish.
Several years later after excelling in his chosen career as a planter in Sri Lanka, he was selected to work in Transkei, South Africa, where he worked with distinction for the Magwa Tea Corporation for 14 years, rising to the position of General Manager – Operations before he decided to leave Transkei for Melbourne, Australia at the pinnacle of his  career.
His new home, Melbourne Australia offered Kumar many opportunities. Due to his versatility, entrepreneurial competence, and dedication he set up a successful restaurant business with his wife Nelu in a very short space of time. As always Kumar worked tirelessly and the business flourished even in a highly competitive environment like Melbourne, purely because of Kumar's commitment, perseverance, and hard work.
Kumar unhesitatingly shared his success with others by unselfishly sharing his time and advice especially with many Sri Lankans who were learning the nitty gritty of doing business in Melbourne. I have had personal knowledge of some people whom he has helped. This was one of his very endearing qualities -  rare in today's world. Another quality that I found in Kumar as the years went by is that he could easily forgive those who wronged him and even go to the extent of helping them. He encouraged others to do so too.
By this quality he was practising the Biblical principles of 'forgiveness' which many find hard to do. Forgiving and caring for people and assisting them came very naturally to Kumar. During my few visits to Melbourne, we used to discuss this area of forgiveness and spirituality in detail and I was amazed by his faith.
In the Gospel of Luke Chapter 6: verses 27-28 Jesus says 'but to you who are willing to listen, I say love your enemies, do good to those who hate you. Bless those who curse you, pray for those who hurt you". I can clearly say that Kumar lived and practised the Lord's instructions and this is the legacy he left behind for his close friends and family. Whilst I know that Nelu and his children Tehani, Ayesh and Sudesh and the extended family will continue to miss Kumar immensely, they can be proud that Kumar's life was exemplary, serving the Lord and living the Word to his best always.
Visiting Melbourne will never be the same for me, I will miss Kumar and the special times we shared. I will always hold dear the fond memories I have of him and I am proud to have been his close friend for this many years. I know that the Lord Jesus has granted him eternal rest.
Rohan M. Fernando
---
You were the sunshine in our lives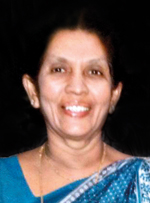 Manel Kuruppu
One morning I received a call from my cousin Nilani informing me that her mother, Aunty Manel, had been admitted to Asiri Hospital with some health issues. We were constantly updated about her condition by Nilani and her sister Chathurani, while hoping and praying to hear the good news of her discharge.
It was not to be as she passed away in the Intensive Care Unit on that same day- August 14. It was terrible news to all.
Manel Aunty was very special to our family. She was a proud Southerner and the only daughter of my Bennett Muththa and Lilie Attamma.  She was the older sister to two brothers, Manning and Nissanka whom she adored.  Although Nissanka Mama resides in London, he was a frequent visitor to Manel Aunty. It was moving to see their closeness. As I recall, she had been a beauty queen at some pageant and remained immaculately groomed to the end. However, her real beauty lay within and on display in the love she showered on her family and friends. She was a talented pianist and vocalist who was raised with the genteel manners of a lady.
She married Uncle Albert and changed her surname from Atukorala to Kuruppu. Their wedding  at the Galle Face Hotel in 1952, led to a 60-year marriage which produced Damayantha, Nilani, Chathurani and Sudath. Our families grew together. My Amma and Aunty Manel were kindred spirits. Frequent conversations led to collaboration on temple affairs until Amma passed away. Aunty continued her dedication to Buddhist spirituality with vigour and espoused the loving kindness that lies at its core.
She was cherished by her children, was patient with everybody and kept the family united. She loved music, her favourite songs being 'You are my sunshine' and 'Danno Buddunge'.  During one of my conversations with Damayantha, he told me how he learnt to love music, and the person behind his success was none other than Manel Aunty. He was very keen in presenting a musical show way back in 1975 and the obstacle was finances. Aunty came forward, giving Damayantha the money needed. Such was her motherly love bestowed towards all her children and grandchildren. I remember at one of Damayantha's musical events how she beautifully sang a few songs to the delight of the guests. Aunty, you must have had the thrill of your life when Damayantha sang a song specially composed for your 90th birthday. Your grandchildren put together a recording to play for you on your birthday and I was fortunate enough to convey our loving wishes on that very special day.
You were there for all the important events in life. Having you around us was such a joy and comfort. You and Nissaka Mama have been rocks in our lives.
Nilani moved to Australia after her marriage to Len. Sudath went to Dubai after marriage. Damayantha was a frequent traveller with his job and Chathurani shuttled between Thalawakelle and Colombo. Aunty wanted to be independent and lived in her own home until her demise. She was lovingly cared for by her attendant Leela, for years even prior to Kuruppu Uncle's passing seven years ago.
There was a big void in my life after the passing away of Amma and I got even closer to Aunty. She was a role model to all of us. Her love for her four children and their spouses knew no bounds. Her affection for the grandchildren was even greater. Every time I visited she had something special to narrate to us. Her memory remained sharp with the affairs of her family. Manel Aunty was blessed with wonderful daughters- in-law in Dayaneetha and Sheraz. She was equally lucky with Len and Lalith, her sons-in-law. Her grandchildren Nirosha, Anisha, Isuru, Asitha, Vinitri, Sassanka and Elisha were the joys of her life.
I didn't see her much after I went to the US.  Nonetheless, whenever I came home the first person I was eager to visit was Aunty. During my last visit in February, I saw a change in her. She looked tired and frail. She complained about her weak legs. Never in my dreams did I realize it would be my last farewell hug. We are so sad that her passing away happened at the time of the COVID-19 pandemic.  Our inability to be there is something we are going to regret forever. What is of consolation is that she lived to celebrate her 90th birthday in March, in good health. She lived independently on her terms and passed away quickly as she wished.
It is with a very heavy heart that we bid 'adios' whilst bestowing the blessings of the Noble Triple Gem upon you on your next journey in Sansara.
Hoping to be with you on another journey dearest Aunty,
Fondly,
Padmi
---
Years have gone by, but memories of you keep us going
Vivette Goonetilleke (nee Wirasinha)
August 15, marked my wife's 30th death anniversary.  We had been happily married for 21 years at the time of her demise.
We met when the family was on holiday at Diyatalawa and I was serving in the Air Force there and had the good fortune to befriend them.
Vivette schooled at Ladies' College and became a much-sought-after music teacher in both violin and piano having qualified in the highest grades awarded by Trinity College of Music London (FTCL) and Royal School London (LRSM).
Her pupils loved and admired her not only because her teaching was thoroughly executed but also because she was kind while also benevolently strict by which method (I feel) they achieved good examination results.
After five years of close contact and social interaction with extended families and friends we married in 1969.
Our only child, Rajiv was Vivette's parents' first grandchild and was loved and spoiled by all especially his grandfather with whom a special bond developed.  As the years passed by we served in some outstations and also a short time abroad and even though the obligations of being a service wife compromised to some extent progress in her professional career, Vivette took it in her stride.
In later years when I was faced with a critical career situation and had to take the moral high ground resulting in my premature exit from the Air Force, Vivette stood by me steadfastly.  Our son Rajiv spent a year on an AFS Field Scholarship in Australia which opened up new vistas to him.  Vivette anxiously awaited Rajiv's return and our happy family life resumed until tragedy struck taking a much loved wife and mother from us.
Neither Rajiv nor I would have achieved what we did in our lives without the guidance and support of a loving wife and mother.  When she sadly departed at the comparatively young age of 50 there was a void in our home until memories which mirrored our past happy life enabled us to pick up the pieces and motivated us to live again.  While it is a matter of regret that she did not live to see Rajiv grow up and progress in the legal profession and also to meet her daughter-in-law and only grandchild, the comforting thought of her presence behind the scene neutralizes her physical absence.
So I now move on to the 31st year of our separation by death until we meet upon the "beautiful shore".
Ranjit  Goonetilleke
---
We miss his words of wisdom on tea trade and life in general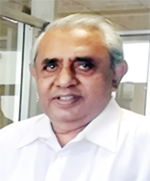 Navaratna Bandara Herath Pilapitiya
An eventful year has flown by since the passing on September 2, 2019 of Navaratna Pilapitiya fondly referred to as "Pila" by his friends. The world of tea is gripped by a whole new set of issues and opportunities that no one was prepared for. The Sri Lankan industry has seen a steady market for superior tea and Pila would have been extremely pleased by the way his factory and estate continue to produce teas of excellent make and taste, throughout a very turbulent period. A true tribute to his leadership and empowerment of his team.
We miss his words of wisdom shared on many aspects of the trade and life in general, delivered in his instantly recognisable deep voice. On the other hand it is almost as if he is still running his factory. When one evaluates its performance everything seems to be running smoothly. Full credit to his wife Nirmalene and team led by CEO Patrick and the functional leaders. Pila shared his knowledge freely, coached his team and was immaculate in his development of procedures and process management, which were meticulously documented. The continuing success of New Vithanakande over the past year bears testament to this.
There is much to be done to set Ceylon Tea right and take it on a path of success. This is where all stakeholders will miss Pila's wise counsel and visionary thinking. For many years he fought against deforestation and warned us all of the crisis that awaits us. Today we face the full impact of climate change that has come far sooner than expected.
The responsibility is ours to continue this journey and achieve the full potential of Ceylon Tea by developing the industry where all stakeholders can look forward to a bright future – this was the vision of Pila. Over the years he proved to all that the future for Ceylon Tea is through a path of excellence by continually obtaining highest prices at the Colombo Tea Auction and winning awards all around the world.
Pila ploughed back most of what he earned into his beloved Vithanakande estate and factory. He looked after all his employees and thousands of farmer families that were proud to supply their leaf to the factory. The buyers, brokers especially the Asia Siyaka team, leading global brands and specialty shops that carried single estate New Vithanakande teas, will hold forever a special place in their hearts for this giant of the Sri Lankan tea industry.
May he attain the supreme bliss of Nibbana!
A friend
---