Re-telling stories through one-of-a kind jewellery
By Paramie Jayakody
View(s):
"Jewellery is something I've always been passionate about, it's a trade that has been in my family," said Saeeda Deen, founder of jewellery lines, Sour Metal and Samsara, during an interview with the Mirror Magazine.
Together with her husband Eranda Fernando, they launched Sour Metal in November 2018.  "I am a graphic designer by profession and Eranda is a Client support manager with a background in Business Management so we work well together, sharing responsibilities and skills," Saeeda tells us. "I focus on the design and sourcing aspects of the business while Eranda works on the logistics, marketing and other boring but important stuff."
While Sour Metal was doing well, Saeeda turned her attention to another long lasting dream, to start another line of jewellery with gems and create her own designs, something she was unable to do with the repurposed vintage of Sour Metal. With Eranda's support, Saeeda was able to launch Samsara at the beginning of this year.
Explaining the difference between the two brands, she says Sour Metal specializes in repurposed and curated vintage Jewels. "Sri Lankan, handmade, traditional jewellery is a craft that's dying out as a result of modern methods and contemporary design trends." Saeeda emphasizes, adding that the brand aims to rekindle an appreciation for the intricacies of traditional, Sri Lankan jewellery by repurposing them into modern, one-of-a-kind pieces with interesting histories and cultural significance.
"We source old and unused pieces, handcraft them into something wearable and give them another chance to be loved. We're currently selling Sour Metal at Urban Island and The Design Collective in Colombo and the Exotic Roots store in Galle." She says.
Samsara is the cycle of death and rebirth. It is an ancient belief that gemstones are made of the same matter as our souls; some are even believed to have souls which is where they get the powers of spiritual healing. If the ancient beliefs are true, once the soul leaves its human body, it can take the form of a gem. While the Sour Metal brand focuses on vintage, the samsara brand focuses on harnessing this spiritual energy and healing powers of the gems as handmade, beautiful jewels. Samsara is sold via social media online @samsara_sm_
During university Saeeda realized that no one had explored sustainability and repurposed fashion combined with local craft and traditional, Sri Lankan jewellery.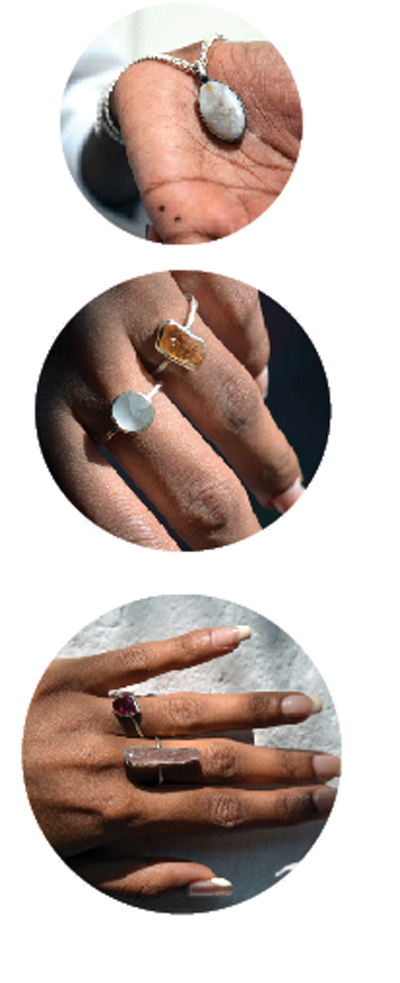 "When I came up with the concept for Sour Metal, I realised that there could be many people out there with equally fascinating pieces of jewellery," she said.
Sour Metal has come a long way from a scribbling in a journal at college, to winning two industry awards at the graduate exhibition, being displayed at designer stores in Colombo, Galle and London and being featured in fashion shows and exhibitions across Colombo, London, Berlin and Tbilisi in collaboration with fashion designer Amesh Wijesekera.
Saeeda explains that there is a sensitivity in the stories and the mystery behind the jewellery that appeals to the customer. This feature is quite nicely contrasted with an edgy/ grunge look from the aged metal tones and thick chains that prevent the brand from being too delicately feminine.
"Our customers come back for this eclectic cocktail of cultural aesthetics paired with strong graphics and interesting stories. I believe that the word unique has become a bit mainstream but we stand out to express our style and ourselves."
Sour Metal has set up their own website www.sourmetal.lk "We're also hoping to set up international delivery within this year so that we can take our stories and craft global," they said.
Speaking of future plans, they revealed that something other than jewellery might be in the works.
"While jewellery will always be our priority we are open to dabbling in a variety of sub products all centered around local artisans, antiques and crafts," Saeeda told us  "We are also interested in setting up a fashion line with a focus on repurposed and heritage craft sometime in the future."