One more step in the exciting journey of a young designer
By Meleeza Rathnayake
Runner-up at the Redress Design Award 2020, Ruth Weerasinghe talks to Meleeza Rathnayake
View(s):
It was a 22-year-old Lankan designer Ruth Weerasinghe whose name hit the spotlight as Runner-up in the Redress Design Award 2020 grand finale held in Hong Kong on September 4. Competing with designers from some 150 countries in the world's largest sustainable design competition, Ruth was the proud winner of the "The Redress Design Award 2020 Runner-up Prize with Orsola de Castro" with her "SO4 OUTLAST" collection.
The Redress Design Award seeks to educate emerging fashion designers around the world about sustainable design theories and techniques, in order to drive growth towards a circular fashion system. 'Redress' is an environmental non governmental organisation working to reduce waste in the fashion industry. "Fashion's waste crisis can't be swept under the carpet any longer," says Christina Dean, Founder of Redress and The R Collective.
As the competition had to be held virtually due to the pandemic, she couldn't physically receive her award or meet her fellow contestants but they kept in touch online and it was wonderful to meet a like-minded set of people, Ruth told the ST Magazine.
Currently working as a junior designer at Inqube Solutions Pvt. Ltd (Brandix – Innovations) Ruth holds a BA (Hons) Degree in Fashion Design and Marketing from Northumbria University via the Academy of Design (AoD) in Colombo.
This drive for sustainability was perhaps nurtured by early exposure to nature during holidays in Kurunegala, where her grandparents lived. "From rivers to lakes and paddy fields, it was another world and I loved that experience. However, as I grew up I realised that the environment was rapidly changing -rivers were drying out, the streams did not have fish any more and the paddy fields did not yield as they did before."
As she grew more aware of how environmental pollution impacted the planet, she looked at using repurposed non-biodegradable, durable industrial synthetic waste and clothing waste to explore the concept of take-make-reuse (upcycle and reconstruct) through design.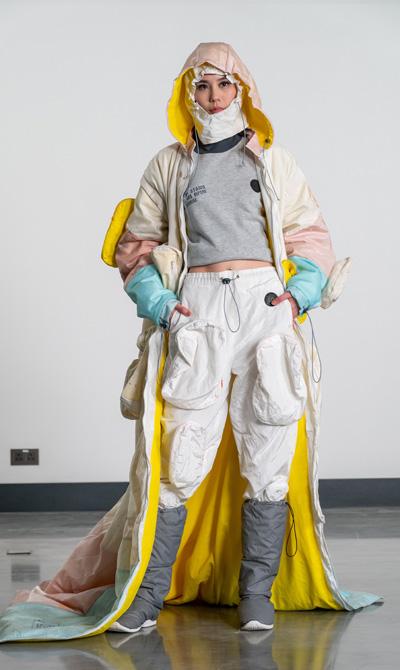 "Since 2017, after a group project I worked for at college, I was inspired by the imminent risks of climate change and pollution to create protective, durable garments. The pieces are made to be investments, designed as versatile through detachable parts for a variety of uses and easy repair or replacement." Her collection for the competition focused on this particular concept.
"The concept is based on slow fashion, designing garments that would evolve with the consumer and stand the test of time (designed for longevity from materials to garment construction), where the user will eventually create an emotional connection with their clothing, giving more value to the product and move away from the take-make-waste process and embrace a more sustainable process of take-make-reuse by reconstructing, upcycling or recycling," she added.
Joining AoD's Fashion Design and Marketing Degree programme as she was interested in both the creative and marketing side of fashion from end to end, design to product, promotions and marketing, she says she was very fortunate to have inspiring and extremely supportive lecturers and gain industry exposure.
With future goals of working in the industry and launching her own label one day, winning an award at an international competition, is one more step in the exciting journey of this young designer.