Obtain a Scholarship for AIC Campus Study Abroad programmes
View(s):

As global pandemic rolls through, the year 2020 has become a year deflated of hopes and dreams.

Sri Lanka, renowned as a country to produce professionals in the global context with a higher literacy rate, has been hit hard as a result of the global pandemic crisis. Moreover the global financial crisis has extended its arms to the local economic and financial arenas and gone down to the root level of households where utter financial problems have increased, affecting the education of students in the country.  Specifically the students who are seeking to study abroad and become a globally recognized professional are in a chaotic situation of fulfilling their study abroad dreams due to current financial instability. Therefore with our philanthropic vision of assisting and facilitating the Sri Lankan students who aspire to lead the world regardless of the hindrances, AIC campus has partnered up with its long term network of foreign universities to offer Special Scholarships.

AIC is the only partner  in Sri Lanka to bring opportunities to Sri Lankan students to enter into Grande Ecole Universities in France, one of the world's largest economies in the world.
The Network of Universities around the globe with USA , Europe ,Canada, Australia have partnered with AIC campus, working towards producing students into  globally recognized skilled professionals in the spheres of most demanded professional platforms.
In a context where the financial abilities are deteriorating at a faster rate, AIC has come forward to assist the students who have completed their O/L or A/L and are dreaming of studying abroad. In the time of  need,  with our network of international universities California State University – Sacremanto, University of Wisconsin Parkside, ESIGELEC, EPF, ESTP, Montpellier Business School and the universities from Belarus, UK, Germany Canada have spontaneously partnered  to offer scholarships for  students who perform well in education but have been affected by the prevailing economic turmoil.
The students with a vision to become future global leaders, now have a unique opportunity with AIC to experience world class education pathways to build up an international career. In seeking of finding the best students to offer these concessions, we will be holding a Scholarship Examination on the 19th of September (Saturday) 2020 at AIC Campus premises.
Experience the difference with American International Campus (AIC) the leader in Higher education in Sri Lanka. AIC is a member of the IMC AIC Education Consortium, a transnational education service conglomerate with a vision to provide total higher education under one roof. AIC Campus is partnered with some of the world's leading universities from Europe, USA, UK and Australia with a vision to provide affordable higher education with cutting edge technology for students who aspire to study overseas and obtain a globally recognized degree. AIC Campus currently offers degree programs in Engineering, Business Computer Science and Biomedical Science. Students after O/Levels could start with the AIC foundation programme whilst students with A/Levels could join the first year of the degree program. Students have the option of completing their degree in Sri Lanka or transfer after completing one or two years at AIC Campus to one of the partnered universities overseas to complete the degree program.
Moreover, students have the opportunity to go directly to study in overseas universities of their choice. Students will be entitled for a free career guidance session which will be helpful in making a decision on his or her higher education based on their career aspirations.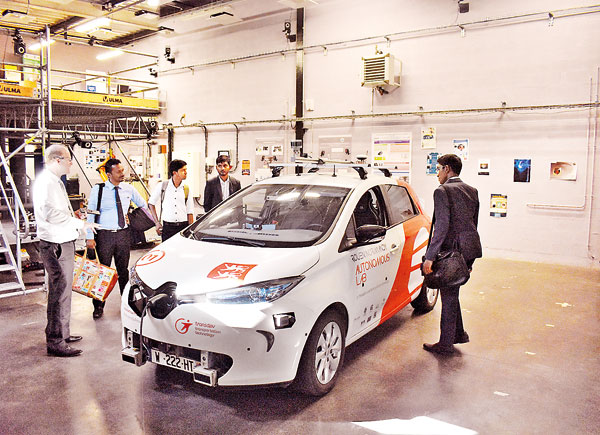 Students who are interested in joining the Scholarship Examination are encouraged to contact AIC Campus and reserve a seat as there's only a limited number of seats available.
To reserve a seat for the Scholarship examination and for further information please contact AIC Campus.
 Call
Raskhan – 0779779776 /
Dhana – 0774436725
 Visit Us
AIC Campus
No 154 , Havelock Road , Thimbirigasyaya, Colombo 05 ,
Sri Lanka.