Delay likely in 20A coming before parliament
By Our Political Editor
View(s):
New developments arise, despite party leaders and Speaker deciding on September 22 presentation
PM names a Committee to advise him on provisions of amendments
Vasu shouted down after naming Basil Rajapaksa at Cabinet meeting over removal of dual citizenship clause in 20A
Prime Minister Mahinda Rajapaksa, easily one of Sri Lanka's most popular politicians, this week revealed another facet of his personality — his ability to laugh at himself.
A confidant asked him why the Government sought to abolish 19A and introduce a 20A in Parliament. He guffawed and replied, "Both are aimed at the Rajapaksas, most importantly me." Even if the remarks were light-hearted, there was still sense. The 19th Amendment came after he ended his presidency. Amidst fears that he would re-emerge as President, the Sirisena-Wickremesinghe Yahapalana government placed a two-term restriction through 19A. It also reduced some powers of the President and placed them under the Prime Minister.
After the August 5 parliamentary election, there were expectations that Mahinda Rajapaksa, as set out, would wield those powers that conversely reduced those of the President. Adding greater significance to that reality was the two-thirds majority won by the Sri Lanka Podujana Peramuna  (SLPP)-led alliance. However, that was not to be. The alliance is in effect endorsing what President J.R. Jayewardene, whom his detractors called "the old fox", envisaged in his 1978 Constitution. This is when the United National Party (UNP), that he gave leadership to and now wiped off the country's political map, came up with 19A.
There is a moral in this cycle of events. Those who formulate a Constitution or legislation do so under piously well-meaning intentions. That is why they had an "independent" Police Commission to prevent the politicisation of the Police force. However, it became more politicised than before. There was also a good side. Take for example, the Human Rights Commission which was widely believed to be functioning independently. This is why the United Nations placed confidence in them before picking on Sri Lankan troops as peacekeepers in the world's trouble spots. The troops have earned a name for themselves whilst the Commission won respect all round. Now that 20A seeks to bring it under the President, whether the UN would change its approach remains a critical question.
Amidst the good, the bad, and the ugly sides of this cycle, what is in preponderant is another factor — if you cannot fell your enemy on the electoral battleground, frame constitutions or laws to keep them away for good. If indeed there was wrongdoing, it was incumbent on those in power then to deal with them. Secret relationships across the divide were high. The people were mostly unaware. Instead, many in the Sirisena-Wickremesinghe administration helped most get away through subterfuge. The in-fighting between the two leaders made a myth of the election pledges they made. Instead there was collusion between the hunter and the hunted or predator and the prey. There were vultures and their brokers who became millionaires after unearthing voluminous information about illegal and corrupt practices.
This is where 20A which the Government plans to introduce in Parliament on September 22 becomes significant. With the presentation in Parliament of 20A, members of the public and organisations could challenge the provisions in the Supreme Court within two weeks. In such an event, it would be altogether three weeks (after presentation) before Parliament could take it up for debate. Party leaders who met Speaker Mahinda Yapa Abeywardena on Thursday decided on September 22. There will be amendments moved in Parliament to 20A too. The Government hopes to pass 20A in October. However, newer developments raise doubts.
Prime Minister Mahinda Rajapaksa told the Sunday Times he has appointed a Committee headed by Prof. G. L. Peiris to advise him on matters related to 20A. The members of the Committee are Nimal Siripala de Silva (SLFP), Wimal Weerawansa (NFF), Udaya Gammanpila (Pivithuru Hela Urumaya)and Ali Sabry (SLPP). The idea, the Sunday Times learns, is in the light of issues that have arisen after 20A was published in the government Gazette. Premier Rajapaksa told a meeting of alliance leaders that 20A will not be introduced in Parliament until he has seen the Committee report.
This places in doubt whether 20A can be presented in Parliament on September 22. The Committee is likely to hold its first meeting tomorrow. Some ministers had contended that when Justice Minister Sabry introduced a memorandum to present 20A and do away with 19 A, he did so without taking some aspects into consideration. Thus, there was now a lacuna. At one-point Foreign Minister Dinesh Gunawardena asked why there was a hurry to rush 20 A. He said a new Constitution could have been introduced instead.
Those taking part in the alliance leaders meeting chaired by Premier Rajapaksa included Wimal Weerawansa, Dinesh Gunawardena, Tissa Vitharana, Nimal Siripala de Silva, Douglas Devananda and Jeevan Thondaman. Both Ministers Wimal Weerawansa and Udaya Gammanpila have refused to accept invitations for television chat shows over 20A in the past days. This is in the light of their not being able to explain some claimed inconsistencies. Colombo district SLPP parliamentarian and attorney at law, Premnath Dolawatte, has been warned against making public comments critical of 20A. SLPP General Secretary Sagara Kariyawasam had issued the warning and said otherwise he would face disciplinary action. These developments underscore the confusion that has arisen over some clauses of 20A.
At a meeting of the Cabinet of Ministers two weeks ago, Minister Vasudeva Nanayakkara struck a discordant note. He said Basil Rajapaksa was an efficient person, but it was his opinion that the Constitution should not be changed to accommodate dual citizens to contest elections. He came under a barrage of criticism. Minister S.M. Chandrasena said the SLPP would never have won the parliamentary elections without Basil Rajapaksa's strategies. It is he who had formed the party and taken pains to build grassroots level branches countrywide. Ministers Pavithra Wanniaratchchi and Prasanna Ranatunga joined Chandrasena in protest, prompting Nanayakkara to turn to Premier Rajapaksa in exasperation. He politely pointed out that it was Nanayakkara who had mentioned the name Basil thus triggering the exchange of words. It meant that Nanayakkara could have raised issues without naming anyone.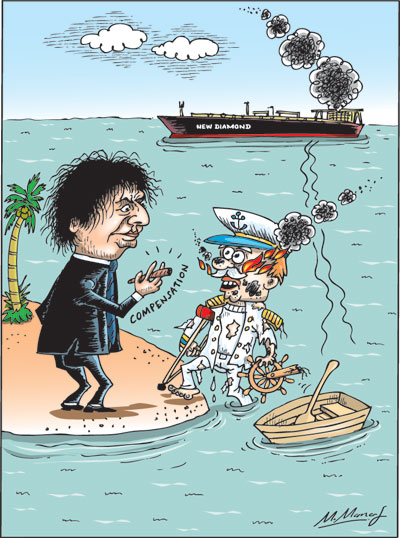 There were also serious concerns for Premier Rajapaksa over 'inspired' reports that he planned to retire from politics in two years. The deliberate misinformation, as he called it, had been circulated by mischievous elements to cash in on current developments and some have fallen for the fake news, Rajapaksa said. Later, he set the record right by saying that he would go his full term as Premier and MP for five years. Nailing that canard was to bring a sigh of relief to his supporters.
SJB, UNP position on 20A
The main opposition in Parliament now, the Samagi Jana Balavegaya (SJB), is gearing up to launch protests over 20A. Its General Secretary, Ranjith Madduma Bandara told the Sunday Times, "This is the first major step towards a dictatorship. The right of a citizen to challenge the action of the President in a court is being withdrawn. A power base is being built around the President." He charged that 13 million voters did not vote to form a government for Parliament to be dissolved in one year by one person, the President. Of course, he seems unmindful of the fact that under the Yahapalana administration, a Parliament could be dissolved after it held office for four and half years.
Akila Viraj Kariyawasam, General Secretary of the UNP, which has no representation in Parliament and has not filled the single bonus seat, said they would launch a countrywide campaign against 20A. "If the Government wants to go ahead with those drastic changes, we do not need a Parliament," he argued.  "Even with one seat in Parliament, we can create public opinion, he added.
The Janatha Vimukthi Peramuna (JVP) will also oppose 20A in Parliament, its leader, Anura Kumara Dissanayake said.
Premier Rajapaksa was to observe that the current confusion over 20A provisions could have been obviated if 19A was altogether revoked and a new Constitution introduced to replace it. This is why the voters had given the Government a mandate of two thirds. However, he cautioned government MPs that the Cabinet of Ministers had approved 20A and it was now their responsibility to abide by it. He said the MPs should not express their private views or issue statements and should keep to government policy. The remarks, one source said, were intended against one government MP who has been identified as a hard liner giving his own "extreme nationalist" interpretations.
The 20A contents are pre-occupying the newly elected government MPs too. Last Tuesday Premier Mahinda Rajapaksa chaired the parliamentary group meeting where a string of issues were raised. State Minister retired Rear Admiral Sarath Weerasekera said a clause that prohibited MPs from promoting separatism in the present constitution be retained in 20A. At first, Education Minister G.L. Peiris was asked to explain the claimed omission and why it had been dropped. He said it was not essential that it be brought in and declared that there were other safeguarding provisions. However, this explanation was not accepted and it was decided that an amendment should be moved to re-introduce the clause. Now, Prof. Peiris is heading a committee to advise the Premier.
Energy Minister Dullas Alahapperuma, who only weeks earlier declared he would resign if his ministry had been involved in the countrywide blackout and subsequent power cuts, came in for severe criticism. This time it is for making alleged remarks that the work of the state-owned Ceylon Electricity Board (CEB) was hindered by a mafia in Parliament. SLPP General Secretary (Alahapperuma's own party) Sagara Kariyawasam criticised the minister for making those remarks and asked whether he was saying that all 225 MPs were a mafia. He sought to know what he meant.
He said such remarks were condemnable and could not be allowed to go unchallenged. Minister Alahapperuma was not present at the meeting.  Premier Rajapaksa, who wanted to lessen the heat generated by the discussion, said the Minister would not have made such remarks disparagingly. Yet, the significance lay in the fact that Kariyawasam, the SLPP General Secretary, has castigated one of his party's front liners. Rajapaksa announced that there would soon be a workshop for government MPs to explain different aspects of 20A. This, he said, would prevent contradictory remarks made by some MPs and help them speak with one voice.
Sri Lanka Freedom Party (SLFP) parliamentarians also had a discussion on 20A at their headquarters in Darley Road. SLFP Cabinet ministers were soft on 20A and wanted the party to adopt a "wait and see" policy. However, there were others who were extremely critical. Even if the entirety of SLFP MPs choose to oppose, they find themselves in a vulnerable position. They will become liable for disciplinary action by the SLPP under whose ticket they have contested the parliamentary election. One in particular who remained silent during the meeting was former President Maithripala Sirisena, the SLFP leader.
President Gotabaya Rajapaksa told State Ministers during a meeting that "everything cannot be changed overnight. It takes a long time. Various views have been expressed. We want to retain some of the features of the 19th Amendment. The primary objective is to keep the tenure of the President unchanged and to move forward." The meeting, the first in a monthly series, set out the parameters of their work. Whilst ministers will formulate policies, President Rajapaksa said it was the State Ministers who should carry out the task of implementation.
Cattle slaughter ban
Interesting enough, last Wednesday, making big news in most print, electronic and social media (after the government parliamentary group meeting) were remarks by Premier Rajapaksa that he plans to introduce laws to ban cattle slaughter. He noted that the requirements of beef for consumers could be imported from overseas. The logic of banning cattle slaughter in Sri Lanka appeared lost when imports are made to supplement requirements. Whilst the lives of cattle here are saved, those abroad will still be slaughtered to meet Sri Lankan needs.
The news was welcomed by the Buddhist clergy, animal rights groups and those who do not consume beef. The humane aspect is that the bulls are used to draw carts and when they reach old age, they are mostly slaughtered for meat. It has become a practice for non-beef eating people to visit abattoirs and release a bull as part of a vow. Premier Rajapaksa has during his visits to outstations been hearing complaints from farmers and land owners that their cattle were being regularly stolen.
The worst hit if a ban on slaughter of bulls becomes law will be Muslims who run the vast majority of beef stalls in the country. For poorer sections, they not only eat beef regularly but also serve it during weddings and other ceremonies. They cannot afford mutton since goats are expensive. In sections of the government, beef remains banned. For example, the late General Rohan de S. Daluwatte, a staunch disciple of Baghvan Sathya Sai Baba, banned the consumption of beef in the Sri Lanka Army. For Muslims, cattle are among animals that are sacrificed for religious reasons.
There is, however, a serious question, over whether legally banning the slaughter of bulls and the sale of beef could be strongly enforced. Early this year, during the lockdown following Covid-19, the illicit slaughter of bulls rose to a new high in several heavily Muslim populated areas. They were killed illicitly in the back gardens of houses, packaged, and delivered to homes for less than the market price. In one instance, in a town barely an hour away from Colombo, a cattle seller was angered by the illicit slaughter of a bull by his rival. He tipped off the Police and took them to where it was done. Over 100 kilos of beef were loaded into their vehicle. It left with the informant. Three kilometres from there, the informant was dropped on the roadside and asked to go back. No one knew what happened to the beef. In a way, it would be like the ban on kasippu. They still continue. Cabinet spokesperson Minister Keheliya Rambukwella, told the media on Thursday that the ban on bull slaughter would take more time.
In Parliament on Tuesday, opposition MPs seized the opportunity to criticise the slaughter ban whilst sarcastically reminding the Government that prisoners in death row for murder were being sworn in as MPs. The reference was to Premlal Jayasekera, (SLPP) Ratnapura district. This is the first time in Sri Lanka's history, and perhaps in the history of the democratic world, that a person in a death cell, has been sworn in.  The MPs of Samagi Jana Balavegaya (SJB) led by Sajith Premadasa staged a walk out in protest. "The people who spoke of one law for the country have brought a person from the death cell to Parliament. Tell me a Parliament where a person condemned to death has been sworn in as MP," asked SJB General Secretary Maddumabandara.
Jayasekera and two others were convicted to death for murdering Susil Perera, just three days before the presidential election on January 8, 2015.
He and a crowd were decorating a venue where Maithripala Sirisena, then presidential candidate, was due to address a meeting in Kahawatte (Ratnapura district). When the case against Jayasekera was pending, he won SLPP nomination. He was in remand prison but was declared a winner setting off a legal puzzle. The Appeal Court ruled that he be permitted to attend Parliament since his "election has not been invalidated." However, the Court left in the hands of the Speaker the matter whether or not to swear him in.
Some salient features of the 11-page Appeal Court ruling:
Until an election is set aside by a Court of competent jurisdiction, an elected MP continues as an MP. There is no disqualification that arises immediately without a court order.  There must be a pronouncement by Court that his election is invalid on the ground of a sentence of death. Until this happens, the election continues as valid. It is based on the simple principle that until a void order is set aside, it bears a brand of validity.
If the election is not set aside by a Court and the membership continues, the elected is not debarred from taking his oaths as no constitutional provision prohibits the oath taking.  Prohibitions cannot be presumed. If the legislature wished to prohibit the oath taking, it would have said so expressly in the Constitution.
The Constitution prohibits sitting and voting for a person who is under a sentence of death. The Court observes that this question  has not arisen before Court now.  In any event any dispute about membership is not for Courts as it is a matter for the Speaker.
Further the Court points out that it is the letter written by the Commissioner General of Prisons preventing Petitioner from attending Parliament, that is being impugned before it.
In this letter the Commissioner (of Prisons) states that he is not permitting entry into Parliament because of instructions received from the Attorney General. This question arises as an arguable matter, according to Court which impels it to issue notice and the interim order until these matters are decided at a final hearing.
The news of a convict in death row being sworn in as an MP received worldwide news coverage and was in no way complimentary to the Government or a plus point for the country. Responding to opposition accusations, President Gotabaya Rajapaksa said neither he nor the Prime Minister did intervene in the procedures of the court. He made the remarks when he spoke to a group of State Ministers.
A Presidential Secretariat news release quoted him as saying "If the intention were to influence in this regard it should have been done at the High Court stage. Something of this nature never occurred. The verdict was given by the judge who was appointed by the Constitutional Council. Members of the Constitutional Council included personnel from Opposition such as Karu Jayasuriya, Sajith Premadasa and Thalatha Athukorala. One decision is acceptable for the opposition while the other is not. The President observed that Judge of the Court of Appeal was also appointed by the Constitutional Council itself and added that the Opposition is running a false propaganda campaign in this regard."
Speaking in Parliament over the matter, Field Marshal Sarath Fonseka , who led troops to military victory (under President Rajapaksa) in May 2009 against Tiger guerrillas charged that he was convicted "by a jungle court" and jailed, then Speaker (Chamal Rajapaksa) denied him the privilege of attending Parliament. He complained that here was a case of a person convicted of murder and remaining in a death cell being sworn in as MP.
In his maiden speech to Parliament, new MP Jayasekera named a former CID controversial senior official and accused him of "fixing" him for murder. He thanked the Court of Appeal for considering his writ application and said he did not commit murder.
It is not only Jayasekera who will be escorted by armed Prison officers from Ratnapura to Parliament in Sri Jayawardenapua, but also Sivanesathurai Chandrakanthan better known by his nom de guerre  Pillayan. He was number two to Liberation Tigers of Tamil Eelam (LTTE) Eastern leader Vinayagamoorthy Muralitharan alias Karuna. He too contested the parliamentary polls but lost. Pillayan has been responsible for several deadly attacks on both troops and the Police on numerous occasions.
He has been in remand custody for the past four and half years in connection with the alleged murder of Joseph Pararajasinghem, MP from the Tamil National Alliance (TNA), during Christmas night of 2005. The late MP was in church at that time for midnight mass. No charges have still been framed against him. He will be regularly escorted by armed Prison officers all the way from Batticaloa to Colombo. Pillayan won court approval to contest the parliamentary election after he made an appeal.
TNA and India
The Tamil National Alliance appears to be in a dilemma over 20A with new details now emerging of its meeting with Indian High Commissioner, Gopal Baglay on August 21. This is what the Sunday Times (Political Commentary) of August 22 had to say: "More than two weeks after the parliamentary election, fissures in the TNA continue. The tussle is between Abraham Sumanthiran and Sivanayakam Sritharan on the one hand and a group comprising Mavai Senathirajah, Selvan Adaikalanathan and Dharmalingam Siddharthan on the other. On Friday, a TNA delegation had a 90-minute meeting with Indian High Commissioner Gopal Baglay at the India House, his official residence.
"A TNA statement said, "The High Commissioner congratulated the Tamil National Alliance on the return to Parliament and assured India's continuing commitment to finding a resolution to the Tamil national question in Sri Lanka."
Although the statement did not say so, Baglay had also advised the alliance members to remain united……"
On August 21, the Indian High Commission also tweeted that "A TNA delegation called on the High Commissioner today during which the latter congratulated the TNA for their performance at the recent general elections."
Details of the talks, now emerging, confirmed both by Colombo based diplomatic sources and those in the TNA, give a different story. The TNA has been attempting a meeting with High Commissioner Baglay for a longer period of time before the August 5 parliamentary election. Because of the short absence of the envoy from Colombo, the planned meeting could not take place.
Thus, it has been slotted in only after the parliamentary election.
When the conversation turned to proposed constitutional changes, particularly 13A, High Commissioner Baglay had asked the TNA delegation whether they had ever articulated their latest position publicly. This was particularly after the TNA extended full support to the Sirisena-Wickremesinghe government to amend the Provincial Council Election Act to empower the state to put off PC elections. Baglay had made clear that the position of the Government of India, which stands for the full implementation of 13A, is well known. What about your own position? In other words, he was trying to ascertain the reasons why the TNA, which won the 13A and the Provincial Council, through the aegis of India, supported the dilution of that mechanism. The prime movers in this exercise — TNA leader Rajavarothayam Sampanthan and key UNP ally, Abraham Sumanthiran, could not answer. Envoy Baglay had called upon the TNA to take up public positions by telling the people where they stood.
That, though not in the same words, is no doubt a snub on the TNA. More so when it has in the past used the India connection as its whip hand to bail itself out of a crisis. This is particularly in the aftermath of its relatively poor performance in the north compared to previous parliamentary election. This is one of the main reasons why Sumanthiran has earned the wrath of a TNA section which charged that the alliance had alienated a substantial vote base in the north. The encounter with the Indian High Commissioner is therefore a new lesson for TNA that it cannot blindly fall on India every time misfortune hits it. The message is that the TNA had not done its own work when the Wickremesinghe-Sirisena government was in power for four and half years except offer concession after concession.
A Sri Lanka Muslim Congress (SLMC) delegation led by its leader Rauff Hakeem also met with HC Baglay. Interesting enough, days before the meeting, several SLMC MPs had been calling the Indian High Commission seeking separate meetings with the High Commissioner. It was only thereafter that a meeting for an SLMC delegation was fixed with all attending together.
Now that Premier Rajapaksa has put on hold the introduction of 20A in Parliament, neither civilians nor organisations will be in a position to go before the Supreme Court to challenge its provisions. Yet, there are plans by civil society groups, political parties and even civilians to move the SC. This is why the Government has now taken up the position that amendments would be moved to 20A during the committee stage debate in Parliament. This makes one thing clear — the 20A draft was rushed through the Cabinet without a proper study.