Zahira cricket prodigy Rizwan dreams of representing Sri Lanka
View(s):

Zahira College, College is renowned for regularly producing top class football players who have gone on to don the national jersey with distinction. Mohamed Raeed Rizwan seems destined to go against the grain and leave an indelible mark in cricket having lived up to his promise as a child prodigy.

A left-hand opening batsman and right-arm off-spinner, is a member of Sri Lanka's Under-16 Development squad having burst into the national limelight when he represented the Zahira first XI at the age of 13 three years ago.

His prodigal talents was first nurtured when he came under the wing of Zahira College Cricket Academy coach Safraz Farook at the tender age of seven in 2011. His talents blossomed when he joined SSC School of Cricket at the age of 10 where he came under Carlton Bernadus.

He was selected to play for the Under-13 'A' and Under-15 'A' teams coached by Kanishka Perera and Dumila Perera. He scored 197 runs and claimed 11 wickets in his first Under-13 season, 278 and 18 the following season and 387 and 29 when he captained in his final season. He also excelled at Under-15 level scoring 274 runs and getting 17 wickets in his first season and 492 and 39 in ten matches in his final season.

Based on these performances he got selected to play a second XI against St. Benedict's where he scored an unbeaten 47 and got five wickets in 2017.

He was promoted to the first XI team thereafter coming under coaches Pradeep Nishantha and Sameer Ahmed. He made an immediate impact getting a match bag of five wickets on his debut against St. Aloysius College, Galle.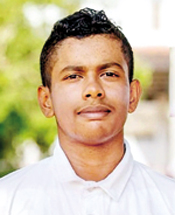 His leadership qualities also came to the fore last year when he steered Zahira Under-15 team to the quarter-finals and got selected to captain the Colombo District North team coached by Shanaka Fernando and Tharaka Gunarathna. He also got selected to Western Province North team under the coach Wasantha Wijesuriya, who became champions in Under-15 Prima Inter-Provincial Tournament. He also captained the SSC Cricket Academy Under-13 and Under-15 teams which took part in Mercantile Academy Tournament. They became Under-13 champions.
"My biggest achievement was to play for my school first XI team coached by Sanjay Dissanayake at the age of 13," said 16-year-old Rizwan, who scored over 500 runs and took nine wickets.
In the junior Under-16 development squad he comes under coaches Tim McCaskill, Roy Dias, Sachith Pathirana and Anura Thennakoon.
"I'm very happy to be there and I must prove my talent and go up the ladder and play for my country. That's my goal," he said with determination.
"I must thank all my school coaches who help me to develop my cricket career particularly Safraz Farook, who taught me to play cricket for the first time. He helps me out in my batting. Not forgetting Carlton Bernardus in SSC, Hemantha Ranasinghe and Leslie Narangoda," he said.
He also thanked school principal Trizviiy Marikkar, Chairman Board of Governors Fouzul Hameed, Chairman Cricket Committee Milhan Laffir, OBA President Naina Mohamed, Prefect of Games Muhiseen Ariff, Sport Coordinator Irshan Zahir and Mazhar Zuhair and members of Past Cricketers Association (PCA) and the Cricket Committee members who supported him.
"I hope to pursue my higher education in Law specialising into Computer and Electronic Data Exchange Law. My parents are my backbone they support me and they never miss a single match that I play and I must thank almighty god for the blessings. Above all I'm proud to be Zahirian," he said.