Champions Colombo FC unites football community
By Allaam Ousman
football
View(s):
Colombo Football Club, born during the tail-end of the civil war in Sri Lanka, has not only unified the diverse communities in the country through sport but emerged as a champion outfit within a short span of 12 years thanks to the philosophy of its founder Saif Yusoof.
Colombo FC has been embraced as the undisputed kings of the game after dishing out an exciting brand of football to win the Vantage FFSL President's Cup 2020 in style with a 4-0 demolition of the high-flying Blue Eagles in the final at the Sugathadasa Stadium on Wednesday. It was also sweet revenge for Colombo FC who had suffered a 2-0 loss to the Airmen in a group match.
Their triumph in the first tournament held in South Asia after the coronavirus outbreak bears testimony to the adage unity in diversity, changing the landscape of football in the country since being formed in April 2008 with the objective of fostering unity and brotherhood among Sri Lankan football players.
It all began when a young graduate returned to the land of his birth and wanted to unify the divisive forces in Sri Lanka.
"I had come back as a graduate from the United States and wanted to get involved in something that promoted peace in the country. It was 2008 and the height of war in Sri Lanka. I was blessed with many options on where I wanted to work or live in my life. I wanted to contribute to something bigger than myself. I knew after all these years I had to do something back home in Sri Lanka. Football was my passion and I always believed it united people. I said let's start small," said Yusoof in an interview with the Sunday Times on the birth of Colombo FC.
"First it was to get a team going. Finding players was impossible so we took whoever we got. Then we tried to do youth programmes across the city. But the real goal was to show people that race, religion, whether you were tall, short, black or white, didn't matter," he said when asked about his goals at the beginning.
"In football when you score a goal, the human being for a moment forgets all prejudice and you see these guys hugging each other. Football is a uniting force," said Yusoof, who played as a defensive midfielder for Elizabeth Moir School.
The players were primarily from all over Colombo. "You have players like Niran Kanishka, who has been with us from day one of the establishment of the club. There are lots of players who live in Maligawatte, Slave Island and Wellampitiya. We have Momas Yapo from the Ivory Coast and Bodric Dimitri from Cameroon," he said.
Today they can boast of national players Charitha Rathnayake who is captain of Colombo FC, Mohamed Fazal, Mohamed Aakib, Afeel Mohamed, Niran Kanishka, Shabeer Razooniya and former national caps Zarwan Johar and Mohamed Imran.
Yusoof considers Colombo FC's biggest triumph as qualifying to play in the AFC Cup.
"We beat Transport United from Bhutan 7-1 at home. That felt awesome. Also when we won the Premier League three years in a row," he said.
Asked how Colombo FC turned tables in the final after losing to Eagles in league stage, he said: "We decided on that day that we need to ensure our youngsters get a chance to play. We took a gamble and we lost. But we learnt a lot. I knew that Army, Police, Navy and Air Force are all professional clubs with taxpayer budgets and fulltime sports teams with facilities. I knew we were going to face any one of them at anytime. We had to be on equal terms atleast in team work and fitness. We decided to camp after that match and looked inwards as a player, as a team and what it meant to be a club," he said.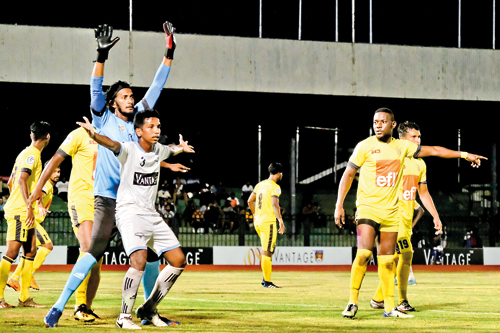 As for the secret behind their continued success on the field, Yusoof gave credit to Colombo FC coach Hassan Roomy. "No Secret. Just a lot of love, passion and the environment for everyone to be the best that they can be. But any orchestra needs a good conductor. That conductor is our coach Hassan Roomy," he said.
What are the future plans for Colombo FC?
"Right now, COVID-19 has hit many budgets of our sponsors and we have to thread carefully as a club. Nevertheless, we are engaging with some global clubs to look at a partnership or support programme as we need professional guidance to help take our club to the next level."
He humbly acknowledged they are still not on par with Saunders yet.
"Well I think we are the first team to win the Premier League three times in-a-row since Saunders did that in the 70s. So that is a proud achievement for us. Clubs like Saunders have a 100-year history when the colonial powers were in town introducing the game and clubs. It will be very difficult for any club in Sri Lanka to ever be like Saunders," he said.
As president of the MFA, he is drawing up plans to promote the game in a post-COVID situation.
"At the moment we are looking at all avenues to promote the game. COVID has caused concerns for some organisations' employees themselves now work from home and don't get a chance to practice. We are looking at more engagement in the Mercantile sector with professionals and have fun tournaments like beach football," said Yusoof who also outlined that leadership and empowerment of professionals could help improve the standard of football.
Colombo FC Roll of Honour
Trophies

2010: Champions – Silver Cup 2010 Tournament
2015: Champions – Cargills FA Cup 2015
2016: Champions – Dialog Champions League 2015/16
Joint-Champions – City League President's Cup 2016
2017: Champions – Dialog Champions League 2016/17
Champions – City League President's Cup 2017
2018: Champions – Dialog Champions League 2017/18
 Champions – City League President's Cup 2018
2020: Champions – Vantage FFSL President's Cup 2020

2010

Colombo FC won its first championship trophy in April 25, 2010, beating Java Lane SC 3-2 to win the Silver Cup 2010 tournament
Colombo FC became the first Division III team to reach Round 5 – FA Cup 2010. Colombo FC emerged runners-up of Division III

2011

Colombo FC promoted to Premier League Division II Tournament organised by the FFSL

2012

Colombo FC promoted to Division I Tournament organized by the FFSL

2013

Colombo FC extended its growth by signing few foreign players
Runners-up of the Division I Tournament
Colombo FC promoted to the Dialog Champions League

2014

Semi-finalists of the FA Cup 2014
Registered for the Dialog Champions League 2014 tournament

2015

Colombo FC played their very first match of the Dialog Champions League in 2014/15 tournament
Completed the tournament with highest points and in good style
At the Super 8 Leg of the DCL 2014/15, Colombo FC emerged runners-up
Champions of the Cargills FA Cup 2014/15

2016

Champions of the Dialog Champions League 2015/16
Joint champions with Renown SC of City League President's Cup 2016
Runners-up of FA Cup 2016

2017

Qualified to the AFC Cup 2017 with Mohun Bagan AC – India.
First Leg – Sri Lanka – Colombo FC 1-2 Mohun Bagan AC (January 31, 2017, at Racecourse International Stadium, Colombo)
Second Leg – India – Colombo FC 1-2 Mohun Bagan AC (February 7, 2017, at  Rabindra Sarobar Stadium, Kolkata)
Retained as the champions of Dialog Champions League 2016/17
Champions of City League President's Cup 2017
Semi-finalist of FA Cup 2017

2018

Colombo FC qualified for the AFC Cup 2018
Colombo FC emerged as the champions of the Dialog Champions League 2017/18 for third consecutive year

2019

Colombo FC qualified for the AFC Cup 2019
AFC Cup 2019 – Preliminary Stage Vs. Transport United FC (Bhutan)
First Leg – Sri Lanka – Colombo FC 7-1 Transport United FC (February 20, 2019 at Racecourse International Stadium, Colombo)
Second Leg – Bhutan – Colombo FC 2- 1 Transport United FC (February 27, 2019 at Changlimithang Stadium, Thimpu)
AFC Cup 2019 – Playoff Stage Vs. Chennaiyin FC (India)
First Leg – Sri Lanka – Colombo FC 0-0 Chennaiyin FC (March 6, 2019 at Racecourse International Stadium, Colombo.)
Second Leg – India – Colombo FC 0-1 Chennaiyin FC (February 13, 2019 at The Arena, Ahmedabad)
Runners-up of Dialog Champions League 2018
Semi-finalist of FA Cup 2018