Appreciations
View(s):

He shone here and abroad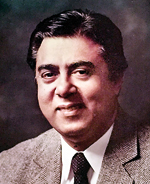 Dr. Nawalage Charles Neville Cooray
Well known in this country and abroad, Dr. Neville Cooray practised Radiotherapy during his professional career. He was born in 1927 and had his early education at St. Joseph's College, Colombo 10. He gained admission to the Science Faculty of the University of Ceylon in 1944 and did his BSc in Biology thereafter entering the Faculty of Medicine in Colombo and qualifying as a Doctor in 1953.
In 1954 he married the beautiful Noeline Rohini Samarasekera Gunaratne. My wife and I attended the grand wedding at the then only grand hotel in Ceylon, the Galle Face Hotel. I remember J.R. Jayewardene and his wife were guests at the wedding and JR made a speech.  Neville was a year senior to me and he and I were in the Aquinas Catholic Hostel at Havelock Road, Colombo 5 in 1946. After finishing my first MB, I entered the  Medical Faculty in 1947. He joined us in 1948, and we were together at the Kitiyakkara Catholic Hostel run by Father Peter Pillai at Campbell Place, Borella.
After his internship in Medicine and Surgery, Neville joined the Radiology Department of the General Hospital, Colombo and  in 1958 went to the UK on a Commonwealth scholarship. He underwent training in radiotherapy  and obtained his diploma D.M.R.T.  from the Royal College of Surgeons and Physicians of London.
After six months training at the Holt Institute in Manchester, he returned to Sri Lanka as a Consultant Radio Therapist at the Cancer Institute at Maharagama. Neville also lectured on Radiation therapy at the University of Ceylon.  In 1968, Neville moved to New Foundland, Canada, where he held the post of Senior Lecturer in Radiation therapy at the Memorial University, Newfoundland. In 1971 he moved to Syracuse, New York as Assistant Professor of Radiology, State University of New York, which position he held until July 1976. In August 1976 he accepted a position at the Montefiore Hospital as the Director of Radiation Oncology and was Clinical Assistant Professor of Radiology at the University of Pittsburgh.  After almost 20 years there, Neville retired in 1996 and returned to Sri Lanka.
Neville was blessed with two sons Anil and Rohan who were born in Sri Lanka but had their education abroad. Neville was a unique individual who remained calm and courteous to everyone.
I attended his 90th birthday celebrations in October 2017, at Jetwing Hotel at Ward Place, Colombo 7 and recall proposing a toast to him.
Neville was a Member of the American Society of Therapeutic Radiologists, the Canadian Association of Radiologists, Faculty of Radiologists, London and was Vice President of the Sri Lanka Cancer Society
Sadly he died on June 13, during the COVID-19 lockdown – on the feast of St.Anthony, just two days before his 66th wedding anniversary on June 15th. It was a private funeral and I was unable to attend it.
Prof. Wilfred Perera
---
He solved any adminstrative problem with ease
H.M.C. Kapilaratne
H.M.C. Kapilaratne who was secretary to the Minister of Agricultural Research and Development until 1999 passed away at his home on August 5, 2019 after a brief illness. He was 80 years old.
Having graduated in 1963 from the Peradeniya University, he sat for the Competitive Examination of the Ceylon Administrative Service held in 1964 and was selected.  He first served as the Divisional Revenue Officer in Kebithigollewa in the Anuradhapura district, under Mahinda Silva, the Government Agent. Later when Mr. Silva was appointed as the secretary to the Minister of Agriculture and Lands, he was appointed as an Assistant Secretary in the Ministry.
He was taken into the Development Division of this ministry as an Assistant Director to speed up activities  in that division. When Mr. Kapilaratne passed the second examination, he was promoted as a Deputy Director. Thereafter on Mr. Silva's recommendation he was sent to England to follow a development course at Cambridge University. On his return from Cambridge, he was promoted as the Director.
Mr. Kapilaratne was a unique personality. He loved to read and used his lunch and tea breaks mostly for reading books on a variety of subjects. He could read fast.
He was an excellent officer who could solve any administrative problem with ease. There were seven departments and 14 corporations coming under this ministry and he was very popular and commanded the respect of these senior officers who always sought his assistance and advice.
With the change of government in 1977, Mr. Silva retired from service and later Ranjan Wijerathne was appointed Secretary. Mr. Kapilaratne played a key role in establishing the Agricultural Development Authority. Hewas again selected for a training course in Florida, USA, under USAID.
Mr. Wijerathne while being secretary held Chairmanship of five corporations – the ADA, LRC, Livestock Development Board, Pelwatte Sugar Corporation and SL Sugar Corporation. Whenever there was a problem, the papers were referred to Mr. Kapilaratne for expeditious solutions – Mr. Wijerathne trusted him and depended on his findings and recommendations.
Follwing Mr.Wijerathne, Mr. D.M. Ariyarathne was appointed as the secretary of the M/AD&R. He was succeeded by Mr. Kapilaratne.  As secretary in the new ministry, he was an asset.
A soft – spoken man, he always wore a smile. He worked long hours in office. He was a gentleman. He never gave into bribery or corruption. He believed in rehabilitation of  wrongdoers.
He never sought political favours in his entire career.
My good friend was a simple man who lived contentedly. He was a good Buddhist who observed the principles of Dhamma daily. To my knowledge, he never broke the five precepts and lived an exemplary Buddhist life. He was my "Kalyana Mithra" always forgiving, always supporting and strengthening. He was loyal to his family, educated his children and maintained a good relationship with his associates. He excellently completed his tour of duty as a true son of Mother Lanka.
May he attain the supreme bless of Nibbana!
Karunarathne Arampola
---
His devotion and uncompromising loyalty  to his profession were never in doubt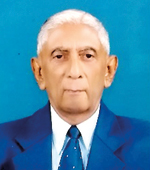 Kingsley Ireton De Silva
Kingsley Ireton  De Silva, Senior Attorney-at-Law of Negombo, popularly known as "K. I." glided away serenely in his sleep in the evening of March 23,  just a few days prior to his landmark  90th birthday on April 4. A most peaceful death that one could wish for.
My reminiscences of K. I., whom I called "Uncle Kingsley" go back to over five decades. He was a close friend of Dr. Linus Dissanayake of Negombo, a grand uncle of mine and also of my father.
K.I. hailed from a family of eminent professionals. He was the eldest son of Dr. Sam De Silva, a Medical Practitioner of Seeduwa and Mrs. De Silva. Of his two siblings, his brother Dr. Earle De Silva, a highly respected professional in the field of agriculture, predeceased him. His sister Irani Kannangara is an Economics graduate.
A distinguished product of S. Thomas' College, Mount Lavinia, K. I.  entered the then Ceylon Law College  and passed out as an Advocate in 1958, October 11.
Thereafter, he joined the Department of Inland Revenue as a Senior Assessor. Having worked there for a considerable period of time, he reverted to the legal profession and began practising at the District and Magistrate's Court of Negombo. He later confined himself to Income Tax Law, becoming a well-recognised and sought-after lawyer in this field.
On a personal note, after about two years of my having entered the legal profession I received a letter from the Department of Inland Revenue requesting me to submit certain details. I was naturally worried.  On my father's advice, I went to see Uncle Kingsley.  After he attended to my matter I casually asked him what his fee was. The response was immediate and honoured the great tradition of legal professionals; "I do not charge fees from the learned friends of my profession." From that day on, I became his client with frequent visits to him on matters related to my tax file.  As a matter of course, all such professional services rendered to me were on a "pro deo" basis. As time went on, irrespective of the difference in ages, we became very close friends.
K. I. was appointed as the Competent Authority of the BCC Lanka Limited (formerly known as British Ceylon Corporation) and rendered an outstanding service for several years.
He served as the President of the Negombo Law Society and at the time of his demise had completed over 60 years at the Bar, a rare privilege for a lawyer to achieve.
Amidst his busy schedule he found time to offer his dedicated service as the Chairman as well as a member of the Board of Management of the Wester Seaton Cheshire Home, Negombo for differently abled persons.
His contribution to the legal profession and to society has shown that he was a man of great insight and exceptional ability.
An outstanding sportsman, he had played hockey and tennis at school. He continued his tennis for a long period of time and was an active member of the Negombo Tennis Club. An ardent cricket fan who never missed a single Royal – Thomian match, he enjoyed watching international as well as local cricket matches.  He also enjoyed playing "Bridge" and "Poker" frequently with a close circle of friends.
He was a voracious reader and had a large collection of books on different subjects. His knowledge on numerous subjects made it a pleasure to chat with him on any topic. In addition he was a great speaker, much sought after to propose the toast to the couple at weddings.
K.I. was a devoted Methodist.  He practised his religion with dedication and devotion. His deeply rooted Christianity was the strength and vigour of his life and this permeated every aspect of his life, professional, domestic and social. He lived based on the teachings of Christianity to the very best of his warm and generous heart.
A man of absolute honesty, integrity and fairness, he shied away from personal glory and publicity. His devotion and uncompromising loyalty to his profession was never in doubt. By nature he was fearless and outspoken and did not hesitate to make his views known in matters relating to the country as well as to the legal profession.
Meticulous thoroughness in everything he did was the keynote of his success. He studied his briefs with exceptional care and espoused the cause of his client with devotion. He kept no stone unturned in his client's interests and the time he spent on a file was never relevant to the fee he received.
Undoubtedly, his driving force was his loving wife Lourdes whom he affectionately called "Lou". In Lou, K.I. found a perfect life companion. Always together, they shared their life with love and affection. Whether an early morning coffee on the verandah of their beautiful house, a meal, an evening walk, visiting friends or entertaining them at home, or a holiday, it was always together. They were such a wonderful and affectionate couple. Aunty Lou stood by him through thick and thin until the last day of his life, nursing him when he was ill for a brief period. Their exemplary life together as husband and wife is the lasting legacy left behind for others to follow. Aunty Lou will miss Uncle Kingsley much more than can be expressed in words but her acceptance of the inevitable is indeed worthy of emulation.
It is said that the greatness of an individual can never be measured by birth, wealth, fame, or one's material possessions. The number of people in whose hearts you continue to live on, long after you are gone, is undeniably the true measure.Moreover, a gentleman can be defined as one who never causes pain to another. K.I. was not only a gentleman, but also a great individual and a truly great human being.
I thank God that he was a part of my life for such a long time.
Varuna  Senadhira         
---
If I could only hear her say my name one more time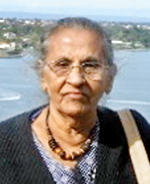 Chandra Meehitiya Jayasinghe
Her warmth is a memory
I hold on to so dearly
It feels like yesterday
Five years ago today
When her eyes closed
Grief struck us deeply
She was our wonderful mother
And a precious grandmother
To family a loving older sister
Always ready to lend a willing ear
To many, the aunt like no other
Around whom they did happily gather
She was a respected teacher
Everyone flocked to with a big cheer
For advice and encouragement
Given happily with such commitment
In her every action and deed
A true lady indeed
In my dreams I see her
Serene face and gentle smile
If I could for one more time
Hear her say my name
The way only she did
To give me the strength to climb
Today, I read her letters
Written to me over the years
Woven into words of wisdom
I feel her love and tenderness
Like the gems from where she hailed
Her words are special, enriching my own
May she attain Nibbana.
Aruni Jayasekera
---