A legendary teacher in life and in death
By Kumudini Hettiarachchi
'In remembrance' organised by the Colombo University's Department of Medical Humanities, Faculty of Medicine, pays a fitting and moving tribute to Prof. Carlo Fonseka on his first death anniversary
View(s):
A startling image on the screen – a fire-walker and then back to the present on Wednesday and a walk down not-too-distant memory lane to commemorate a colourful legend!
He may have been a diminutive 5' but he was a 'giant' who exuded a powerful influence over thousands of fresh-faced medical students, while striding across the public stage in Sri Lanka and the world like a colossus.
Just a year after the death of Prof. Carlo Fonseka (86), scholar, rationalist, philosopher, visionary and most of all wonderful human being, many eminent personalities gave of their time and memories at 'In remembrance', a poignant ceremony organized by the Department of Medical Humanities, Faculty of Medicine, University of Colombo on September 2.
It was in this Physiology Lecture Theatre with its old-world charm of timber work and arena-style seating, where Prof. Fonseka gave his brilliant deliveries and held fire-walking demonstrations, that his portrait was unveiled by the Vice Chancellor of the University of Colombo, Prof. Chandrika Wijeyaratne, as his family including his wife, Pearl, looked on.
'Friend and colleague in physiology', Prof. Colvin Goonaratna, regaled the audience on how Carlo who was excellent in both English and Sinhala would correct him after every lecture. "But and however mean the same and there is no 'of' after comprised," he said.
He reminisced how having studied and photographed the fire-walkers at Kataragama, Prof. Fonseka recreated the scene during the 100th anniversary of the faculty in 1970, using the same dara (wood) and measuring the heat with a thermocouple. He then sought the support of volunteers, who after a bite of beef and a token drink of arrack, walked over the burning wood. This effectively dispelled the belief of purity and divine intervention linked to fire walking.
Prof. Chandrika Wijeyaratne reiterated how Prof. Fonseka always sought the truth and had a strong social outlook ("it was not a question of being a socialist or rathuwadi"). He ran an OPD in his home where he looked after patients without charging any money.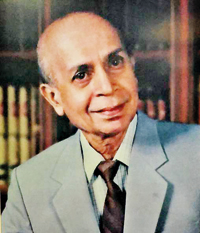 The Dean of the Faculty of Medicine, Prof. Vajira H.W. Dissanayake reminisced on a "brief but fascinating encounter" with Prof. Fonseka, when they thrashed out the 'Ten Commandments for Researchers' for an oration that the latter was to deliver, while the Head of the Department of Medical Humanities, Prof. Priyadarshani Galappatthy reminded the audience that the last article that Prof. Fonseka completed from his hospital bed before his demise was in the anniversary volume, 'The Colombo Medical School at 150'.
Prof. Fonseka has the distinction of being the "sole author" writing to the three anniversary volumes – 100th, 125th and 150th published in 1970, 1995 and this year (2020), said Prof. Galappatthy.
Pointing out that Prof. Fonseka excelled in many areas, the Head of Department of Physiology, Prof. Piyusha Atapattu said that he became world famous for demystifying the myth of fire-walking as being the result of divine protection, with scientist Arthur C. Clarke as a witness, as Prof. Saroj Jayasinghe re-kindled the embers and stressed that he linked religion and physiology, explaining culture and cultural beliefs through physiology.
Putting Prof. Fonseka, the politician under the spotlight, Prof. Narada Warnasuriya stated that he and Dr. Tissa Vitarana formed a Socialist Party at the faculty. He also became the most-sought after speaker for the Lanka Sama Samaja Party (LSSP) in the 1977 election campaign, incorporating in his speeches the Parable of the Burning House by German playwright Bertolt Brecht beautifully translated into Sinhala. He delivered the graveside oration during the funeral of his slain nephew Vijaya Kumaratunga which "moved the country", following which he too had to flee Sri Lanka due to threats by the Janatha Vimukthi Peramuna (JVP).
Later, on his return, he became a senior advisor to both President Chandrika Kumaratunga and President Mahinda Rajapaksa – considered a 'wise' person though from the old left, he added.
The task of elaborating on 'Philosophy & Prof. Fonseka' was handled with aplomb by Dr. Panduka Karunanayake, for he had been a chosen one on whom many books were showered by the guru.
The first was 'A History of Western Philosophy' by British philosopher Bertrand Russell and to make sure that he knew how precious it was, Prof. Fonseka had explained that when he fled Sri Lanka, he could take only a small suitcase with him. What couldn't he leave behind? He had picked this book and a music cassette with the haunting melodies of the Sinhala movie, 'Sath Samudura'.
Dr. Karunanayake says that Prof. Fonseka faced a dilemma over Scottish philosopher David Hume's thinking that 'Reason is, and ought only to be the slave of the passion….' For Dr. Karunanayake, Prof. Fonseka had impeccable reasoning skills as well as ungovernable passions. So his solution was to be "passionate about reason".
Dr. Hemantha Perera keyed in the role music played in the life of Prof. Fonseka, for he was a lyrics writer, composer (of more than 50 songs including the masterpiece 'Raththaran Duwe Mage Raththran Duwe') and musician. He spoke of the "huge" influence Sunil Santha of 'Olu Pipila' fame had on him. He then summarized Prof. Fonseka's life (Pethumpathanne ne/perum puranne ne/alum karanne ne/yali kisida nisasala suwaya sada) through one of his own songs penned for the film 'Viragaya', as the Professor's voice resonated through the Lecture Theatre with 'Mee Amba Wanaye'.
The final words were from Dr. Chandana Atapattu, whom Prof. Fonseka treated as his GP, setting the scene of how great he was even in his last moments……."He was feeble but his memory was sharp. One night, a few days before his demise, I visited him at the Cardiology Unit, National Hospital. His son, Suranga, was explaining his breathing pattern, when I noticed that he opened his eyes. He told me: 'Putha what my son explained is the Cheyne-Stokes respiration pattern.'
"Google the words on your phone, he told me, spelling them. He wanted me to read the definition, probably to check whether Google was correct. I read the first two sentences and stopped. 'Why did you stop,' he asked and explained that it is the type of breathing patients might experience in terminal stages of heart failure. It was his last physiology lesson to me.
"When I visited him again a few days later, Madam Fonseka and Suranga were with him. He explained his final will with regard to his funeral arrangements…..'As soon as I die, confirm the death and obtain a valid death certificate. No function is needed. Place my body in a simple coffin. The attire is a red shirt and a white trouser. Do not waste time at home or funeral parlours. Take my body to the Ragama Medical Faculty and hand over to the Anatomy Department, before which play the song I wrote and composed 'Dhanayata Eyi Dedi Asha' sung by Pandith Amaradeva'."
He also wanted to spend his last few hours in his own room, in his own house. Prof. Fonseka left the hospital on September 1, exhaling his last breath the next day. His funeral was held to the letter of his wishes.
"Prof. Fonseka was a legend in our time and it was a 'legendary departure' teaching us many lessons," said Dr. Atapattu, while Dr. Santushi Amarasuriya summed up succinctly: "For some, it may have been a few fleeting moments of association and for a few the fortune of prolonged interaction, but for all, Prof. Fonseka has left a lasting impression of an individual whose life is one to celebrate with reverence."
Prof. Fonseka, the legend is no more. As the audience sombrely left the Lecture Theatre, there was certainty that his memory lives on.