Driver who killed three in trishaw pileup had taken heroin
By Kasun Warakapitiya
View(s):
The driver responsible for the deaths of three people including a top Central Bank official this week had heroin in his blood, investigators found, as police reported increasing drug use by drivers.
Blood tests show 28-year-old Gayan Sankalpa Karunaratne had used heroin within six days of Wednsday's accident in Mattakkuliya.
He also lacked a driver's licence.
Carrying eggs in his lorry on a run from Modara to Wattala on Wednesday, Karunaratne, a resident of Wellampitiya, Ja-Ela, veered across the centre island on Mattakkuliya Central Road colliding with two three-wheelers travelling in the opposite direction towards Colombo.
Police said the lorry had continued moving even after the two collisions, ricocheting back across the centre island and crashing into the front gate of a building. Karunaratne fled the scene but was later arrested.
The first three-wheeler to be hit carried Central Bank Senior Assistant Director Amitha Sundararaj, 33. She and vehicle driver Tyron Ranjith, 46, were pronounced dead on admission to hospital.
Ajith Silva, 50, the driver of the second three-wheeler, which was hit and dragged for several feet by the lorry, was also pronounced dead after admission to hospital. His passenger is in intensive care in the National Hospital.
Postmortems show the three deaths were caused by severe internal injuries, Mattakkuliya Police Senior Inspector M K W S Meegoda said, adding the lorry driver had been travelling at reckless high speed on a very wet road.
"When it's raining, it's not safe to drive at high speed. When brakes are applied vehicles tend to skid and go out of control," SI Meegoda said.
The accused was produced before the Magistrates Courts in Hulftsdorp on Thursday and remanded until September 16.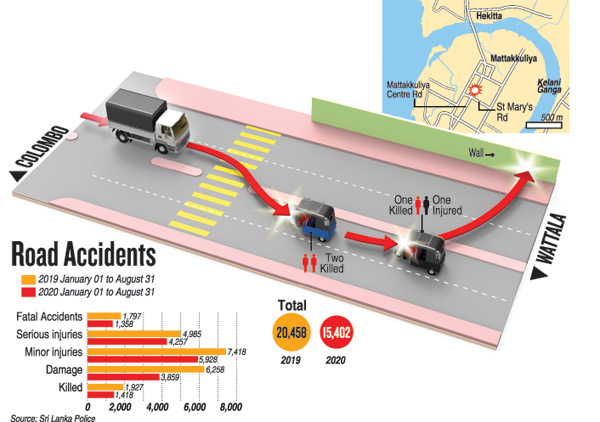 The lorry's owner and father of the driver, Clement Wasantha Kumara, was produced in court on Friday and released on bail.
Amitha Sundararaj's grieving father, Suppaiya Pillai Sundararaj, said losing his daughter in an instant had been the greatest calamity in his life.
He rejoiced in his daughter's achievements: Amitha Sundararaj had been a bright student in school at Methodist College, completed her first degree in Coimbatore, India, and obtained a Master's degree at the University of Colombo and a further Master's at Colombia University, New York, while climbing the ladder of promotion to the position of Senior Assistant Director at the Central Bank.
"My daughter normally goes to work by car," Mr Sundararaj said, mourning the change in routine that had preceded the accident on that wet and gloomy Wednesday.
"During the two days prior to the accident we had been spending time at a temple to carry out religious observances. We returned home around 1.30 that morning. Our daughter insisted that she needed to go to work. She got ready and tried to call for a taxi."
None was available. Her father offered to take her to work by car but she refused. "She told me that I should rest and should not spend hours in traffic," the father said. He then took her by car to the three-wheeler stand in Mattakkuliya.
The accident occurred 200m after her journey began.
"The accident was not a mistake of the three-wheeler driver or my daughter, the video footage of the accident revealed who was responsible," Mr Sundararaj said.
"This was fate. If she could have left home a little bit early or later this would not have happened."
He said such incidents should not be allowed to happen. "People should drive safely and should never speed," Mr Sundararaj said.
The accident was one of several this week as the road death toll keeps rising. From January to the end of August, 1,418 persons have been killed in traffic accidents despite the country being in lockdown for three months due to coronavirus.
Last year, during this same period, there were 1,928 road fatalities.
The Director of Motor Traffic and Road Safety, Senior Superintendent of Police Indika Hapugoda, said police are seeing an increased trend of people driving under the influence of drugs.
"Last week, we detected 27 cases where bus drivers were transporting as well as driving under the influence of drugs," he revealed.
SSP Hapugoda said bus drivers in particular use drugs such as heroin to keep them "high" and escape the effects of tiredness. This action risked the lives of passengers, pedestrians and other motorists.
He said there had been 15,402 accidents around the country from January to August 31, compared with 20,458 in the corresponding period last year.
"Now the lockdown is over, vehicles are back on the roads. Drivers have resumed their overtaking, speeding and drunk-driving habits. This is contributing to the high number of accidents," a former Traffic – Deputy Inspector General of Police, K Arasaratnam, said.
He said that while police focus on drunk drivers, the number of drivers addicted to drugs is increasing.
Police call for expanded tech tools
More speed guns, breathalyser kits and drug detector machines are needed to take the quick action necessary to force unruly drivers to take notice of the law, police said."We need to check if drivers are under the influence of heroin or other drugs when they are stopped at police barriers or when they cause an accident. Then we can immediately take legal action against them," the Director of Motor Traffic and Road Safety, Senior Superintendent Indika Hapugoda said.He said police have asked the government to set up CCTV cameras all over the country.

"We want to develop the system of traffic fines system and send fine notices to homes. To do that, we need CCTV cameras stationed islandwide," he said.