'Wonder Voice Teens Meet-up'
View(s):

Taking entertainment to the next level 'Fun Eke Next Level Eka', Elephant House Wonder fans were provided a once in a lifetime experience to meet and greet contestants of the Voice Teens Sri Lanka.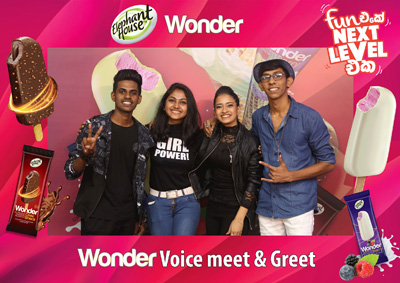 Organised in Sri Lanka for the first time, the Voice Teens Sri Lanka Stars has held viewers spellbound throughout until the grand finale by offering a fascinating musical experience attracting many audiences across all communities, with fans excitedly awaiting weekly to hear their favourite voice teens contestants.
The much-loved Elephant House Wonder Ice Cream marked an exciting milestone, continuing to delight consumers by partnering the Voice Teens Sri Lanka, the newest reality show which has an immense and devoted local fan base, and which is also part of the 'The Voice Teens' global franchise.
The unique event titled 'Wonder Voice Teens Meet-up' enabled the show's admirers to not only meet the Voice Teens Sri Lanka stars but offered a truly, enjoyable fun time including the audience participating in an exhilarating sing-along with Voice Teens winner Hashen and stars Madhuvi, Adithya and Siyum.
The evening comprised several engaging fun-filled activities enabling the excited audience to hold treasured memories of the event that will remain with them for a long time.
Importantly, Elephant House Wonder is the first FMCG brand to initiate such an event for their fans together with the finalists of the local Voice Teens franchise. Additionally, the Voice Teens finalists are now a part of the World of Wonder.
Elephant House Wonder Ice Cream is recognised as the most active youth ice cream brand on social media, with an established strong presence especially during the Voice Teens competition showcased by solid brand recognition.