Little Miss Puppet in town
View(s):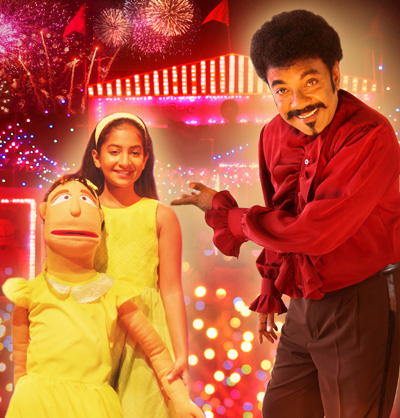 'Premaya Nam' famed filmmakers, two brother Kalpana and Vindana Ariywansa's newest film 'Rookada Panchi' (Little Miss Puppet) will be released in EAP Films Theatres from September 17.
A family, children story with magical and musical  effects, "Rukada Penchi" is created with the visual styles of 1980s films by Steven Spielberg and Tim Burton. "You get this magical feeling in these films. When you come out of the theatres with their lives change to better," Vindana said describing about their second movie. Kushenya Fonseka representing the third generation of veteran actress Malini Fonseka's family is entering the cinema playing the lead role in 'Rukada Penchi'. The film has six songs and music director Rohana Weerasinghe himself has written some of them.
The major part of the film is shot in and around a set created by Bentota beach.
 A 11-year-old Rangi is the only daughter in an upper class family, living in Colombo suburbs. Free spirited Rangi's favorite hobbies are quizzing and ventriloquizing with hand puppets. Suddenly, Rangi's mother falls ill on her birthday and her parents had to travel overseas to seek treatment. Rangi and her only brother, 8-year-old Sasa are placed under the care of Rangi's Aunt and her husband. Rangi's Uncle owns a five-star hotel on southern coastline and they take Rangi and Sasa to the hotel for a brief stay. While staying in the hotel, Rangi comes across a Carnival on the beach, located next to Uncle's hotel, and goes there with Sasa without informing Uncle and Aunt.
Rangi and Sasa befriend the carnival owner, a warm, kindhearted ringmaster named "Uncle Louis" and frequently visit the carnival under Uncle and Aunt's supervision.
The hotel manager Walter, who is not a fan of Rangi and Sasa, quarrels with Uncle Louis, based on a personal affair. Walter continuously plans to destroy the carnival and hurt Uncle Louis, as a result of their clash.
Meanwhile Rangi's uncle finds out Walter has been cheating hotel funds for so long and it has been the reason for Hotel's financial losses and Uncle fires Walter.
Rangi asks Uncle Louis to teach her a new puppet act for school's annual talent show, as well as a surprise birthday gift for her mother.
Rangi's mother gets well and plan to return home soon. Rangi tells the happy news to Uncle Louis and asks him to speed up the training.
Louis invites Rangi to perform her act on the Carnival as a rehearsal on the night before her return back home.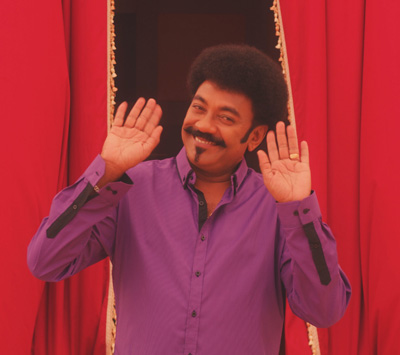 While excited Rangi awaits on stage for curtain to open prior to Louis introduction, Walter, thinking he lost his job at the hotel because Louis exposed him, to take revenge attacks the carnival and sets stage on fire with the help of thugs. Rangi not knowing what's going on outside, trapped in the fire generated by Walter's attack. Uncle Louis jumps into burning fire and saves Rangi's life, risking his own. Rangi, after gaining consciousness at the hospital, seeing her mother standing front of her and rest of her family around the hospital bed. She is overwhelm by seen her mother back andwell. But soon her happiness disappears being unable to see Uncle Louis there who is still in critical condition.
Rangi visits Uncle Louis at the hospital and he asks her to keep practicing and promises her to be there for the talent show.
The schools' annual talent show day arrives and Uncle Louis fails to keep his promise, still at the hospital fighting for his life. When Rangi's turn comes on the talent show, she becomes reluctant to perform, feeling sad for Uncle Louis. While her parents are sitting in the auditorium worrying, School Principal, Class Teacher and fellow students try their best to console Rangi and get her on stage but all their attempt fail. Seeing no other way, her Uncle and Aunt think of a plan to get Rangi's spirit up and get her to perform.
 While Kalpana Vindana Ariyawansa wrote and directed, director of photography is by Jaan Shenberger of the United States and film is edited, production designed and art directed by Kalpana Ariyawansa.
  Digital colorist is Jaan Shenberger who also handled the visual effects 'Rookada Panchi' and executive producer is  Kularatne Ariyawansa. The film is a Ransara Pictures presentation.
 The stellar cast of the film include Jackson Anthony, Dilhani Ekanayake, Dayadeva Edirisinghe, Dhananjaya Siriwardana, Umali Thilakarathne, Niroshan Wijesinghe, Bandula Wijeweera, Kushenya Sayumi Fonseka and Lakshika Deshan.
Veteran stars Malini Fonseka and Ravindra Randeniya make guest appearance while renowned lyricist Bandula Nanayakkarawasam in 'Rookada Panchi'.
Compiled by  Susitha Fernando