Human-elephant clash over land
View(s):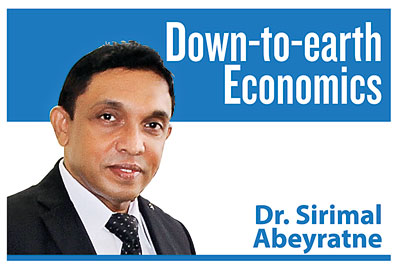 Last year on average, one person has been killed every three days of the year by an elephant in Sri Lanka. In contrast, every single day of the year more than one elephant has also been killed by humans. The fight has become intense over the years and decades causing more and more deaths – both humans and elephants. Numerous solutions have also been suggested and implemented, but they didn't appear to have lessened the escalating human-elephant conflict.
On the contrary, elephants are a treasure of Sri Lanka, loved by the nation. How majestic the elephant is! The country has been truly blessed by having this largest mammal on earth, which has been adding to our culture, economy, environment, leisure industry and the beauty.
Humans and elephants
"Let's meet leisurely to have a coffee together; I am looking forward to listening to elephant stories in Minneriya too". I have been saying this to Dilum Alagiyawanna for long time, but I didn't have that opportunity of meeting. Dilum is a conservationist and a film maker, who loves wildlife and elephants. He has also won an international film award at the Japan Wildlife Film Festival 2016 for his documentary film "The Great Elephant Gathering in Asia" which has been filmed at the Minneriya National Park.
Finally, we met early this week and spent a couple hours talking about elephants and wildlife. Dilum had also brought a sample of his Coffee Table book on elephants. The book contained an absolute rare collection of pictures portraying elephants' behaviour patterns, intelligence, emotions and romance.
"They are quite close to humans than to other mammals," Dilum explained. "For most of the mammals, brain mass is already developed at more than 90 per cent when they are born. But elephants and humans are different, because brain mass development at birth is 35 per cent for elephants and 28 per cent for humans. Therefore, both elephants and humans acquire intelligence from adults, while they can't even survive at their infant age without the support of their parents or adults."
"This also tells us that if a human baby grows in a jungle among the animals, that person will not learn the human behaviour. It is the same for elephants too. That's why baby elephants shouldn't be captured and adopted by humans," he said, explaining an interesting piece of information.
Growing aggression
"They are intelligent and have the ability to make rational choices and judgements. They don't come to attack people without a reason. They also remember well, and they can be increasingly aggressive and violent too. Because of that, even the 'human-elephant conflict' becomes more and more aggressive and violent in the future as it was in the past. When people increase their aggression towards them, they also increase their aggression," he said in another piece of shocking news to me, but it was the point I was waiting for in order to look at it from an economic point of view.
"Yes, it has been a constant cry of the affected communities to solve the problem, but it has never been solved by any government," I said.
He agreed: "All these suggested solutions are not permanent solutions, because elephants are intelligent too. They will not stop looking for food, or moving in and around in their territories, or walking along their corridors so that they will find ways to overcome the barriers put up by the humans."
Land-scarce country
The main root of the increased human-elephant conflict has been the people's encroachment of the elephant territories and wildlife in the country over the past few decades. Sri Lanka, with 65,000 square kilometers in size, is one of the land-scarce countries in the world for both humans and elephants. The country has the world's highest 'elephant density'. Apart from that, Sri Lanka is one of the few countries in the world with high 'population density' as well.
At the time of independence, Sri Lanka had 7 million population which has trebled now exceeding 21 million. The increased population spread more into the jungles, squeezing the space for wildlife and rainforest cover. Even though rural-urban migration continued to remain, it has been rather a slow process in Sri Lanka compared to most of other 'middle-income' countries. The successive governments too continued to adopt policies and incentives, encouraging people to stay in remote villages rather than encouraging them to concentrate more in a sustainable manner in the areas where it is easy to access facilities and services.
The bitter result of the people's scattered settlement patterns over the years has not been limited to the human-element conflict alone. It also has far reaching consequences on environmental degradation, development cost and rural poverty.
Bitter consequences
1.  Environmental degradation: Evidence  suggests that Sri Lanka has come to a critical stage of biodiversity loss and environmental degradation. Sri Lanka is classified as one of the "biological hotspots" in the world, which is defined as a geographical location with more than 1500 endemic species and having already lost at least 70 per cent of their habitat. Sri Lanka's forest coverage has gradually depleted to 27 per cent, resulting in environmental and climatic disasters with increasing frequency and severity of such disasters.
2.  Development cost: For a better life of a community, it is necessary to provide a set of basic services and facilities – transport, water, utilities, markets, shopping, health, education, and many other needs. I am not sure whether it is possible to provide all these services and facilities as enjoyed by the urban dwellers to all the villages in the country. Even if it is possible one day in the future, its development costs would outweigh the anticipated benefits.
3.  Remoteness and poverty: Remoteness to major economic corridors and markets hinders productivity so that it is relatively difficult to overcome people's poverty in remote rural villages. For this reason, countries become richer, rural populations decline and urban populations rise. And it is an important development phenomenon that the governments should promote by providing housing facilities and creating modern jobs closer to economic corridors and markets, which are essentially urban environments – concentration without congestion.
Sustainable living environments
The issues that are raised above, including the escalating human-elephant conflict, is a result of not making use of "physical planning" for development and human activity. In the absence of physical planning, both the development programmes and human activities take the form of an ad hoc and piecemeal nature, which cannot be assembled to project national interests.
Sri Lanka's National Physical Planning Department had already prepared a broader physical plan for the country in 2007, outlining "five metro regions" around the country where more than half of the population would concentrate by 2030. Although the economic basis for the formation of the metro regions was not clear in this plan, the geographical concentration of both people and economic activity is a natural outcome of the economic progress, which should be supported by development policy. The second physical plan in 2017 doesn't necessarily reflect the features of the previous one but provides a more detailed work with a logical basis. However, I doubt if such physical planning exercises has any relevance for guiding the government's development agenda or directing people's activity.
Physical planning should be detailed enough to demarcate every physical attribute on land and, accordingly, to define the location of every physical activity including people's habitat. If we had done that in the past, then as a nation we would have protected our wildlife and forest cover better, increasingly improve the basic needs for communities, and quicken the pace of poverty reduction. We would have even minimized the potential human-elephant fight for limited land resources by providing sustainable living environments for both species. (The writer is a Professor of Economics at the University of Colombo and can be reached at sirimal@econ.cmb.ac.lk and follow on Twitter @SirimalAshoka).