Appreciations
View(s):

He took small & medium industries to new heights
Aloy Jayawardene
Those who pass by the Vihara Maha Devi Park in bustling Cinnamon Gardens, stop awhile to gaze at the serene Samadhi Buddha statue within the park's manicured gardens replete with fountains.
It was back in 1972, within a brass-casting foundry away from the city of Colombo in Wattala, that this statue, the largest (15-foot tall and 15' wide) in those times 48 years ago, was meticulously produced and transported by a Colombo Municipal Council (CMC) tractor to be assembled where it is today.
The statue was unveiled on May 26, 1972 to commemorate the declaration of the Republic Day– amidst a distinguished gathering which included the President of Sri Lanka, William Gopallawa, Prime Minister Sirimavo Bandaranaike and CMC Mayor Vincent Perera.
It was the well-known sculptor-monk Ven. Dr. Mapalagama Vipulasara Thera who created the moulds in concrete while the brass casting was at the foundry of Aloy Jayawardene who had readily taken up the task of producing the statue, while many large companies had turned down the request. It was doubly creditable and Mr. Jayawardene who was a Roman Catholic was showered with appreciation by Buddhists across the country.
Mr. Jayawardene, who passed away on May 13 this year was no stranger to small industry and  provided yeoman service for half a century to the Sri Lanka Chamber of Small and Medium Industries.
Having joined the Ceylon Small Industries' Association as a Founder Member in 1963 (the Founder President was Albert Edirisinghe) when he was just 27 years old, the very next year (1964) he was elected the Hony. Assistant Secretary.
Mr. Jayawardene was among the first to be selected for a six-month training programme in Gifu and Seki in Japan under 100 scholarships offered by the Asia Foundation to small industrialists where he secured expertise in the manufacture of cutlery and other kitchen utensils in stainless steel. On his return home, he set up his small workshop, 'Metalrich' at Wattala with a foundry for brass casting, metal spinning and electroplating.
In 1968, he re-visited Japan, this time to select machinery for the production of stainless steel cutlery, becoming the first to commence such production back home.
Mr. Jayawardene's rise within the Ceylon Small Industries' Association was steady: Hony. General Secretary from 1968 to 1971; Vice President in 1971; and President from 1973 to 78, the youngest to be at the helm. This was his first term as President and during this time he was appointed to the Industrial Development Board (IDB) as a Director in 1975, which position he held till 1979, acting for the Chairman for three months.
The Ceylon Small Industries' Association, meanwhile, underwent two name-changes, with an Act of Parliament in 1981 incorporating the Association as the Sri Lanka Chamber of Small Industry and in late 2010 by an amendment to the Act of 1981 as the Sri Lanka Chamber of Small and Medium Industries.
Mr. Jayawardene was elected President of the Sri Lanka Chamber of Small Industry once again from 2000 to 2003 and the Sri Lanka Chamber of Small and Medium Industries from 2009 to 2013 and due to his strong bonds with the chamber he was honoured with the title President Emeritus until his death.
The delegations Mr. Jayawardene led to foreign countries are too numerous to list here. However, some of the highlights include a four-member delegation to Bombay, India, in 1976; an 18-member export promotion delegation to South Korea and Japan in 1978; a 15-member private and public sector delegation to Germany in 1987; and a 20-member mission to Chennai, India, in 2006.
Among the prestigious positions held by Mr. Jayawardene were Stand Director for Sri Lanka at the Milan International Fair (1976); President of the Federation of Chambers, Commerce and Industry of Sri Lanka (1985); Member of the Presidential Tariff Commission (from 1986 to 1989); Director of the National Institute of Business Management (2005); and Non-Executive Director of the Sri Lanka Export Development Board (2005).
He also attended the Yokohama Conference for Economic Development for Asia in Japan in July 1989; participated along with other members of the Presidential Tariff Commission in a programme sponsored by the World Bank in Australia and New Zealand in 1989; and visited Australia and held extensive discussions with the chambers in New South Wales, Queensland, Tasmania and Victoria in 2006.
Among Mr. Jayawardene's many achievements was mooting the Small and Medium Enterprise Development (SMED) Programme in 1989…. after securing funding from the Friedrich Naumann Foundation and the initiation of the 'Industrial Excellence Award' in 2008, which has been continued up to now.
Mr. Jayawardene who contributed much to industry in Sri Lanka was the youngest son of Aloy W. Jayawardene (Chairman of the Wattala Village Council Committee 1924-1946) and Irene Georgina Silva of Katana. He was the brother of C.M. Jayawardene (Chairman of the Wattala Urban Council from 1960-1963 and member of the Urban Council from the inception of Urban Council in 1948) and Dr. P.M. Jayawardene (Surgeon of Badulla, Ratnapura and Colombo General Hospital from 1958 to 1990).
Beginning his working life as an Executive at the Bank of Ceylon, Mr. Jayawardene's instincts pointed him in the direction of becoming a businessman. It was after undergoing extensive training in electroplating and brass foundry at a leading industry at that time that he established his own business 'Metalrich'.
'Metalrich' with products such as cutlery, costume jewellery, household ornaments, trophies and brass-cast statues for churches and temples soon became a household name in Sri Lanka. With his business expanding, Mr. Jayawardene entered the booming construction industry, supplying stainless steel railings, name plates and more.
While Mr. Jayawardene was also heavily involved in social service through the Lions Club, he formed the first Leo Club (Lions International) in Wattala in 1969 and the Rotary Club of Wattala of which he was elected Charter President in 1985 and continued until demise. He was awarded the prestigious Paul Harris Fellowship by Rotary International in 2007.
Sadly missed now that he is no more, his contributions in many fields stand as testimony to all those who follow in his footsteps.
Nandadasa Rajapkse
---
Leading light in fight for environment and women's issues
Kamini Meedeniya Vitarana
This is an appreciation of a person who helped many people with their personal lives and also inspired many others to get involved and act on issues facing this country and the world. At the time of her passing in July, Kamini was President of Ruk Rakaganno, a relatively small organisation dedicated to protecting the trees and forests of Sri Lanka that punched well above its weight. This was primarily due both to the tenacity and determination with which Kamini pursued environmental objectives she wished to achieve and the respect other environmentalists and policy makers had for her.
A very potted history of her life would read as follows.Kamini was born to a feudal family in Ruvanwella where her father was a 'Rate Mahathaya'. She was adopted by her mother's sister who was childless.Her foster father lived in the then, very remote village of Morahela. The house was marooned amongst paddy fields on three sides and behind it was a large forest that she was forbidden to play in. The forest and the tales about it fascinated her. She always said that her happiest years were spent there.
Kamini studied at a number of schools and entered the University of Ceylon to read Zoology. She was the first woman to read for the subject in Ceylon and as the only female student, her confused professor put her in a room by herself next to the lecture room where the other six male students were taught! She was never fazed by obstacles in whatever she undertook, whether personal or professional.
Kamini married and lived in the UK for a few years in the 1950's.The marriage ended and on her return to Sri Lanka with her two daughters in 1960, she promptly contested the Ratnapura seat as the candidate for the LSSP (Lanka Sama Samaja Party). She had a long association with the party and with left wing politics in general.
She went on to work as a science teacher and later (1960's) as a scientist working on the numerous challenges of coconut processing. In this period she obtained an M.Phil from the University of London. Later, Kaminiwas appointed as the General Manager of the Coconut Processing Board when the Coconut Board was restructured by the coalition government in 1970. Once she left this post she worked independently as a consultant on environmental issues such as Water Management and Women's Rights. Being a consultant also meant she could afford the time to engage in work as an environmental activist. She joined the Environmental Foundation Limited (EFL) where she worked on a variety of investigations on breaching of environmental laws and also in a legal aid clinic for those affected by environmental issues from polluted wells to illegal logging. She found the work both intellectually stimulating and emotionally satisfying.
During her time with EFL, Kamini joined Ruk Rakaganno (the Tree Protection Society of Sri Lanka) which was established to increase awareness and appreciation of trees and their role in the health of the ecosystem on which our survival depends. In the 1970's, she and her sister, Iranganie Serasinghe, were very active in leading the opposition, along with other religious and civil society groups, to the planned destruction of the Sinharaja rainforest under the then government's Forestry Plan.Years of campaigning finally resulted in the creation of a new Forestry Masterplan that was much more conscious of the impact of deforestation on the environment.
After Iranganie stepped down as President of RR, Kamini was appointed President and during her tenure RR undertook various projects. One she was proud of was the management of the Sam Popham Arboretum in Dambulla. For over 20 years the arboretum was developed in keeping with Popham's spirit and handed back to the NIFS (National Institute for Fundamental Studies) in April 2020.
Another project was the campaign to save the forests of the Weli-oya/ Soragune area, the destruction of which was causing an increase in human elephant conflict in nearby villages. A biodiversity report on the area was completed and published by RR to help strengthen the argument to declare the area a protected area. Even in her last months, Kamini was in the process of pursuing a project with John Keells to create an arboretum in the Kalawana area on the borders of Sinharaja.
In the 1990's Kamini was appointed to the Water Resources Council which recommends Water Resources Policy to the government. She was appointed as Convener and Chairperson of the Expert Study Group set up by NASTEC(National Association of Science and Technology) to study "National water resources policy and institutional arrangements". The report was submitted in 2000.
During the time she worked at the Coconut Board, Kamini became aware of the difficulties encountered by women in the production of coir and this led her to explore the impact of development and environmental change upon rural women. In the 1980's she worked on issues relating to women and environment working on several projects with CENWOR (Centre for Women's Research).She represented RR at the Sri Lanka Women's NGO Forum and was amongst the delegates to the 1993 NGO preparatory meeting in Manila, to prepare for the 4th UN Conference on Women to be held in 1995 in Beijing, as well being a delegate at the 1995 Beijing conference itself. She continued to represent Sri Lanka as a delegate for the environment at Beijing +5 in New York in 2000 and in Dehra Dun for the Beijing+10.
She did all this while keeping up with her family life, looking after her husband, Prof.Tissa Vitarana (who had a hectic political life of his own), ran a household and was a loving mother and grandmother to six grandchildren.
So you may ask what was it that made her so special? Was it what she did or how she did what she did? I am going to simply quote from a few of the tributes that were sent about her to the family.
She was brave and fearless! Would take on anyone bent on destroying trees and forests!-Hemantha Withanage (Centre for Environmental Justice))
It is difficult to capture the essence of Mrs V in a few words because she was an amazing lady- even now when we think of all her attributes of tenacity, determination, perseverance and passion for whatever work she undertook it never ceases to amaze us!Furthermore, she offered her kindness, compassion and generosity to many – Tanya and Dushy Perera (RR Committee member)
Kamini was charming, considerate, charismatic and courageous; her colourful life was a blessing – Prof.Shirani Balasuriya (Secretary, RR Committee)
One usually felt that if she embraced a project or activity that it really could be achieved. She always attempted to avoid confrontation and I appreciate that she probably achieved more by seeking consensus – Simon Lazenbatt (RR member)
R.I.P. Kamini.
Ranmal Vanderpoorten (daughter)
---
Hold me beneath your wings, till we meet again
 Godwin Perera
Yes Seeya, I remember
The handsome gent
The honest lawyer, rightful Judge
The hilarious one with a one-of-a-kind voice
Super-loyal Green Party member who cherished cricket so much
Romantic husband, loving father, reliable brother
Devoted Seeya, my superhuman
Loved and respected by so many
The one who promised to walk me down the aisle
The one who lived for us fighting with dying kidneys
The one who physically left us five years ago
I wish I could tell you that you made us proud
I wish I could tell you that we miss you like the deserts miss the rain
I know you are looking down from heaven, praying for us
So Seeya until we meet again, hold me tight  beneath your wings
Suhadinie Perera (granddaughter)
---
Thank you for your advice, guidance and more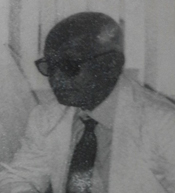 A.S. Goonawardane 
Forty years and still ……………
Down memory lane,
My heart craves
To hear your voice.
You garlanded me with
Integrity, morality, relevancy
Efficiency and honesty
That meant ever so much.
I'm so indebted
For your advice and guidance,
Also all the comforts in life
You sacrificed for me.
May we meet again in Sansara!
Your loving daughter,
Indra Goonawardane
---