Huge allocation for Provincial Council Ministry; polls likely within months
By Sandun Jayawardana
View(s):
With Provincial Council elections likely to be held in the coming months, the Public Services, Provincial Councils and Local Government Ministry will get a huge share of the funds in the Government's Vote on Account (VoA) which was placed on Parliament's order book on Friday and will be debated on next Thursday and Friday.
In the Vote on Account, this ministry has been allocated Rs 194 billion.
The Vote on Account is a prelude to the Budget to be presented in November. The Rs. 1.7 trillion (Rs. 1,700 billion) Vote on Account funds will be to cover the expenses for the last four months of 2020.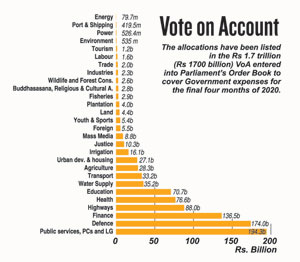 The Ministry of Defence comes in second with an allocations of Rs 174 billion while the Ministry of Finance is third with Rs 136 billion.
The Government hopes to raise Rs 1.3 trillion of the funds by way of loans obtained locally and from overseas.
The Ministry of Finance comes under Prime Minister Mahinda Rajapaksa. The two other Ministries Mr Rajapaksa holds — the Urban Development & Housing Ministry and the Buddhasasana, Religious & Cultural Affairs Ministry — have been allocated Rs 27 billion and Rs 2.8 billion respectively.
Several key ministries have noticeably received smaller allocations. The Ports and Shipping Ministry has been allocated just Rs 4.1 billion, while the Lands Ministry is to get Rs 4.4 billion. The Plantation Ministry has been given Rs 4 billion while the Power Ministry will get Rs 5.2 billion.
The Sports and Youth Affairs Ministry, by contrast, will receive a far higher allocation of Rs 5.4 billion. Namal Rajapaksa holds this portfolio.
Among other ministries with high allocations are the Highways Ministry with Rs 88 billion and the Health Ministry Rs 76 billion. The Education Ministry will get Rs 70 billion. The Water Supply Ministry will get Rs 35 billion, the Transport Ministry Rs 33 billion, the Agriculture Ministry Rs 28 billion and the Irrigation Ministry Rs 16 billion.
The ministerial portfolio of Power and Energy was broken into two by the new Government and under the Vote on Account, the Energy Ministry will get the lowest amount of funds with just Rs 79 million. This is followed by the Environment Ministry which will get Rs 535 million.
Despite the tourism sector suffering heavily due to the COVID-19 pandemic, the Tourism Ministry will receive a relatively small allocation of Rs 1.2 billion. The fourth lowest allocation has been for the Labout Ministry which will get Rs 1.6 billion.
The Ministries of Trade, Industries, Fisheries and Wildlife and Forest Conservation will also receive less than Rs 3 billion each.