Heavy price to pay for golden culinary spice
By S. Rubatheesan and Nadia Fazlulhaq
View(s):
An average Sri Lankan's meal is not complete without a dhal curry, but finding a pinch of turmeric, the essential condiment that adds colour, aroma, and healthy goodness has become a rarity.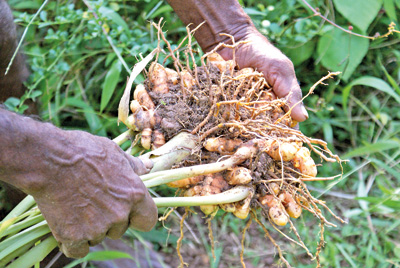 Those desperate for a piece of the rhizome that belongs to the ginger family, should either pay an exorbitant price or settle for adulterated turmeric.
The scarcity has even triggered large-scale smuggling from India.
According to the Census and Statistics Department, turmeric was sold at Rs 655 per kilo in July last year, but by the third week of July this year, the price had rocketed to Rs 2,940 per kilo, and in the last week of July, it increased further to Rs. 3,200 per kilo (an increase of 388 percent from last year). Now, turmeric costs Rs. 2800 to Rs 4000, the department said.
The state body for statistics revealed this price increase at a time when the Consumer Affairs Authority (CAA) has set a controlled price of Rs 750 per kilo. No importer, producer, distributor, or trader can sell above that price from April 21.
Annual demand for dried turmeric is 6,800-7,000 metric tonnes, of which about 5000 MT is imported, mainly from India. Sri Lanka produces about 10,000 metric tonnes of raw turmeric (once dried it reduces to 1/5th ) and makes about 2,000 MTs.
Nihal Gunasekera owns a grinding mill in southern Thellijawila.
"We are struggling to find genuine turmeric. Good quality turmeric is sold at Rs.4,000-Rs 4,500 a kilo, but low quality turmeric can be purchased for Rs. 2,000. When we go to Pettah we are told that well-known spice vendors have purchased in bulk when they were tipped off before the CAA issued the control price. At present only the small and medium-scale mill owners are affected," he said.
His own medium-scale mill needs 200kg of turmeric a month.
"Though raw turmeric is available in the country, there is no technical processing at village level. Until our cultivation and processing is strengthened, it is essential to import," he said adding that some traders mix about 100 kilos of rice flour to 30 kilos of turmeric and sell at a lower price.
Among people in north, turmeric is not a mere cooking ingredient but also fulfils heath and spiritual needs.
In making the famous Jaffna curry powder mixture, turmeric is essential, said Amirthalingam Kalasothi, a self-employed entrepreneur who makes traditional homemade ingredients for local markets.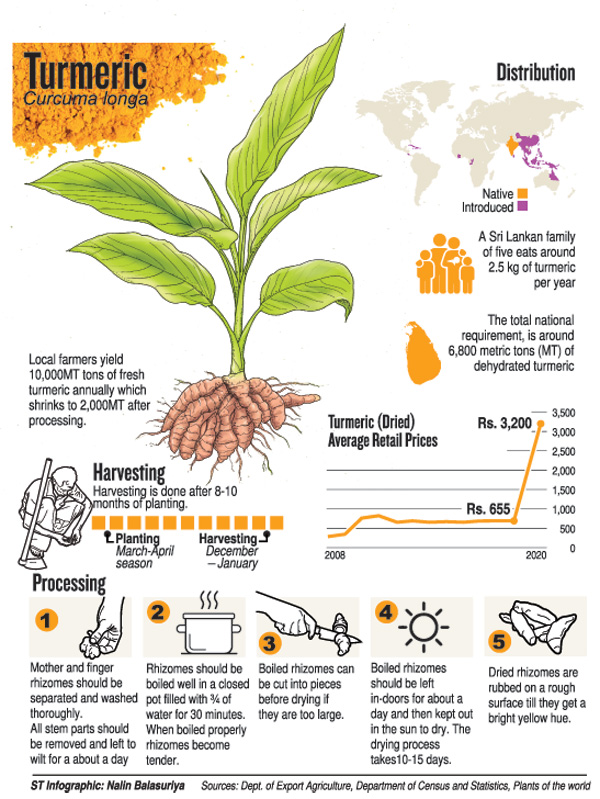 "With turmeric being sold at Rs 3,000, compared with the earlier price of Rs 400 per kilo, there is no alternative for genuine turmeric. But how can we afford it?," Ms Kalasothi asked, while stressing that her income has drastically gone down since the coronavirus outbreak.
As for regulating the trade, a senior investigator of the CAA said teams will be checking for adulteration.
"Our teams are checking for such malpractices. Customs should make arrangements to release turmeric that has been held up due to import restrictions," he said.
Yvonne L. Fernando, lecturer at Sabaragamuwa University's department of food science and technology, said the crisis is due to the reduction of imports.
"It is important to encourage farmers to grow turmeric at least to fulfill local demand by giving more subsidies and providing training for newcomers. Previously, farmers were not interested in growing turmeric due to the lower price of about Rs 35-Rs 40 a kilo for raw turmeric. Now, with the crisis the prices have increased. This will lead farmers to consider growing turmeric," said Ms. Fernando.
Ms. Fernando, who lectures in spice processing, said turmeric can be grown successfully in our climate and soil with major growing districts being Ampara district, Kurunegala, Gampaha, Kalutara, Kandy, and Matale. Turmeric can be harvested in eight to 10 months.
"Now our farmers have cultivated in bulk due to this crisis and the harvest by this December or next January will be considerably high. But, it will not be enough to meet local demand. Still, it is much greater than what we produced earlier," she added.
D.A. Perera, chairman of the Spice Council of Sri Lanka, said in one acre, about 10,000 kilos of raw turmeric can be cultivated.
"As turmeric's medicinal value, disinfectant and immune boosting qualities were highlighted during coronavirus outbreak, consumption went up. The government should import quality turmeric to prevent people from using fake turmeric powder that actually can be carcinogenic. But once the country is self-sufficient, we can completely halt imports. South Indian farmers heavily depend on our country's demand for turmeric," he said.
Mr. Perera said that unfortunately, Sri Lankan farmers do not have the technology to process raw turmeric and the government should give support.
Import restrictions to be lifted

The Government has decided to lift import restrictions on turmeric to ease the severe local shortage that has seen adulterated products in the market as well as increased attempts to smuggle the spice into the country, a senior Cabinet Minister said.

Minister of Trade Bandula Gunawardana told the Sunday Times that the relevant gazette notification lifting the existing import restriction was issued yesterday to allow private importers to bring turmeric consignments from abroad.