Revival of exports a sign of economic recovery
View(s):

Exports surpassing US$ 1 billion in July is an indication of the economy's revival. Maintaining and accelerating this export momentum would ease the country's balance of payments that has been adversely affected by the shortfall in workers' remittances and negligible tourist earnings.

This revival in exports after six months is also important as it is an initial sign of an economic recovery that would increase employment and incomes.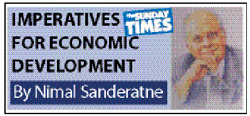 First half
Exports exceeded one billion US dollars in January this year but dipped during the next five months. Consequently total exports were only US$ 4.4 billion in the first half of the year compared to US$ 7 billion in the first half of 2019. This 26 percent decrease was mainly due to the global economic recession.
Exports in July
The increase in exports to US$ 1.1 billion (US$ 1.09 billion) was achieved by increased exports of tea, sea food, garments and rubber manufactures. The latter two were not the usual items in these categories. They were new products for personal protection from COVID-19.
Tea exports
Tea exports that constituted 12 percent of total merchandise exports in July, increased by 16 percent from that of July 2019. Tea exports in June 2020 too were 1.4 percent more than in June 2019.
This improvement in tea exports is attributed to higher demand for tea from Turkey and Russia. Tea production has to be increased to ensure an expansion in the tea export surplus to meet international demand and bolster our export earnings.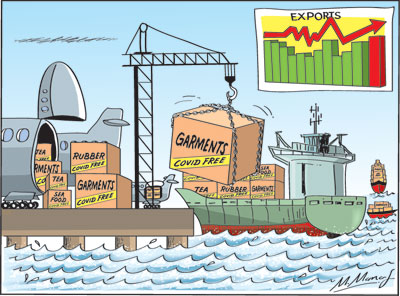 PPE
Earnings from exports of apparel, textiles, rubber and rubber-based products grew significantly during July 2020 owing to higher demand for personal protective equipment (PPE) such as face masks, protective suits, surgical gloves, and similar goods. These PPE related exports amounted to US$ 115 million in July 2020.
The diversified rubber and textiles exports demonstrate the innovative capacity of the private sector. They would need to keep responding to changing international demand and emerging new export opportunities. It is crucial that imports of raw materials are not restricted as the country's manufactured exports are dependent on imported raw materials. Conversely, the reduction of tariffs and para-tariffs on imported materials and reduced electricity costs could enhance exports.
Projection
Monthly average exports of US$ 1 billion in the next five months would result in  annual export earnings of US$ 10.5 billion in 2020. This is only about US$ 0.5 billion less than last year's export earnings of US$ 11 billion. Taking into account the leap in exports in July, there is every prospect of the 2020 export earnings exceeding last year's US$ 11 billion to reach US$ 12 billion, if the current global demand continues and perhaps improves. One must however be cautious in expecting this as the global containment of the pandemic is still distant.
Trade deficit
Such an improved export performance, with the curtailment of "non-essential" imports and reduced intermediate and capital imports could reduce the trade deficit this year to around US$ 6 billion. If this was to be achieved, it would ease the balance of payments that is seriously weakened by the drop in workers' remittances and loss of earnings from tourism.
Export prospects
The significant improvement in exports in July lends hopes for a revival of Sri Lanka's export dependent economy. However, the initial gains in exports have to be consolidated and strengthened to expand exports significantly. The development of new products demanded by the changed conditions and aggressive marketing in new markets are crucial to achieve this.
On the other hand, there are demands for merchandise from countries that have revived. A case in point is the surge in demand for expensive jewellery from the rich classes in China. This is a new market for the country's depressed gem and jewellery trade.
Caution
The upturn in exports should be viewed cautiously as the world has not recovered from the pandemic and reversals in international demand are possible.
The increase in tea exports in June and July is an encouraging sign. It has been achieved by an improvement in prices and an increase in export volumes. It is therefore critical that the country's tea production too increases to enable an increased export surplus.
BOP benefit
If the upturn in exports in July could be enhanced in the next five months, it would be an immense benefit to the balance of payments. With the continued reduction in imports, the trade deficit could then be reigned in to around US$ 4 billion. Such a reduction in the trade deficit is crucial as two of the strengths in the balance of payments, workers' remittances and earnings from tourism have been eroded.
Conclusion
Hopefully the trade dependent Sri Lankan economy is on the road to recovery and the global containment of the pandemic and the global economic recovery is not far off. It is vital that these gains in trade are not frittered away by imprudent public expenditure that increases imports. On the other hand, import restrictions should not impede export manufactures.