Appreciations
View(s):

A rose with a sandalwood soul 

Mulin Kurukulanatha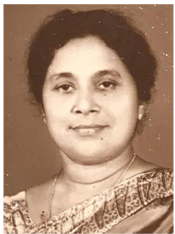 "Sandun gase saman
walak ethenne.
Nadun wanaye sihil
suwaya soyanne"
I thought of starting with the above two lines which were the same lines used by my grandfather to address my much-loved grandma Mulin Kurukulanatha. I wonder how he could have been so accurate about her from the very beginning of their lives. Maybe it was because of their everlasting bond.
Mulin was born in 1939 in Moratuwa to a Catholic family, the second child of Mr. Pieris and Roselin Perera. She lost her father in her early childhood. She had just one elder sister. She grew up studying in a convent where she enriched herself with an English medium education. Through her childhood and her teens, she became this amazingly beautiful person not just in her outlook but also within, humble and charming with an unusual sense of kindness.
She started her career as a stenographer at the Social Services Department where she met her eternal love. Thissa Kurukulanatha came from a respectable Buddhist family, also living in Moratuwa. In 1963 before marriage she became a Buddhist. It was not so difficult for her to change as she had such a pure personality. They had two daughters- Danthika and Vishaka. She served in the Forest Department for years, where she was much loved by her colleagues for her simplicity and warm-hearted personality.
She was a supportive spouse to her husband and an influential mother to her two daughters. She had amazing creativity in whatever she did. Whoever ate her food even once would never forget its taste. She used to sew elegant dresses for her daughters and later pretty little suits for us; her grandchildren.
Her husband was an honourable personality who was a family counsellor and volunteered in social service. He was the founder of the Educational Social and Cultural (ESCO) Organization which became 'the torch' for the disabled to discover their hidden skills. He made the platform for the disabled to open up and show their talents nationally and internationally co-operating with VSA arts and John F. Kennedy Center, USA. In 1990 he and my grandmother visited Japan with a troop of disabled people, on a special invitation from VSA arts. His infinite capacity for caring for the poor and disabled would not have been a success but for her support to him as a life partner. She was always there for him, through thick and thin.
Even after he passed away, she continued his social and welfare work, holding the position of Secretary-General of ESCO for a few years. In 2019 she received an honourable mention at the Divisional Conference of the Civil Social Organization; praising her years of unconditional service to the society as being the strength to her husband and also her dedication and support at continuing his work.
When it came to relationships, she never used the suffix 'in-law'. She was a loving elder sister to her husband's four younger siblings and mother for her two daughters' husbands. She always loved and cared for them as her own. In turn, she also was not an 'in-law' -they treated her with utmost love and respect.
After my grandfather passed away she used to live with her elder daughter who is my mother. I would spend time with her more often and she became my confidante.
I am honoured to be a granddaughter of such a versatile lady, and I am so lucky that I was old enough to appreciate all her qualities. She used to share memories of her past with me. By that time, she was a fond mother-in-law of  two doctors and a proud grandma of five grandchildren.
She was happy. She was so peaceful, calm in her walk and always with a pleasant smile. She lived perceiving the reality and tolerating uncertainty. She was not self-centered but always gave priority to the happiness of others. She always accepted and loved others for what they were. She did not try to change anyone as every person is beautiful in their own way.
To quote her exact words 'taste differs'. She used to deeply appreciate even the smallest things in her life. She lived life to the fullest. But the time came. On May 31, as usual, she was holding my hand, smiling like a rose. I left her in bed as she was sleepy, not knowing that I would not be able to hold her hand ever again.
It has been almost three months since she left us. The more we think the more we realize she was a rose with a sandalwood soul inside.
She was as pretty as a rose and she was like sandalwood which imparts its fragrance to the axe which cuts it, without doing any harm in return.
Navodi Gunarathne
(granddaughter)
---
Memories of tough work in the jungles and relaxing  evenings
Thosapala Hewage
Thosapala Hewage, former Ambassador to Nepal and former Secretary to several Ministries, passed away in New Zealand during the height of the Corona lockdown in April. After retirement, he was living with his beloved wife Thilaka, son and daughter and their families in Auckland.
'Those' (his pet name) and I became friends at first sight when we were introduced to each other by Thilakasiri Prathiraja, the first Chief Settlement Officer of the then Mahaweli Development Board and my superior at Galnewa settlement office. Mr.Prathiraja later became the Land Commissioner and retired as Land Secretary. We lived in cadjan huts on the banks of Kala Oya without having even proper toilet facilities at the very outset, around 1974. However, those were the days we enjoyed both our tough work in the jungles with farmers and evening get-togethers with sing-songs and dances.
We were the pioneers of the Mahaweli Settlement Plan launched under the able leadership of  R.S. Jayarathne, the then DGM-Settlement Planning, assisted by T.H. Karunatilake known as 'think tank'. Later on, Mahinda Ralapanawa and D. M. Ariyaratne respectively took over the leadership. Both these clever task masters also made our rough life  in the field interesting and enjoyable as they frequently visited us sometimes with literary giants like  K. Jayathilaka and A. V. Suraweera. I remember once Mr. Ariyaratne challenging Maestro Amaradeva to sing a song with him.
Jayalath Manoratne and dramatist Abeysundara were also working in my team in the "H" Area and we organised drama festivals at Bongamuwa, Kekirawa and some other places. After Y.G. Wijeratne took over as Chief Settlement Officer such get-togethers became a regular feature.
The District Land Officers of the neighbouring districts were summoned from time to time for land kachcheries to select eligible farmers to receive Mahaweli lands in the "H" Area under the Kalawewa basin first. 'Those`s' regular presence at those programmes made us good friends. Whenever we had to come to Colombo we used to pick-up 'Those' at Rajangana where he fuctioned as Resident District Land Officer. Nostalgic memories of such encounters have an indelible place in my mind. One day when we were returning from Colombo at night our jeep had a tyre puncture on the Puttalam Road. Mr.Prathiraja was at the wheel and it was raining 'cats and dogs'. 'Those' and myself got out in the  heavy rain and jacked up the vehicle making a desperate attempt to remove the wheel in question to replace it with the spare. Both of us used the wheel brace together with our full force but the wheel nuts refused to move. We were fully wet and thoroughly frustrated. Then a man approached with an umbrella – a bus driver living nearby. After having a look at the wheel he said sarcastically "Sir, you have fastened the nuts instead of loosening them." 'Those' looked at me helplessly and we didn't utter a word after that.
Our paths crossed several times during our lengthy public service career. When he became Secretary to the Ministry of Environment and Natural Resources I was Additional Secretary to the same Ministry. When he was made Secretary to the Ministry of Enterprise Development and Investment Promotion I worked with him again as a consultant and Project Director of the projects funded by World Bank, ADB, and JAICA. Rohitha Bogollagama, able and clever negotiator took over the Foreign Affairs Ministry at a time when our multilateral as well as bilateral relations became very vulnerable, especially, at the verge of elimination of LTTE terrorism by our armed forces. 'Those' and I  were sent as Heads of Sri Lanka Mission representing the country abroad.
He settled down in New Zealand after retirement and when vacationing here in 2018, requested me to assist him in launching his autobiography 'Emerging from the Backwoods'.We organized the event at the  Sri Lanka Foundation Institute with the participation of our seniors, colleagues and friends. Nanda Abeywickrama, well respected former Ministry Secretary chaired the event. The then President`s Secretary Austin Fernando delivered the keynote address. It was a memorable day for me as I could meet and talk with most of my former bosses and colleagues during the event. 'Those' and Thilaka thanked me profusely for managing the programme. 'Those`s' autobiography itself will vouch for his genuineness and frankness.
There were many other brief occasions when we ran in to each other unexpectedly. When I was Additional Secretary to the Ministry of Foreign Affairs under the late Lakshman Kadirgarmar, a great leader who had a vision for the nation, summoned a meeting with couple of Secretaries to other Ministries which included 'Those' as well. He stayed with me for more than ten days while attending an international conference in Havana as Secretary to the Urban Development Ministry, if I remember correctly, when I was the Head of Mission in Cuba. I took him to the 'Granma ' cabin cruiser on which Fidel Castro and 81 followers returned to Cuba from Mexico in 1956 and to the Museum of Revolution in Havana. While driving him from Havana to Santa Clara where the 'Che Guevara Museum' has been located we had a wonderful time reflecting on our halcyon days.
'Those' was one of those dwindling band of hard working public officers this country had in the recent past. The 'National Forestry Policy' was drafted and finalized under his supervision as Director, Forestry Planning. There are several landmark achievements in his public service career. He was elected twice as Secretary to the Sri Lanka Administrative Service Association which came under the chairmanship of veteran administrator/ diplomat Lionel Fernando. More than anything else 'Those' was a friend in need and in my case he became a friend in deed. His honesty and integrity cannot be easily matched by his juniors or followers in the public service. There were situations challenging his reputation once or twice but he came out smelling of roses.
'Those' used to call me whenever he returned to Sri Lanka from New Zealand and we would meet to have a chat. He was too busy during his last visit to Colombo due to some special medical treatments as his health was deteriorating by then. My advice to him was to return to his family in New Zealand as soon as possible which he followed promptly. After going there he succumbed to his illness sooner than I thought.
When I called him a couple of days before he passed away, he said, "Jayantha, they are doing their best but I feel my days are numbered!" Albert Einstein said once "we have been programmed before sending here". 'Those' you have accomplished your task here to the letter and we are proud of you. We miss you badly during this extra little time of our lives and hope our paths cross again one fine day during our sojourn in 'Sansara'!
Until then, farewell 'Those'!!
Jayantha P.B. Dissanayake
---
I owe her a great debt of gratitude
 Maureen Gunewardena
Twenty years to the day on August 16, 2000, Maureen answered the call which comes eventually to us all.
I was in the happy position of living and enjoying my childhood as her kid brother. Little acts of kindness such as joining in playtime at home and being consoled by her when parental admonition was directed at me for my naughty exuberance are etched in my memory even though seven decades have elapsed since those happy childhood days.
In later life too, Maureen showed much concern for my wellbeing, particularly helping in weak subjects I encountered at the school promotion examinations.  She even paid for my private tuition and it would be no exaggeration to state that without her support, both morally and financially in those crucial years I would not have succeeded in getting over the hurdles in later life. I had no brother so in a manner of speaking she filled the void of an elder brother to show me the way to a full adult life.
Even in the matters of settling down she showed concern in a subtle manner sans coercion that I choose correctly.  When I recollect all her benevolence and goodwill I have to acknowledge I owe her a debt of gratitude.
Maureen's own life was very illustrious and eventful.  Having finished a brilliant school career at Holy Family Convent she went on to the University of Peradeniya and graduated with an Honours degree in 1953 at the very young age of 21, a somewhat rare achievement not equalled by many before or even after that date.
After graduation Maureen took up an appointment at the Inland Revenue Department as an Assistant Assessor which was a prestigious appointment at the time – she was the second lady staff officer in the history of the department.  She retired 25 years later having reached the high office of a Deputy Commissioner.
In 1957, she married Victor Gunawardene whom she had met during her  undergraduate days at University.  They had four daughters who did them proud, in professional and semi professional fields.
During all these years of official executive commitments and bringing up children with all domestic chores, she did not fail to look after her ageing parents, which I must state, would have been a strain in later years, but which she was able to do thanks to the strong family support of her husband and children.  Hers was a life of versatility and fulfillment for which I am certain she won the admiration of all who knew her in her lifetime and now would remember her with love and gratitude.
A matter of some regret however is that she had to cope with more than her fair share in family responsibility as the eldest sibling and had little opportunity to enjoy her retirement and leisure.  As illness afflicted her in the early 60s, her precious life was shortened, and even though family and friends fought hard to save her, the adverse impact of malignancy and surgical misadventure had its fatal consequences.
Her husband having stoically faced the adversity has since passed away to join her in eternal bliss, so on this 20th anniversary of her passing, our comforting thoughts go out to their four daughters, an admirable united family.
 Ranjith Goonetilleke
---