Confusion over preferential voting system may have caused high rate of rejected votes
By Tharushi Weerasinghe
Election Commission's Acting Director of Research and Planning pooh poohs notion, says confusion due to high number of independent candidates - Highest total of rejected votes as a percentage of voter turnout was in 2010, at the first post-war parliamentary elections
View(s):
Confusion about the format of the ballot paper with its many symbols and three preferences may have led to the high rate of rejected votes at the recently concluded parliamentary elections, experts said.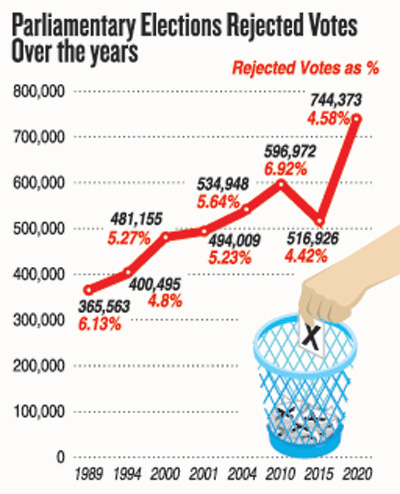 The total number of rejected votes at the August 5 election was 744,373. When set against a voter turnout of 75.89%, this is 4.58 percent.
But the highest total of rejected votes as a percentage of voter turnout occurred, not this year, but in 2010 at the first post-war parliamentary election. At 6.92 percent, it was also the highest since 1989.
In both 2010 and this year, Jaffna and Nuwara Eliya recorded the most number of rejected votes. This could be because a majority of the voting population in Nuwara Eliya worked on estates and may not have been sufficiently voter-literate, resulting in spoilt ballots.
"The preferential voting system is where most people had made mistakes and ruined their votes," said Pulasthi Pathirana, Assistant Commissioner of Elections for Nuwara Eliya. Many of the voters who had their ballots rejected had voted for both a party and an independent group instead of crossing out their preferred candidates' number. Mr Pathirana blamed voter confusion and illiteracy for the trend in his district.
"Awareness campaigns on how to register to vote, how to vote, and the importance of voting were conducted throughout the year," he said. But the preferential voting system still caused confusion. This was clear in how the rejected vote percentage at the Presidential election last year was just 1.26 percent (7,155 votes).
"We are making plans to overcome this as we understand that a lot of votes go to waste in this manner," Mr Pathirana observed.
Adequate voter awareness campaigns had been carried out, insisted Channa P de Silva, the Election Commission's Acting Director of Research and Planning. He pointed to digital media advertising campaigns that had showed the ballot paper and how it should be marked. However, accessibility to such advertisements of the segments from which spoilt votes emerged is questionable.
Mr de Silva discounted rumors of a high number of intentionally spoilt votes, usually a sign of protest. "There were very few of those," he said. He also dismissed that the preferential voting system confuses people. "We have had this system since 1988," he said. "What's there to be confused about?"
He had manned a counting centre in Badulla, a district with 7.19% rejected votes. "The high number of independent parties had resulted in much confusion among the voters," he admitted. This was a tactic a party sometimes used – registering hoax independent parties so as to distort votes–he said.
The 2010 Jaffna results were likely impacted by the Government administration still being crippled by decades of war. But voters also often spoilt their ballots to demonstrate a lack of faith in the system and in candidates, said Dr Jayatissa de Costa who has long analysed voting trends in Sri Lanka.
Sri Lankans had been accustomed to the universal franchise system enforced in clockwise elections held since 1947, he pointed out. It was a first-past-the-post system.
But elections are currently held on the proportional representation method. This is generally only viable in countries with two major parties. But twenty-two parties contested in this month's parliamentary election.
The Sri Lanka Podujana Peramuna (SLPP) achieved a startling two-thirds majority in Parliament. "When former President J.R. Jayewardene introduced the presidential system, he only got 51% of the popular vote," Dr de Costa said.
Now, constitutional change can come about as a result and by-product of the electoral system. But he expressed concern about the high number of rejected votes saying, "It is against the basic principles of democracy for votes that could've changed the results to go to waste."
"Even I was a little confused by the ballot paper this time with the symbols and the three preferences," observed Dr Jayatissa de Costa, who has long analysed voting trends in Sri Lanka.