Making a difference through mobile schooling
By ParamieJayakody
View(s):
While there are new challenges being posed by a COVID-19 world every day, teams and individuals are working tirelessly behind the scenes to help make a difference, every day in their own way.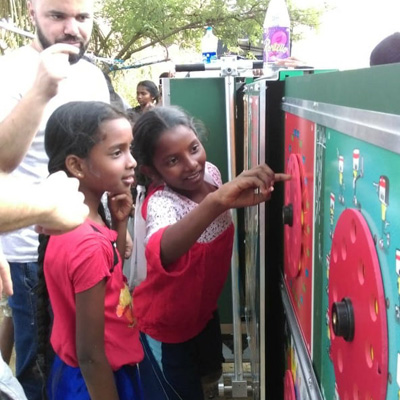 Child Action Lanka (CAL) is one such organization that works with children marginalised by poverty to bring about transformation in their lives since 2006. CAL works with children (0-18) young adults and parents of urban, rural, estate sectors of Sri Lanka in order to help them understand their individual capacity, own value, skills, aptitude and potential of growth, thereby expecting them to become responsible and independent citizens who can reciprocate their development to those like them. CAL's statement is that the cycle of poverty is broken through educating children.
Founded by Debbie Edirisinghe, CAL started in Kandy but has now expanded to over 5 different cities, and recently they started a new project called the mobile school system, which kicked off last year and has been developing steadily since. This is the first project of its kind in Sri Lanka, and it's been possible through the partnership of StreetWize.
Mobile school is a portable setup with education tools attached, and can be used to reach previously unreachable communities with education, making it another step in equality for all. The teams operating the project have been specially trained, and so far it has been a success, with a lot of enthusiasm being displayed by the teams as well as the target communities.
Formed with the intention of providing education to the children who are unable to make it to school because of social, financial or physical barriers, the mobile school is a cart like structure with rotation panels, white boards and even instruments like abacuses fixed in an expanding frame.
The rotation panels themselves are an advanced form of brain development games and education being seen for the first time in Sri Lanka.
The project launched in Gohagoda in February 2020. They  run a really successful mobile school there for the community and some of the CAL grads have even started a satellite version of the Kandy centre there. They have established a children's society, and have plans to establish a women's network. The project has also expanded into three communities in Kelaniya and in Mahaiyawa as well.
While the operation was brought to a sudden halt with the onset of COVID19, the education has not stopped. CAL staff were quick to make 'education packs' that follow the education pattern of the mobile school that kids were able to follow individually from home. The aim of the packs was to keep the knowledge fresh and also motivate them to keep learning.
Speaking with Subramaniam Yashodaran, who joined the team early this year, he recounts how much he learned at the training, including how to operate the mobile school, and basic knowledge of how to teach what's included. The structure is such that there's very little to explain, Yasho tells us. Rather, the panels are simple and teach the child through their own skills.
Since the project kicked off, it has garnered a lot of praise and recognition, and even requests to reach other communities. "The children love to learn, and it's wonderful to work with a group who are so enthusiastic to learn from us," he says, adding that it's worth it to teach communities where education was not possible before. He mentioned that the Gohagoda community even cleared the forest areas to make room for the classes when there were space issues initially.
Right now the project is maintained by the trained team, as well as international volunteers, but they are looking to expand to local volunteers as well.
If you want to reach out to Child Action Lanka you can check out their pages on Instagram and facebook, or their website https://www.childactionlanka.org/