Kerrigan La-Brooy making a lasting impression on World Music Charts
View(s):

Senior Pastor and Planter of Gethsemane Church as well as Founder and Creator of Gethsemane Charity, Kerrigan La-Brooy, the Sri Lankan born Singer/Songwriter, now a Citizen of Australia, continues to make a lasting impression on music charts all over the world but even more significant is the impact Kerrigan is having in people's hearts.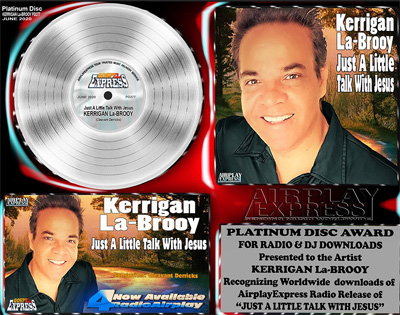 Kerrigan's first single, off his Debut Country Gospel Album, 'Thank You Precious Lord', which also features vocals by his 6 priceless treasure children, has taken the world by storm. Titled 'Just A Little Talk With Jesus', Kerrigan's song reached number one on the Australian TYGA-FM Country charts in just 4 weeks and stayed at the Top of the Charts for 2 consecutive weeks. It is currently number one on the World Top 40 Singles Chart based on Airplay. It also reached number one on the Gospel Express Charts and is still climbing the Country Express Charts. It also received Gold and Platinum status for airplay and made a thunder crashing Entry into the Country Thunder Charts at number 1 ahead of acts from Australia, USA, Canada and Europe based on fan votes, and after 6 weeks in the top 3, it returned to number 1for 2 more weeks. It also peaked at number12 on the European Charts.
Kerrigan is currently number 1 on the World Top 200 artiste Chart. His video of Just A Little Talk With Jesus is played on High Rotation on Nashville Country Music TV as well as on the Top 20 Countdown on European TV, watched by millions of viewers. Kerrigan was also featured in the Nashville Country Music Magazine.
Meanwhile, Kerrigan hosts two Radio Programmes, a 2 Hour Gethsemane Country Show as well as the Gethsemane Gospel Hour. The shows launch each week in Australia, on the Casey Network, OZ Country Music Radio and the Country Thunder Network, and they are repeated throughout the week on the Nashville Broadcasting Radio Network, Cherokee Nation Radio in New Mexico, Belgium, the Netherlands and Ireland. Kerrigan also speaks the Word of the Day daily on Australian and American Networks. In fact, Kerrigan has his own Gethsemane Radio Station which streams 24/7 all over the world. The brand-new Gethsemane Website is scheduled to be launched in September and is a long-awaited project which will provide a platform for all that Kerrigan is involved in.
To add to his astounding success, Kerrigan's 2nd single titled New Hallelujah, the 6th track of his Album, has stormed to number 1 on the Gospel Express Charts in just 3 weeks and just like its predecessor Just A Little Talk With Jesus,  Kerry's latest single New Hallelujah has achieved both Gold and Platinum status for Airplay. The song is currently at number 13 on the Australian charts after just 2 weeks and crashed into the Country Thunder World Charts at number 2, just missing the number 1 position only because attention was being divided and distributed between both his singles at the same time. However, the good news is that New Hallelujah is tipped to reach Number One  this week.
Kerrigan has a 3rd single out on the European market, titled  'Oh, Lonesome Me', off an upcoming album still to be named. Oh, Lonesome Me entered the European Charts at number 25 this week and the video of the song was played on the European Top 20 Countdown as a First Play, signifying that it's going to make the Top 20 next week. Kerry is just releasing it to the American market this week and the single is tipped to be his 3rd number 1 on the Country Express Charts complete with Gold and Platinum status.
While all this is happening Kerrigan home-schools his six young children, 4 boys with 2 girls in the middle, aged 7, 8, 9, 10, 11 and 12. Kerry also operates Gethsemane Church and Charity with his beautiful wife Michelle and their team of faithful volunteers. With the current curfew and lockdowns in Melbourne Australia, Kerrigan is busy working on the frontline because of the Essential Services they provide. Gethsemane has experienced an increased influx of community members in desperate need of assistance and Kerrigan has received special permission from the government and local council to be able to travel beyond restricted areas in order to give care and supply food to people.