Polls at last; lacklustre election campaign ends tonight
By Our Political Editor
View(s):
President likely to form new government soon to start work on tackling key economic and pandemic-related issues
Western diplomats show keen interest in north-east politics; TNA faces tough challenges, but receives diaspora support
Speculation about what would happen to the UNP and Sajith's SJB after the polls?
Most Sri Lankans have shown a lack of enthusiasm over the August 5 parliamentary elections. Yet, in marked contrast, western governments have displayed a keen interest on the outcome. Most of their diplomats have been in the northern capital of Jaffna, easily the epicentre of increased political activity. This is compared to all other districts with Colombo taking a distant second place.
At the August 5 general election, more than 16.2 million voters are eligible to vote in 13,000 poling centres. More than 200,000 state officials will be deployed on election duty at both polling and counting centres. An Election Commission spokesperson said about 10,000 health sector employees would be on duty to conduct the polls under strict health guidelines. There are around 80,000 Police officers deployed and the armed forces are on standby to be deployed in an eventuality.
The focus on Jaffna is more than symbolic for many reasons. They want to assess the mood of the Tamil political parties vis-à-vis a new government which President Gotabaya Rajapaksa is almost certain to form. What are their expectations and whether any form of rapprochement, subject to political demands, will be feasible?  More so at a time when the main contender Tamil National Alliance's (TNA) manifesto insists on a federal system 'within a unitary Sri Lanka' and the 're-merger' of the Northern and Eastern provinces — an issue over which the Supreme Court declared in 2006 is "unconstitutional, illegal and invalid."
Already, the Provincial Councils, the result of a Tamil demand after the unfortunate ethnic violence in July 1983, are not functioning under a political leadership. These were set up with the persuasion of India. If the PCs were meant to be instruments of power sharing, their efficacy came into question after the TNA supported the then Yahapalana  (good governance) government to amend the PC Elections Law so the government is empowered to put off polls. It was a contorted move by the then government to avoid facing PC elections.
Candidates opposed to the TNA have argued on election platforms that other than extending support to prolong PC elections, which by itself was counterproductive, the TNA had not achieved anything substantial for 'the Tamil people' by backing the previous regime. It is noteworthy that this line of campaigning has received some traction threatening the prospects of the TNA retaining the five seats it held in the Jaffna peninsula.
Challenges facing TNA
TNA campaigners have insisted it would win five seats if not more. However, backers of opposition groups claim there was stiff competition and speak of the possible emergence of C.V. Wigneswaran. He is a former Supreme Court Judge. He is challenging the TNA over what it has been able to achieve by supporting the last government. He is also accusing the TNA of preventing him from establishing a Foundation for Tamil welfare.
The party Wigneswaran, a hard liner, formed did not receive official recognition. Hence, he is contesting from the Thamil Makkal Thesivya Kutani or Tamil People's National Front. This Front is a successor to the Eelam People's Revolutionary Liberation Front (EPRLF) which went with a flower symbol. With a name change, the symbol has now been changed to a Fish. The President of the Front, according to registration, is Suresh Premachandran and the General Secretary Shivashakthi Anandan. However, in Jaffna, some posters and hand bills claimed Wigneswaran is the leader. On Friday, Wigneswaran told an election meeting that he had written to President Rajapaksa about attempts by a group in black uniform to disrupt his political activities in the peninsula.
Also contesting from the same front, among others, is Ananthi Sashitharan. She is the wife of Velayutham Sasitharan (alias Elilan), then the Liberation Tigers of Tamil Eelam's political head for Trincomalee. Another possibility which opposition groups claim is the emergence of Gajendrakumar Ponnambalam from the Ahila Ilankai Thamil Congress (or All Ceylon Tamil Congress) led once by his grandfather and eminent Queen's Counsel, G.G. Ponnambalam and later his father, popular criminal lawyer Kumar Ponnambalam. Other strong likely
winners being mentioned are Minister Douglas Devananda (EPDP) and Angajan Ramanathan, who is contesting on the SLFP ticket. The competition appears tough and only the outcome of the polls will make clear the reality.
Western diplomats have been posing questions to all key players in the elections. One among them sounded out several prominent Tamil candidates about the prospects of a future alliance of minority political parties, those from Tamils, Muslims and Christians. The rationale for the move is their belief that the major opposition was in tatters and the emergence of a minority group could wield better political clout. At least one of them felt majoritarianism was growing rapidly. An outgoing head of mission had all his meetings from the Jetwing North Hotel. The country he represents has a substantial number of Tamils who went as refugees and won citizenship in his country. Another area of focus for the diplomats was the US-backed resolution on Sri Lanka at the UN Human Rights Council. Among other matters, it calls for an international probe into alleged war crimes caused by troops as well as Tiger guerrillas. They were sounding out on the current thinking and the public mood in the peninsula.
The TNA is carrying out an intensive campaign though there is a 'cold war' between key figures. The division has come to the fore during the campaign. Abraham Sumanthiran, the most visible among the TNA candidate is strongly associated with Sivagnanam Sirtharan. Hand bills carry both their names. They are contesting from the Ilankai Thamil Arasu Katchi (or the Federal Party). Besides addressing a string of political meetings, Sumanthiran is also engaged in house-to-house (even shop-to-shop) campaigning escorted by a contingent of Police and Special Task Force (STF) commandos. See picture on this page showing a police constable on the stage with a pistol in his holster when Sumanthiran was addressing an election meeting. Standing in front of the stage was an STF commando with his T-56 rifle raised and on the ready.
On July 31 (Friday), TNA leader Rajavarothayam Sampanthan addressed a meeting in Tellipalai in support of Mavai Senathirajah, the ITAK leader. Yesterday, he held a similar meeting in Kilinochchi in support of Sumanthiran.
Sumanthiran's publicity campaign has surpassed most other candidates. A four-page newspaper titled "Sumanthiram, which rhymes with his name, is being circulated with stories of his life and career. One of the photographs shows him with Zeid Raad Al Hussein, former United Nations High Commissioner for Human Rights. This is besides the stepped-up campaign in the social media that would cost a considerable sum of money.
Security precautions for him have heightened due to a number of reasons. Sumanthiran told an interviewer he abhorred LTTE violence. This drew angry protests from the Tamil diaspora. In Jaffna, his effigy was burnt in two different places. A bomb manufactured by a former LTTE intelligence cadre exploded and the man died later in hospital. The Terrorism Investigation Division (TID) ongoing probe revealed that plans had been afoot to disrupt the elections by exploding bombs and creating a panic situation. A retired LTTE cadre from Paris has been remitting funds for this purpose. The Police and the Army have been deployed to ensure the polls are held without any disruption.
This week showed that the largest diaspora group, the London based Global Tamil Forum (GTF), is extending support to the TNA. Though not pointedly making the call, a three-page statement is crafted in such a way that a voter heeding their advice has no other choice. This assumes greater significance in the light of the British Tamil Forum ending up in ignominy after a court found it guilty of sexual discrimination of one of its own Tamil employees. It has declared bankruptcy after a financial award was made to the complainant.
The GTF noted that the Tamil community should "first and foremost, ensure that people appreciate the significance of this election and the power of their vote – every vote matters. Second, no vote should be wasted on the multitude of independent groups and those representing country-wide parties, as they could only dilute the strength of Tamil representation for future political engagements. Overly unrealistic agenda and inward-looking insular political strategy is not the most suited in the present circumstances. The question for the Tamil voters is, among the parties that represent Tamil national interest, which party and candidates are the best suited to navigate Tamil politics through the turbulent times ahead."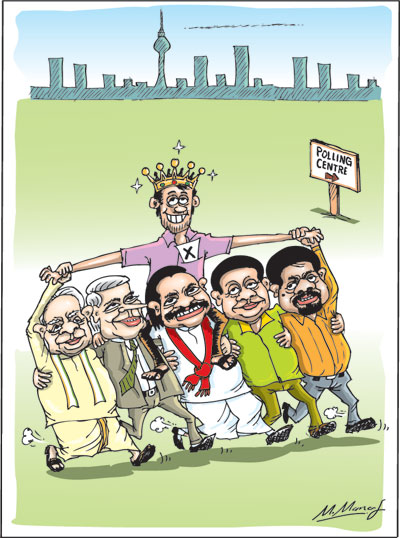 The GTF statement adds: "Eleven years after the end of war, re-evaluating political circumstances and electoral possibilities is a must for the Tamil community. Gaining a respectable and secure status in the country is still a dream and there are many disappointments to contend with — no tangible outcomes on constitutional and accountability, lack of momentum in returning to normalcy for the war affected and lingering concerns about protective identity of the Tamil majority North–East. However, it is also undeniable that during the last five years there was a notable relief for the Tamil people due to de-escalation of the military stranglehold in the North-East and people enjoyed some normalcy and freedom which included the right to memorialize the war-dead. How much of these could be lost due to the electoral outcomes is one important question to consider." The statement makes clear that any drawback at the elections would also be one for the GTF.
The GTF's assertion that "it is so paramount for the minority communities to study their "electoral options and act wisely" resonates with the questions raised in Jaffna by the western diplomats. Intelligence sources in Jaffna say there has been funding from Tamil diaspora groups for different candidates though the amounts cannot be quantified. "This is because they have been coming through different channels," a source explained. However, in the peninsula, the Tamil media have published claims that millions have come to the TNA only to be strongly denied by it.
This comes in the backdrop of moves in the Proscribed Organisations Appeal Court (POAC) in the UK to de-proscribe the LTTE. The case, K. Arumugam & Others vs. The Secretary of State for the Home Department concluded on Friday. It is not clear if a judgment has been reached. Meanwhile, in the House of Lords, Lord Naseby, a staunch friend of Sri Lanka speaking on the debate on Global Human Rights Sanctions Regulations 2020 slammed the TGTE (Transnational Government of Tamil Eelam) for initiating legal action to lift the proscription of the LTTE in the UK. He quoted a UNICEF report of 2005 that 5,081 under-aged 'soldiers' were recruited by the LTTE, 40 per cent of them girls, and said the main recruiter of them, Adele Balasingham was living "comfortably" in the UK.
The TNA's Women's Front's former leader, Sivakeerthiruban Wimaleswari, addressed a news conference of the Tamil media last week. She alleged that the TNA had received funds amounting to Rs 22 million from the Tamil diaspora. When a reporter asked her, who had received the funds, she alleged that it was Sumanthiran. However, the latter strongly denied the claim and the matter ended with Sumanthiran sending her a letter of demand.
There was also a furore after persons described as Sumanthiran's supporters pasted posters on the footsteps of the statue in memory of Kanapathipillai Satchithananthan, the late local leader of Shiv Sena. Under the statute is a shrine. Though with little public support, the group is modelled on the lines of India's regional party formed by cartoonist Bal Thackeray in 1966. It was originally formed to build a movement to help Marathi job aspirants to procure employment. Their main agenda is Hindu nationalism, often referred to as Hindutva, and pro-Marathi ideology. The statue lay in the property of his son M. Satchithananthan. He was once a member of a committee which installed a statue of S.J.V. Chelvanayakam in the Jaffna town.
Some of the hardships caused to people, particularly to farmers, are not lost despite the election campaign. There are shortages of fertilizer affecting the cultivation of vegetables in particular. The price of Ulundu , black dhal, has shot up from Rs 200 a kilo to Rs 800. This variety of lentil is used in making Dosa and Ulundu Vadai which are staple diets of Jaffna residents and available in practically every restaurant. At present, there is an import ban and President Gotabaya Rajapaksa told a Cabinet meeting recently that no imports would be allowed. This is to encourage local production, he said. The much sought out variety of rice, Motta Karuppan which averaged between Rs 60 to Rs 80 a kilo had shot up to Rs 120.
The health guidelines are by and large being observed by those gathering at political meetings which are recording the presence of 250 to 300 persons mostly. The task of ensuring that has been tough for the Police, Army and Health officials in the light of the annual Nallur Kandaswamy Kovil festival. This temple, three kilometres from the Jaffna city centre, is most revered by Hindus in Sri Lanka. No stalls were allowed outside the temple precincts and the regular Annathanam (food danselas) have been shut down.
Entrance to the temple requires devotees to stand before a booth and place their National Identity Cards or Driving Licences (both sides) before a camera. This is to ensure that identities including personal details of all devotees are on record. Only 500 are being allowed at a time through four different entrances. Regular announcements are made on the loud hailer requesting devotes to spend only little time and give way to others. Checks are being carried out, but no one suspected of Covid-19 has been found necessitating quarantine measures.
In the last Parliament, the TNA had 16 seats. The intense campaign has raised issue whether it could retain even the former four seats it held in the neighbouring Vavuniya district. Here again, a TNA spokesperson insists "we will get more."
President on campaign trail
This week, President Rajapaksa, reiterated that "Earlier people imported goods from different countries and sold them. I stopped it. Now they should grow what they needed. You all must take the benefit from my move. That is how we should improve the national economy; we cannot improve by importing goods."
The remarks, which have forebodings of what is to come after the polls, were made at the Keselwatte grounds in Panadura where he campaigned for SLPP candidate Mahinda Samarasinghe. During his poll's tours, he has refrained from making speeches. Instead, he mingled with the crowd, a nightmare for his security detail, asking questions and suggestions from those he met.
At Horana, it was a meeting for SLPP candidate Vidura Wickremenayake, son of onetime Prime Minister Ratnasiri Wickremenayake. Some of the answers President Gotabaya gave provide an insight into his own style during an election campaign. One of those present pointed out that there were several graduates at the meeting and asked what about jobs for them. Another answered by saying such jobs could not be given due to the Covid-19 pandemic. However, the President replied that laws prohibited giving jobs to persons during an election campaign.
In Avissawella, he was received by Dinesh Gunawardena, SLPP candidate and Foreign Minister. One of those in the crowds alluded to the Central Bank bond scam and urged President Rajapaksa to "take action against all those involved." He replied "I will not allow even one to slip away. We have not given up. We will take action against all of them."
Another declared "Please destroy the underworld." President Rajapaksa replied: "Yes we will destroy the underworld. I want to change the law. I need a two-thirds majority. I am the President therefore it is useless to vote for others. I need a government which can work with me." In Thanamalwila, there was an unusual complaint. One participant was to complain that milking cows in the area were being abducted. Another complained about marauding elephants which destroyed their vegetable plantations.
That style of campaigning helps President Rajapaksa to learn first-hand the public reaction to key issues. However, it does have a flip side — he ends up making far too many promises though they are to a group of persons and not in the form of printed statements.
UNP-SJB rift
For the two main opposition contenders, the United National Party (UNP) and the Samagi Jana Balavegaya, tragic enough, there are two different campaigns. One is against the ruling SLPP-led government and the other, which is taking considerable time and effort, is against each other much to the amazement of the SLPP. This week the UNP Working Committee expelled 54 members who had joined the SJB with the exception of Sajith Premadasa. UNP General Secretary Akila Viraj Kariyawasam said his name is in the next list of those to be expelled.
UNP leader and former Prime Minister Ranil Wickremesinghe said, "This was not an easy decision. We needed to put a lot of thought into it. I took every step to protect the UNP. I even fielded Sajith Premadasa as presidential candidate.  The reason for his defeat is the lack of 2.5 million Sinhala votes. Then we should see why they did not vote for us."
Wickremesinghe added: "If we do not look into that we are neglecting and allowing the party to be destroyed. In this election we told him (Sajith Premadasa ) to become the prime ministerial candidate. We even allowed him to be thr opposition leader and trained him.  There is only one condition. He must contest under the UNP. Since 1947, the UNP has contested every election. In all 15 elections our members have been there. We cannot stop it. It is a part of our party constitution.
"If they wanted, they were told that we can contest under an alliance, just as we contested the 2015 parliamentary election. Then we could have used an alliance name and our elephant symbol. However, for some reason they left.  They went to court against us. Courts said that the UNP expected to create an alliance under UNP leadership. They said that this (SJB) is a separate party. They said that our expectations have not been met and this party is damaging the UNP.
"The decision that I had to take was not an easy one.  There are people that I know. If they do not want to leave, they must resign from the party.
"There were issues in the party; the leaders had issues, whatever happens, no one left the party. If that party is not good for someone, they should create another party. I cannot legally stop that. If they want, they can join the SLPP; we do not mind that. But they should not come here and tell people that 'We are the real UNP' and damage our party. Though that party is destroyed we are still remaining.  I need to protect the UNP; we all have that responsibility.
"Even though the decision is difficult we have to take it for the sake of the party. I am not here every day; I will not even expect to stay here."
Other than the election campaign against the SLPP-led alliance and the ongoing battles with the UNP, SJB leader Sajith Premadasa is also locked in another controversy. There are moves to question him over the alleged misuse of Rs 11 billion from the Central Cultural Fund during the period 2016–2019. He was the minister in charge at one time. When portfolios were allotted after a re-shuffle following the 52-day unconstitutional government, Premadasa insisted that cultural affairs be brought under him as a subject. He took over in 2018 whilst Akila Viraj Kariyawasam held the portfolio before that.  Several Buddhist temples made representations to Premier Rajapaksa that funds from the fund had been promised to them, but moneys were not received. They produced letters signed by Premadasa offering relief. Many others had received funds. This prompted him to appoint an official committee to probe the matter. Premadasa on the other hand has reacted publicly to the allegations. He has said that he is "not frightened" to face any inquiry against him.
Addressing a meeting in Kalutara this week, Premadasa said, "With the victories made, new concepts will be created when his party forms a government, "We will create the Grama Rajya and Nagara Rajya concept. According to that we will create a sub village in every village that we win. Likewise, we will use that concept to the towns and develop the country." The concept is from his late father President Ranasinghe Premadasa and would seek a major overhaul of governance.
He said "Our opponents are making plans to fire some 500,000 state employees, while reducing the wages of those serving now. I would like to ask the people whether they gave 6.9 million votes to get state employees' wages reduced." There is no move for any retrenchment, a government spokesperson said.
Addressing a meeting at Mirigama for the SLPP-led alliance candidates in the Gampaha district, Prime Minister Mahinda Rajapaksa said supporters of the UNP were coming to meet him regularly these days. He said "they complain they do not have a proper leadership because of the rivalry between Wickremesinghe and Premadasa factions. They are attacking each other. Hence, they are saying they would vote for the lotus bud symbol."
He added; "We witnessed the issues created when people elected leaders from two parties during the Yahapalana Government. The country was lost because the President and the Prime Minister at the time put aside the development of the country due to their disputes. We should stop that from happening."
A bit of good news for the government during the current economic climate is an increase in export revenue from Board of Investment enterprises in 2020 compared to 2019. Exports in 2020 so far brought in US$ 583.95 million as against $ 547.81 million in 2019. Processed food products topped the list earning $ 15.95 million as against $ 13.42 in 2019, an increase of 19%. Second was beverages which brought earnings of US $ 15.59 million as against $ 12.99 million in 2019, an increase of 20%. Altogether there were 23 items of exports with increased revenue though some were much lower than 2019.
New cabinet soon after polls
For polls forecasters, the outcome of next Wednesday's elections is no difficult task. That the SLPP-led Sri Lanka Nidahas Podujana Sandanaya (SLPNS) is a winner is in no doubt. By how much remains the critical question. At least one intelligence agency has said that it would be a major landslide victory for them. However, other projections pitch it at over 120. The same projections claim the SJB is likely to win between 45 and 55 seats with the UNP receiving a much lower number.
With the results known by early next week, government sources said, the swearing-in of a new Cabinet of Ministers is to be carried out without much delay. The idea is not to prolong and thus allow time for various parties including the clergy to canvass for some individuals. So will be the selection of deputy as well as state ministers with more responsibility to carry out development work. "Some of them for these positions have been earmarked," said the source.
Last week's reference in these columns to former Speaker Karu Jayasuriya participating in his son-in-law Navin Dissnayake's campaign in Nuwara Eliya has drawn a response that he was only staying at the town's well-known Hill Club with his wife for some rest and to see his daughter, and was not engaged in any political activity. The former Chairman of the UNP, Jayasuriya has told old friends that he had not taken part in any campaigning this time and that his only wish was to see the two warring factions in the UNP coming together in the future.
The lacklustre election campaigns in most parts of the country, except the Jaffna district, will end at midnight today. Tomorrow, being poya, candidates are likely to participate in virtual political campaigning in the guise of religious activities. By late next week, Sri Lanka will have a proper government amidst a yet to be fully contained Covid-19 pandemic. The fallout from this malaise continues. More Sri Lankans are held up overseas foreboding a further rise in unemployment and more economic chaos. Lankans would have to tighten their belts and forego some of the comforts they have enjoyed so far. There are issues which no winning political party can resolve pronto.