I'll meet you under the Tamarind tree – Royal Memories
View(s):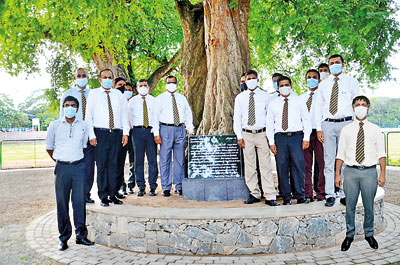 At the request Mr B A Abeyrathna, the Principal of Royal College, the Group of 93' of the Royal College Union undertook a project to improve the area around the historic Tamarind trees, adjacent to the main grounds. This was completed with the support of the members of the group, and under the guidance of the Principal, School development Society and the Royal College Union. A simple handing over ceremony was held on July 14, 2020, in the presence of Principal Mr B A Abeyrathna, Senior Games Master Mr Aluhar Riyaz and Executive Committee Members of the Royal College Group of 93.
Tamarind, siyambala (Tamarindus indica)
"I'll meet you under the Tamarind tree" was a term used by the Royalists during the 1950s' to challenge each other to fight, at this location. Many hundreds of others who have frequented these playgrounds over the years to play cricket, athletics, baseball and football, remember this as their "pavilion". This unique location continues to provide shade and a meeting place for Royalists of all ages.
May these two special creations of mother nature, continue to stand as landmarks of our Alma Mater, providing shade, shelter and precious memories of schooldays, to many more generations of Royalists.
The Royal College Group of '93 is a responsible past pupils' association affiliated to the Royal College Union. It has a history of over 25 years, during which they have engaged in many development activities of the Royal College, Colombo. In addition, the association also engages in numerous welfare projects in support of its members and old boys of the Royal College.