Ignorance of the law is not an excuse
View(s):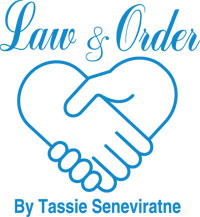 A youth, who has an interest in law and order and is a follower of my articles, came up with some pertinent questions for discussion. His first question pertained to the legal principle that 'ignorance of the law is not an excuse'. His question was, "what about knowledge of that law which says so? How does one get knowledge of that law?" So saying he went on to make more comments.
That ignorance of the law is not an excuse is a conceptual law coming down from ancient Roman law. This law has been expounded purely as a pre-emptive law to obviate a defence of ignorance of the law. On the other hand, our law also stipulates intention or knowledge as a requisite ingredient to establish an offence.
Be that as it may, what the youth pointed out was that the law which has philosophical undertones as well, is a much debated subject these days, and therefore there is a need to educate the people on the basic laws that come into play on a day-to-day basis. He added that there must be better discipline if we are to go forward as a developing country. To achieve this, he said, we must start with the school children.
In this context I wish to support his contention with a case in point. My grandson domiciled in Dundas, NSW, Australia, was on a visit with us at Gampaha with his parents and two sisters when he was only 4-5 years old. One day he accompanied my wife and me to a grocery shop in the Gampaha bazaar. He was fond of chocolate milk (Choko Milk) sold in small packs. This was available at the shop and he drank one and was ready for the second as usual. When the shopkeeper brought the second pack, our grandson asked where he was to put the empty. The shop keeper told him to put it in the drain in front of the shop. The little boy shouted a loud "NO" and asked where the bin is. The astounded shop keeper quickly brought a plastic bin that was there for sale, and it was only then that the boy put the empty pack into it.
That is the conscientiousness inculcated from childhood in that country and that is what the youth wishes for our country. He further points out that in our country even adults are in the habit of throwing garbage on the streets and compounds somewhat unconsciously. 'Environmental pollution' is an offence only on paper, he states.
This youth also pointed out that people in this country really learn about the law and its implications only at police stations and courts after breaching the law. Awareness of the punishments as unavoidable consequences is a must, he says. Making one to 'think before you leap' is how he put it.
He also touched on social media and cybercrime. He cited the prevalence of children sending pictures of themselves acting as gang fighting criminals just for kicks, but having a long-term tendency to promote cults leading to criminal activities. He stated that the Women and Children's Bureau should step in, not so much to punish, but to take meaningful action to contain the menace.
It is encouraging to see the youth coming to the fore and observing what our law makers (politicians) do not see.
May I call upon civil society organisations to pressurise the Government to prepare a syllabus in school curriculums from nursery level on basic laws, with special emphasis on laws governing pollution of the environment.
(The writer is a Retired Senior Superintendent of Police.
He can be contacted at
seneviratnetz@gmail.com)