Peiris wants to make Havelocks number one 'family' rugby club
RUGBY
View(s):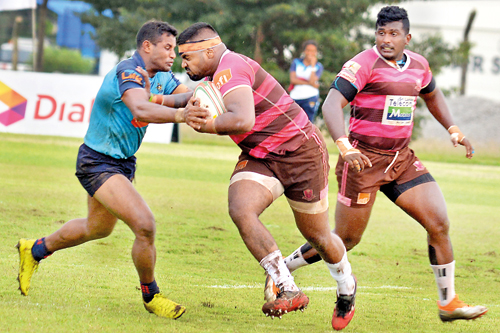 Former Havelocks captain and coach Thusitha Peiris wants to make Havelocks the number one family rugby club after being elected as the new president at their annual general meeting yesterday.
The first old boy of D.S. Senanayake College to rise to the helm of the Park Club, Peiris defeated a two-time former Havelocks president Tyronne Coonghe by an overwhelming majority receiving 148 votes to 96.
Former Thomian Nirupan Wijeratne was elected general secretary, Sammy Akbar as Treasurer and Anuja Premaratne and Rajive Perera are the two vice-presidents.
"As a Senanayakian I never thought I will be president of a founder club. It is a really big honour. It is the first locally formed club. I want to make this the number one family rugby club because it has always been a home away from home," said Peiris who has stood by the club through thick and thin for 28 years since joining as a teenager to play for Havelocks 'Bambaras' in 1991.
He played 'A' division as a hooker for Havelocks for eight years till 2000 captaining in 1998 before taking up coaching in 2004.
"My prime objective is for Havelocks to play rugby of the highest standards. In the meantime I have to be mindful of the challenges I am facing. We have to somehow retain the squad as much as possible and attract more school leavers," said 48-year-old Peiris who was vice president cum coach of the club in 2005/06.
"My long term goal is to create a Havelocks academy of our own. There is no limit to contracting players who don't have loyalty. This system can't survive. Havelocks has limited resources. We have to instill loyalty," said Peiris who is a prime example of someone who has been loyal to the club.
"I never expected to be contested in the first place. I had put 28 years of time and effort to this club all on an honorary basis," said Peiris, a qualified accountant who was treasurer of the club since 2015.
"I have got a very young committee who can work. My campaign strategy was my passion to the game, loyalty to the club, track record, philosophy and vision and mission. It's all about achievable goals," he said.