Appreciations
View(s):

Gentle, upright and kind, he was loved and revered by all

SRI  NAGENDRA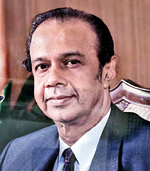 Golden memories and silver tears, these are my heart's souvenirs……………………
I was overcome with grief with the passing away of my beloved brother Sri, who died recently after a brief illness. Death is inevitable, it comes to us all. But when it comes to one who is so close, parting is indeed extremely sad. Sri truly was a gentleman and a brother par excellence.
Sri was Chairman of the Finlays Group of Companies in Sri Lanka to which he made an invaluable contribution over a period spanning 35 years working his way to Executive Director. He was the longest serving Sri Lankan chairman of Finlays Sri Lanka since it was established in 1893. In his business career right until his death Sri was also Chairman and Director of many other public listed and private companies. He was also past Chairman of the Employers Federation of Sri Lanka, British Business Association and several other organizations which aim to lift the Sri Lankan economy. The trusting relations Sri built with foreign investors brought large investments into Sri Lanka, including in garments and building materials.
Sri was a devout Hindu and trustee of the Shri Ponnambalam Vaneswara Temple in Kochchikade. Being a temple trustee is a great honour, but also a great responsibility attending to the affairs of the temple and the management of its estates. Sri carried both the honour and the responsibility with quiet and effective dignity.
Sri was gentle, upright, kind, loved and revered by all who knew him well. Honesty and integrity were the hallmarks of his life. His multifaceted personality was characterized by truly rare qualities by which Sri made tremendous contributions in every human activity he undertook. Sri was a fine conversationalist with a flair for public relations. He was a great asset to his company, to his friends, and his family.
Sri was married at the age of 23 to Devika Kanagaraja who sadly died very young in 1972. Sri and Devika had two much adored children, the late Niranjan and Sharmini his daughter who is presently married and living in Dubai. Sri lost his beloved son Niranjan who died after a short illness two years ago. The intense  pain of mind caused by Niranjan's sudden death troubled Sri and did not give him peace of mind till the very end. Sharmini was heartbroken that she was unable to see her father in his final days nor attend the funeral due to the Coronavirus pandemic.
Sri was a loving husband to his second wife Tylin and devoted father to their daughter Krishni, and Tylin's son by her first marriage Dinal. He adored his grandchildren too. Tylin was a great strength to him providing strong support in his challenging duties. She looked after him with admirable care and affection right to the end.
As the oldest of the five children of our parents, Dr. and Mrs. Nagendra, Sri was a dutiful and loving son. He provided an excellent role model for his brothers and sisters late Bhavani, Shanthi, Nirmalan and me. There was not a day that I did not speak with my brother Sri who provided me with invaluable encouragement and advice.
Throughout his life he gave generously to the underprivileged. He was honest and forthright in his speech, whilst at the same time always demonstrating love and compassion towards the poor and marginalised. These are two important lessons from his career one needs to record, his admirable work ethics and sincere dedication to his fellow human beings.
Sri's immense capacity for making friends was evident from the very large crowd at his funeral including many leading personalities from Sri Lanka's business world.
The death of my dear brother has caused an irreplaceable vacuum in my life.
"You lived fully every moment of your illustrious days. The heights you reached illumines your memory."
This is the consolation I am left with as I mourn your profound absence from our midst – dear brother.
 Sega Nagendra
---
A scholarly doctor whose interests were wide and varied
Dr. R.K. De Silva
Rajpal Kumar De Silva (RK) had his roots in Hikkaduwa. In the 15th century, Hikkaduwa was the cradle of Buddhist civilization. The Vijayaba Pirivena of Totagamuwe Sri Rahula adorned the Southern Province and was the pride of Sri Lanka. A seat of learning, catholic in its aims, it provided instructions to Buddhists and Hindus.
Rk was born in 1931.  He was the eldest child of Dr. M.W.M. De Silva, a doctor of medicine. His father was awarded a scholarship to Harvard where he was the recipient of the Harvard Gold Key, awarded for the best student of that year. His mother, a daughter of a leading proctor in Avissawella, was a talented artist. She won several prizes at exhibitions held by the Ceylon Society of Arts. Thus the values of his parents were scholarly and intellectual. R.K. was a proud inheritor of his parental legacy which embodied the scholarly, artistic and intellectual.
In due course, R.K.entered Royal College, then the citadel of upper class education. At that time, Royal College had as its principal E. L. Bradby, a man educated at Westminster School and New College Oxford.  In the post war years, Royal College was still wedded to the ideals of  its founders- to produce cultured gentlemen, well read men, men of rounded responsibility and  the character and ability to stand up for themselves. It was at Royal College that his intelligence grew in congenial company and in an environment favourable to learning.
The liberal education imparted at Royal taught him to make no distinction with regard to race, creed or colour, only a person's intellect mattered. It is this liberal outlook on life that amazed Sir Ivor Jennings at the interview for admission to the Medical College – RK's depth and width of his reading which had no relevance to medical jurisprudence.
As a medical student, while he had the firmness of character, he was rebellious in temperament and readily embraced lost causes. In the 1952 General Election, he assiduously campaigned for his uncle Vere De Mel. De Mel nearly lost his deposit when he contested the Haputale Seat.
RK was loved and popular with his patients both in Sri Lanka and in the United Kingdom where he practised with the National Health Service.
From medicine he moved on to the arts. It was RK who alerted the world famous auction house –Sothebys when the Mulkirigala painting, came up to be auctioned that it was stolen property. Accordingly, the painting was duly returned  to the President's House
His long experience as a medical practitioner instilled in him a desire to understand and describe how the people in Sri Lanka behaved, thought and acted. This  resulted in  the publication of 'Early Prints of Ceylon' in which he attempted to  "create  mental images of Sri  Lankan Society " to use his own words " of where  and how people  lived at that time." He authored, "My Early Prints" a compilation of nearly all  the 19th Century prints — a collection of over 150  views in 1985. This was followed by the publication of "The Illustration of Dutch   Views  of  Dutch Ceylon" which  dealt with the aspects  of life in Ceylon  under Dutch rule. Then came in 1998, "The 19th Century Engravings of Ceylon- Sri Lanka" where he assembled  all the available  pictorial material  related to  the  island  from several  illustrated  newspapers of the 19th Century.
All his writings display a combination of intellectual power, historical sweep and capacity for writing clear  and vigorous prose.
His attitude to life was balanced and harmonious. He was little worried by reputation and liked associating with anyone whom he regarded as  intelligent, enjoyable company or interesting. He believed in the words of Emmanuel Kant   "Out of the crooked  timber of humanity, no straight thing was ever made."
Our friendship began at the Bridge table where we spent many hours playing. His companions were mostly his Royal College school mates, the only other Thomian being S.K.Wickremasinghe.
Like R.K, they have all gone to the great beyond. R.K. passed away a year ago, a few days short of his 88th birthday.  He will be long remembered for the contribution he made to the cultural history of this country
By now, RK would have crossed the Stygian waters and reached the Elysian Fields.
 Ranjan Gooneratne
---
Time heals wounds not pain
 Colonel FAZLY LAPHIR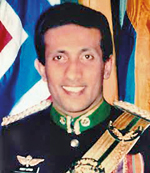 Then,
eau de nil walls,
Now,
White – bright.
Foliage printed drapes,
Simple – off white.
Once
lush green spaces,
Now,
black, brown,rust wood pieces
Colours change with seasons.
Seasons, with time
Time heals wounds
not
Pain.
Your ever-loving Ano
24th death anniversary of Colonel Fazly Laphir, P.W.V., R.W.P., R.S.P. Commanding Officer, 1st Regiment Special Forces who was killed in action on July 19, 1996 while on a rescue mission in Mullaitivu
---
A rolling stone that  gathered a lot of moss
Kusal Warusavitarana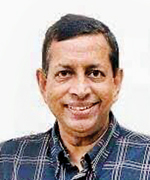 Kusal Warusavitharana who died in June, a few weeks short of his 74th birthday, was the quintessential example of the fact that rolling stones do sometimes gather moss. In a career that spanned over 40 years, he did more than ten jobs, always making upward movements in terms of what he did and what he earned.
Most of his jobs, ranging from Shipping Manager/Buyer, and Brand Manager/Export Manager at Lever Brothers to Director Sales and Marketing at the Lanka Oberoi (now Cinnamon Grand) were at Senior Manager/Executive Director level in the private sector. But he also had a stint at the Central Freight Bureau which was a joint venture between the Government and the Ceylon Chamber of Commerce where he learned the ropes and acquired many skills that were to help him in his future career.
Whether he consciously or subconsciously believed that many executives entrenched in the same job for long very quickly become managers of routine, I do not know. Taking on new employment, generally on an upward trajectory, confronts one with new challenges and learning opportunities; it keeps you on your toes and sharpens competence, ability and much more.
Kusal was born to privilege. His mother, Mrs. Daya de Silva, was a direct descendent of Mrs. Jeremias Dias (Selestina Rodrigo) of Panadura who founded Visakha Vidyalaya. His engineer father, W.A. de Silva, who retired early as one of the country's then four Deputy Directors of Irrigation took his MSc. Degree from the London University in the 1920s. He died prematurely leaving a wife and five sons whom he named Warusavitharana (they all spell it differently!) derived from his 'ge' name as was a trend in pre-Independent Ceylon when nationalist tendencies took root.
Going to school at Royal Primary and Royal College, he lived within easy walking distance of school. Completing his secondary education at Royal, he did not aspire to university or a profession (as his father particularly would have wished) and began his rolling stone adventure once sailing as a cadet deck officer on a Greek merchant ship.
When the Central Freight Bureau (CFB) was set up in the early '70s, as a strategy devised by the late P.B. Karandawela, then Permanent Secretary to the Ministry of Shipping and Tourism, to ensure full bottoms for Ceylon Shipping Lines vessels, with exporters compelled to allocate their cargo 50-50 between national and foreign flagged vessels, Kusal was hired as Operations Manager under Harold Speldewinde, a well-known private sector shipping personality. He had an excellent training in this Government-Private joint venture experiment.
He worked for a plethora of organizations, including Shaw Wallace and Hedges where he was an executive director, Lanka Ceramics, CASA (Ceylon Association of Ships' Agents) and J. Walter Thompson who head-hunted him from Levers. He eventually ended up as an entrepreneur in an organic tea producing and manufacturing company with an estate in Haputale. But this, hit by a collapse in tea prices, was not a success with the estate being sold.
As a young man Kusal was very keen on the Jaycees, attracted by its social and service orientation and was President of the Colombo Jaycees in 1977-78. It was a natural progression from there to Rotary, serving as President of the Colombo West Rotary Club in 2007/8.
Above all, as one of his friends said soon after his death, he was "a good fellow" devoted to his mother and his brothers. He married twice, first to a stewardess flying for Emirates, and most recently to Yasmin whom he met and married in Australia. The cancer that struck him down did not permit him to enjoy the love and companionship of that union for long. Tragically, the COVID country situation did not allow her to travel from Australia to join him in his last few weeks. He had no children but enjoyed the abundant love of his brothers and their children.
 M de S
---
A dear son-in-law who will always be loved and never forgotten
NILANGA MALLAWAARaCHCHI
Our beloved son-in-law Nilanga, was suddenly and tragically snatched away from our midst, at a relatively young age on May 20. I am at a loss to understand, why such a calamity befell one who was so loved, liked and adored by all family members, relatives, friends, and his associates. Well at times fate can be so cruel so as to shatter one's expectations and future, and in this instance, especially that of his dear wife Givanthi, our second daughter.
We all remember that fateful day and the unusual early morning wake-up call that informed Jayantha my husband of the most unimaginable accidental death of our Nilanga. The emotional shock was so great it took a while for us to get back to our senses and collect our thoughts. Naturally for Givanthi it was like the end of their world.
I also could understand how stunned and devastated, Suwineetha, Nilanga's much adored mother would have been, having received the message first, knowing well that her only son left home to office in the morning promising to return. Equally distressed and in disbelief were his three sisters Nilani, Nurani, and Nilushi and their husbands.
Givanthi was staying with us after the birth of their fourth baby girl on April 22, barely three weeks before Nilanga's tragic death. Due to curfew, Nilanga opted to look after his mother at their family estate in Waga. He knew that Givanthi with their newborn baby and their three little daughters would be quite safe with us at Kohuwela. Due to the travel restrictions, he was reluctantly compelled to limit his visits to us to see the baby and have fun with their three angels, Lithaya (8), Arya (6) and Netanya (2), who were quite thrilled with the newcomer Umeshi (now 2 months).
Nilanga married Givanthi in 2010.They gelled well with the new family circles and Nilanga was not a son-in-law, so to speak but a loving son to us, undoubtedly. Ours being a family of girls is entry was most welcomed.
Nilanga was very friendly, kind and compassionate to all at all times. I have rarely seen him losing his temper. He was a source of immense love and great comfort to Givanthi and kids. His admirable and excellent qualities made us quite proud of him and his family.
He devoted much time and energy to serve Singer Sri Lanka where he was a dedicated and charismatic manager. The large number of colleagues and superiors who visited to pay their last respects, in spite of the curfew were visibly sorrowful.
Amidst all his commitments, he found time to serve his alma mater, St. Joseph's College, Colombo by actively participating as a committee member of the Old Josephians' Sports Club and 2003 batch committee.
Nilanga was a God-fearing young man and attended church regularly. Since their marriage he always encouraged and supported Givanthi to practise her faith and they celebrated Christmas and Vesak together.  He made many contributions  for the development of religious places both in Anuradhapura and Waga.
He was generous to a fault – a loyal, kind hearted, sincere friend indeed. The very day of this fatal incident, Nilanga along with some of his friends had organized packs of provisions to be distributed among the needy who were badly affected by the curfew. This happened to be his last meritorious act.
Nilanga, treated all of us – Jayantha and myself, our two daughters, Hashangi and Jayendri, his brothers-in-law, Lanka, Jagath, and Dilan with admirable kindness and friendliness.
It seems so hard for us to comprehend that Nilanga is no longer with us. For Givanthi and her lovely daughters our protection, care and concern will be our foremost priority now. I am positive that our beloved Nilanga would bless them from wherever he is.
Dear Nilanga although you are unseen and unheard, you would always be near us, still loved and never forgotten.
 Mekala Seneviratne
---
The lessons you taught us are engraved in our lives
Clarence Stanislaus Perera
On April 19, our youngest uncle Stanley – dearest Podi mama left us to meet his 'Mighty Creator', at the age of 87. Thus, a well lived life came to a close. His deep affection for the family and close relatives was remarkable.
An important social function or an illness in his extended families or of neighbours received his full support generously.  He treated his nieces and nephews as his own children.  They cherished his friendship and turned to him with their various problems. Like a 'shade giving tree' he guided them with practical solutions and strengthened them. It was a delight for him to share their joys and achievements.
An ardent reader, he possessed a wealth of knowledge. He expressed his views boldly on controversial matters in his writings to daily and weekly religious papers. Certain prestigious institutions sought his advice when initiating their 'pension benefit schemes'. I believe his righteous living and closeness to God may have granted that 'blessing of wisdom'. Being a devout Catholic, he took a keen interest and participated in parish activities at St. Sebastian's Church, Moratuwa.
His compassionate nature made him reach out to the less fortunate and downtrodden. Willingly he received other people's help to accomplish these charitable endeavours. His life a 'noble creed' taught us many lessons: full commitment to service, humility, simplicity and to always stand for truth and justice. These qualities you engraved in our lives.
Dearest Podi mama, now, only your 'vacant armchair' is there for us to flock around with a host of memories. May you rest in the everlasting love of our dear Lord with His sweet Mother Mary and saints…
Until we meet you again in that sweet by and by on that beautiful shore beyond…
 With lots of love
Your eldest niece, Berney
---