Regulations breached at PM's meeting
View(s):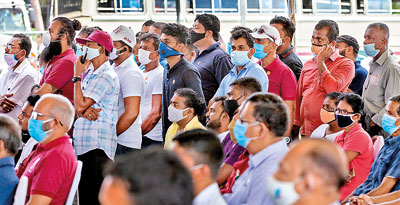 Significant breaches of health guidelines were observed yesterday at one of the first election meetings attended by Prime Minister Mahinda Rajapaksa after the gazetting of the COVID-19 (Elections) Regulations.
The guidelines state that not more than 300 people shall attend such meetings or, where the leader of a political party or independent group attends, not more than 500. The crowd appeared to be limited in number but the one-metre distance was not observed at the entrance. When Prime Minister Rajapaksa finished the meeting and was leaving the venue, the people jostled with each other to take photographs and to get near him. Organisers are expected to maintain records of the name, identity card number and contact detail of every person attending the meetings. There was no such detail-taking at the rally. It was not immediately clear whether the information had been taken down before the meeting.
There was no hand-washing facility but sanitiser was sprayed on the hands. Masks were made available for those who didn't have one. There was some distance between persons on the stage but the crowd, although seated on chairs, were closely spaced.
The guidelines also call for disinfecting of equipment including microphones after being used by a person. Speakers at the meeting used one microphone which was not disinfected after each speech. However, the Prime Minister used another microphone which was set aside for him.  Pic by Sameera Weerasekera