No infections among loved ones who visited Kandakadu
By Kumudini Hettiarachchi, Ruqyyaha Deane and MeleezaRathnayake
Schools and airport reopening postponed
View(s):
Several major decisions including the postponement of the reopening of schools and the airport were taken this week, as a top health official said that none of the family members who visited the Kandakadu Treatment & Rehabilitation Centre on July 4 has tested positive for COVID-19 so far.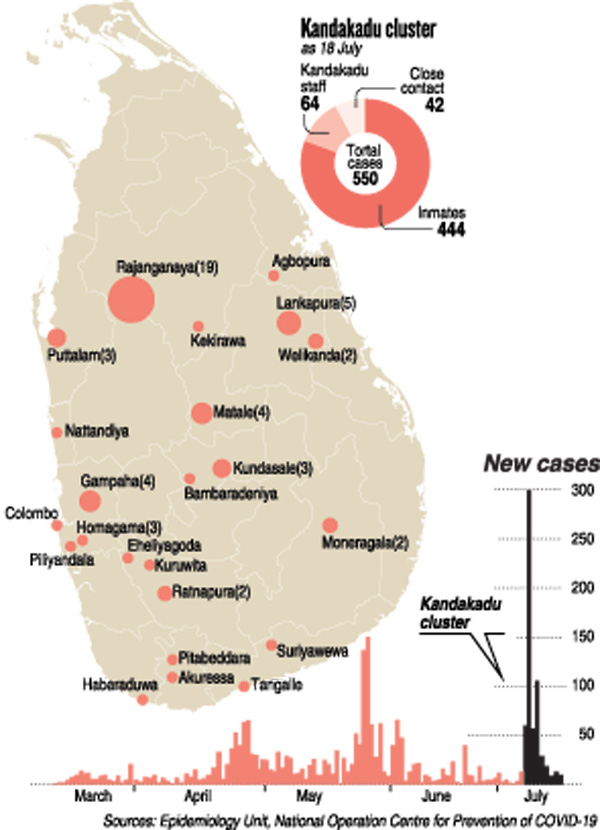 It is difficult, however, to predict when the Kandakadu cluster will flatten out, said Health Services Director-General (DG) Dr. Anil Jasinghe, assuring that "all possible measures" including wide-scale testing, are being carried out.
The reopening of schools has been pushed back further as students were due to come back to class on a staggered basis from tomorrow (July 20). The opening of the Bandaranaike International Airport, Katunayake, which was initially scheduled for August 1 and then after the parliamentary election, has now been put off until further notice. All flights including those bringing back returnees have been cancelled.
Dealing out facts and figures, Dr. Jasinghe said that a majority (about 70%) at the Kandakadu centre are infected. But it will not take long for the disease to manifest itself in this group, unlike in the navy cluster, which dragged on, while at the Senapura centre it may take a little while longer.
The Kandakadu cluster encompasses those who are being rehabilitated from substance addiction; the staff and their contacts; and the families who visited the inmates on July 4, the Sunday Times learns.
According to Dr. Jasinghe there are 543 positive cases in this cluster of which only 34 who have gone out (mainly staff) or had close links with these staff members who have gone out are included. These 34 positive cases include 18 from Rajanganaya and this is where there could be a few issues, "ehe-mehe wenna puluwan" because a positive person had gone to a funeral and an alms-giving. No family member who visited the inmates has been diagnosed as positive so far.
When asked how the Kandakadu cluster would have got triggered, he said that the origin of the disease would have been from around 100 substance abusers from Suduwella in Ja-ela and Bandaranayakepura in Keselwatta being sent in batches for rehabilitation to Kandakadu. "Remember their behavioural patterns are different and the virus could spread."
Rejecting allegations that the health authorities were "hiding" the actual numbers, Dr. Jasinghe underscored that there was no community spread of COVID-19 in the country. There may be one or two cases without an 'epidemiological' link (where the origin of the disease could not be traced), but this does not mean that there is community spread. If there is such a spread, more and more numbers should surface. If people are sick they will go to hospitals across the country and if doctors suspect COVID-19 they will order testing and "we will know". There is not a single person in the ICU, so how can facts and figures be hidden?
"Linked to the Kandakadu cluster, 5,000 RT-PCR tests have been conducted so far and it is from them that we were able to identify the 543 positive cases. We have tested a large number of people in Rajanganaya alone and this weekend we will be doing the second round of testing here to net in any who may have been missed out," the DG said.
Reiterating that all family members who visited the centre on July 4 have been tested with not even one of them being positive, the DG said that 120 tests have been performed in Rantembe, 123 in Tantrimale and 101 in Pallekelle which included one staff member. Since some staff members had gone back home to Diyagama (close to Homagama), they had done 201 tests in the area and found eight positive cases.
With a rehabilitation meeting held in Colombo bringing in some staff members from Kandakadu, tests had also been performed on 78 people from Nikawewa and 74 from the Kotugoda church where a staff member had gone, with all bringing forth negative results. With a member of the private Melsta hospital in Ragama visiting Kandakadu for lectures, 69 hospital staff members were tested, all being negative. The results of tests done in Kurunegala are awaited.
On Thursday, Dr. Jasinghe said, 2,406 RT-PCR tests were done in 24 hours from all over the country, with the bulk being at Rajanganaya.These tests included 812 random samples from the community; 476 from quarantine centres; 407 from private laboratories and 44 from the airport.
Call goes out to get tested without fear in Rajanganaya
As the second round of RT-PCR testing was to be carried out next week in Rajanganaya, a request went out from a high-level health official for people not to worry or be scared but to respond voluntarily.

"There is nothing to fear. Come and get tested in the second round and cooperate with our Medical Officers of Health (MOHs) and Public Health Inspectors (PHIs)," said the Provincial Director of Health (North Central Province), Dr. W.M. Palitha Bandara, explaining that people should take health precautions such as hand-hygiene, social distancing and face-mask wearing and gather at the 5th Post pola in Rajanganaya. It is an illness and if a person is ill, he/she will be treated and there is no cause for concern.

Of 815 RT-PCR tests conducted in the first round within five days after a staffer from the Kandakaducentre attended a funeral and alms-giving in Rajanganaya, only 18 are positive. The positive cases include three children, aged 1½ years, 10 years and 12 years.

Some areas in Rajanganaya – Tracts 1, 3 & 5 and 5th Post – have been shut down with around 1,400 in quarantine in their homes.

Unawatuna Railway Station opened

This week also saw the new coronavirus compelling the little Unawatuna railway sub-station coming under the Galle railway station on the southern line to put up its shutters.

The station office was closed and the platforms deserted on July 13 (Monday) after the neighbour of its Station Master who lives in Habaraduwa was tested positive for COVID-19. The neighbour is a staff member from the Kandakaducentre.

While the Station Master is in self-quarantine, the Unawatuna station was disinfected and re-opened on July 15 (Wednesday).
Visits to quarantine centres and  new army hospital in the north 
The Head of the Centre for the Prevention of COVID-19 and Army Commander, Lieutenant General Shavendra Silva paid a visit to the quarantine centres being managed by the tri-forces on Friday to check out their needs while lauding the staff for the good work being done.

He also inspected the newly-built 75-bed Kilinochchi army hospital, the work of which had been handled by the 11 Engineer Services Regiment within four months.