Focus on Kandakadu from where the latest COVID-19 cluster mushroomed
By Kumudini Hettiarachchi, Ruqyyaha Deane & Meleeza Rathnayake
Don't bash our staff, says top rehab official, while detailing measures to contain infections
View(s):
Remote but in a picturesque jungle setting, where flows the Mahaweli and roams wild elephants, just about four kms from the Somawathiya Chaithya is the Kandakadu Drug Treatment & Rehabilitation Centre.
It was from here that the latest cluster of COVID-19 has mushroomed, even though precautions have been taken and now measures are being implemented to contain it.
Before explaining with emotion about the challenging work being carried out by the staff here, the Commissioner-General of Rehabilitation Major-General DharshanaHettiarrachchi points out the measures taken and the possible origin of the disease at this centre which is about 35 kms from Polonnaruwa town, in the district of the same name in the Welikanda area.
As social media went on a bashing-spree of the staff members who have been infected by this disease which is not a respecter of any person, he urged people not to cast aspersions against the staff who are dedicated and have gone beyond the call of duty in attending to their work.
"These staff members are trying very hard to calm the minds of these substance abusers and send them back into society. They work long hours, giving ear to these people about some of whom their families murmur not very pleasant stories – how they snatch the chains off the necks of their own mothers; steal stuff from their grandmothers or create trouble in their own homes when they need cash to buy a fix. These are the people with whom the staff work. They are doing a major service," he said.
The Kandakadu quarantine centre (evacuated of those in quarantine) close to the treatment &rehabilitation centre is now a field hospital accommodating 357, all from the latter, the Sunday Timeslearns.
"Ninety percent of the positive patients here are normal, showing no symptoms of COVID-19. A staff member who tested positive had no fever and was fine, running three kms as part of his training, three days after such testing. Those with co-morbidities who may develop complications have been sent to the Welikanda Hospital and the National Institute of Infectious Diseases (NIID). Army personnel including medical staff are looking after those in the field hospital, with Specialists from the Polonnaruwa Hospital coming in regularly," said Maj. Gen. Hettiarrachchi.
The Sunday Times understands that the inmates at the treatment & rehabilitation centre are between 18 to about 70 years old, with a majority (about 85%) being below 45 years of age. In this group those between 18 to 25 years outnumber the others. They are from all strata of life – impoverished to middle-class to rich families from across the country. Some are well educated having attended popular schools, while others are not so educated from humble schools. Their careers also range from daily labourers to professionals.
Reiterating that the origin of the Kandakadu cluster has not been determined yet, Maj. Gen. Hettiarrachchi says that there are suspicions how it could have been set off. Usually, all inmates at Kandakadu are sent by court for rehabilitation here. In May, however, there was a special programme in and around Colombo to apprehend drug addicts. Twenty-four such people were sent into 14 days of quarantine at the Galkanda centre run by the army and 44 at the Mullaitivu centre run by the Air Force. RT-PCR tests were also performed on them. Thereafter, they were sent to the Kandakadu centre on May 6 and 12 respectively, where they joined those already under rehabilitation, totalling 472.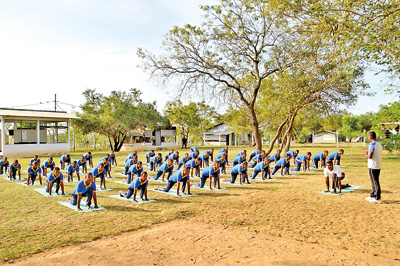 Did the infection originate from there, is the possibility being considered, he said, adding however that there was no unusual illness detected during the 'sick parade' held daily. Doctors from the Polonnaruwa Hospital would come in and check out anyone not feeling well and treat them and they recovered. "There were no unusual or abnormal indications. We even took some of the inmates for surgeries at the Polonnaruwa Hospital."
Maj. Gen. Hettiarrachchi said that with the inmates not being allowed visitors during the lockdown, it was only on July 4 that Kandakadu was opened, with strong adherence to health measures such as social distancing, hand-washing and face-mask wearing. Not a single family member who visited that day has tested positive so far.
The Sunday Times understands that 116 family members visited the centre on July 4 – some parents to see their sons; siblings to see their brothers; and wives and children to see their husbands and fathers.
Who are those in rehabilitation? Sons, siblings, husbands and fathers

Who are those who have fallen victim to substance abuse and are undergoing rehabilitation at Kandakadu?On the threshold of youth, he was just 21 years old when his parents realized that he was not what he used to be when schooling.Living and schooling in a village in Galle, he had passed his Ordinary Level exam well, but was not interested in continuing his studies. It was last year when he took up odd-jobs as a labourer at construction sites that there was a character-change, says his father who was a solider but is now into construction.

The youth's mother is a garment worker and his sisters are studying.

They learnt to their dismay that their loved one was into drugs and he was sent to Kandakadu in January this year. They were happy to see him on July 4 after a lapse of several months. However, a few days after, came the call that even though his son had tested negative, the family needed to go into quarantine at the Rantambe centre for 14 days.

From Wellampitiya comes a similar tale – the son in a family of five who fell into the murky depths of addiction when he was 18. Now 26, he had done one rehabilitation stint, only to succumb again and be sent to Kandakadu for the second time.

His mother and sister were happy when they heard that they could visit him on July 4 and chatted about this and that when they met him. A few days later they were informed that they need to be in quarantine.

We are thankful that putha is not infected, says the mother.

In another family from Gampaha, it is the 52-year-old father who is at Kandakadu.

The man's wife recalls how their lives changed when she realized that something was wrong with him. Shortly after that he could not continue with his job at the bakery and it was from his co-workers that she found out that he was in the vice-like grip of substance abuse.

"Ape lamai dennama cigarette ekakwath bonnehna," says this housewife who has two sons aged 26 and 18. The elder one is a driver who is married with a little one-year-old daughter and the younger is due to start Advanced Level classes soon.

It is with a sigh that she says that her husband was never arrested but she reported him and got him sent for rehabilitation as she did not want the sons to feel embarrassed about their father.

"I took up the challenge to make him a better person, even though it was very hard," she says.

She visited him on July 4 which was poya. After a few days she got a call that she should be in quarantine and since July 11 she has been at the Rantambe centre. Her husband has tested negative but she was awaiting the results of the RT-PCR test when the Sunday Times contacted her.

Meanwhile, we hear the heartrending tale of a new bride who kept watching the door for her husband…….but he did not return from a visit to his parents' home on February 17.

Her 33-year-old husband was a driver from Hambantota. She was 30. They married in January and set up home in the Maharagama area, while she too found herself a job in a shop. He had been arrested on February 22 and sent to Kandakadu on March 15 for one year.

"My husband's family was against our marriage. Even though he took drugs, he was not an addict but a family-oriented person. His mother is a cleaner and his father has no job. His four elder sisters who are married never help their parents but my husband was doing so through his earnings," said the bride who had such hopes for the future.

She is insistent that his family handed him over to the police because of their grudge that he had married her.

Tearfully, she visited him at Kandakadu on July 4, travelling all the way from home to chat to him and get a glimpse of his beloved face. On July 9, she was asked to get into self-quarantine. Her husband was negative for the virus.