Committee set up to separate protected areas and bare lands
By Tharushi Weerasinghe
As controversy rages over proposed revocation of forest circular, experts team begin identifying bare lands; Lands Commissioner General says circular will be revoked step-by-step
View(s):
A committee has been set up to segregate lands into protected areas and bare lands, as the controversy over the proposed revocation of Circular 5/2001–which brought unregulated State land under the Forest Department's protection–continued into another week.
The team will first identify special forest areas, catchment areas, elephant corridors and other similar lands and bring them under relevant protections, said R M C M Herath, Land Commissioner General. She insisted that the move will benefit Sri Lanka's ecological reserves as it will lead to the official designation of any and all forest lands.
"It is no secret that even the gazetted areas aren't receiving the protection they need," she said. "With this, we will introduce a better system."
There has been raging controversy about a Cabinet decision to revoke Circular 5/2001 which brought "residual forest/other forests" under the purview of the Forest Department. This would result in those forests being under the full control of District and Divisional Secretaries.
The circular came after a previous one issued by the Land Commissioner's Department (2000/3) that described conditions under which Pradeshiya Sabha Secretaries could release lands belonging to the State for development. Environmentalists say it was a result of "mismanagement" and meant to control the unlawful release of land by officials which was problematic at the time.
Ms Herath felt the ongoing controversy was hinged on the term "residual forests". "Environmentalists are of the view that the term undervalues the ecosystems that are in the crosshairs," she said. "The authorities are dealing with backlash because people are assuming we are planning on cutting down forests."
But the circular will not be revoked immediately, she insisted. It will happen step by step. The Forest Department, the Wildlife Conservation Department, the Land Commissioner's Department, the Land Policy and Planning Department, the Land Survey Department, the Land Reforms Commission and other relevant authorities will together consider the best way forward.
This team had its second meeting on Friday with the aim of segregating lands. Any bare land left over from the initial identification phase will be used for development. "This way, we can create a balance to take care of both our natural resources and our people," Mrs Herath said.
Those who support the revocation argue that more land is needed for agriculture. But environmentalists counter that provisions to release such land–Circular 6/2006–are already available. They have contested the Cabinet decision on many fronts.
Prevailing legislation is more than feasible and practical, said Hemantha Withanage, Executive Director of the Centre for Environmental Justice (CEJ). "Circular 6/2006 allows for land to be freed for development," he said. "First, the Pradeshiya Sabha Secretary forms a committee of relevant authorities, environment impact assessments are done and the land then released."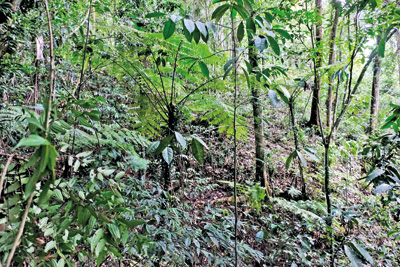 The only difference now is that the Secretaries no longer have sole discretionary power–and just as well, environmentalists say. Revoking the circular under the guise of releasing land for agricultural use will only lead to serious exploitation of biodiversity hotspots, catchment areas and elephant corridors that have not yet been gazetted as protected areas, Mr Withanage warned.
The plan is a political ploy that will not benefit farming communities in any way, he said. The Forest Department places Sri Lanka's forest cover at 29 percent. But this includes pine, teak and eucalyptus plantations as well as Land Reform Commission (LRC) properties.
"Only about 16 percent of our forest cover is made up of real forests," he said. Government officials have many times attempted to distribute vital forest areas for illegal purposes.
"Places like 'Nilgala' and the 'Piduruthalagala apple farms' are still getting exploited even with regulations," he pointed out. "What will happen when the only law protecting these forests is removed?"
The need for more agricultural land is a fallacy, he insisted. The country has no shortage of farming lands. "It doesn't take a genius to see there is so much that is fit for farming that is not being used properly," he said.
The majority of farmers no long engaged in chena cultivation because it wasn't profitable. "They have no transport systems, storage or sales," Mr Withanage said. "What's the point giving them more land with no systems to deal with the harvest? What we lack isn't land. We lack infrastructure."
Circular 5/2001 grants protection to 694,000 hectares that include important forests that are not gazetted because, he said, the Forest Department and Wildlife Department failed to act during the last two decades. Sixteen elephant corridors are in danger of exploitation.