Spy in town
View(s):

2020 Hollywood action comedy 'My Spy' directed by Peter Segal starring Dave Bautista, Chloe Coleman, Kristen Schaal, Parisa Fitz-Henley and Ken Jeong is now being screened in theatres around Colombo.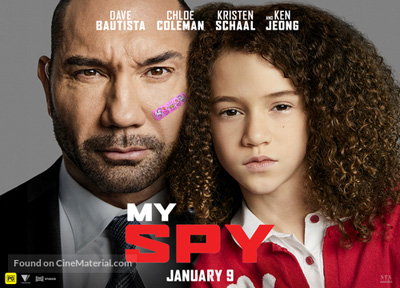 The film revolves around a hardened CIA operative who finds himself at the mercy of a precocious 9-year-old girl who was sent undercover to surveil her family.
JJ is a former US Special Forces soldier newly hired as a CIA operative. However, JJ's lack of subtlety causes him to blow his first major mission: Busting an illegal weapons-grade plutonium trade between the Russian mafia and Hassan, a Middle East terrorist.
Despite this, his boss David Kim assigns him and tech operator Bobbi, who hero-worships JJ, to keep an eye on the in-law-family of Victor Marquez, a French illegal arms dealer who has obtained construction plans for a miniaturized nuclear bomb which he intends to sell to Hassan. Victor lost these plans to his brother David, who hid them before he was murdered by Victor himself; Kim suspects that the plans may be in the possession of David's American wife Kate and their 9-year-old 4th grade daughter Sophie, who moved from France back to Wicker Park, Chicago, after David's demise.
JJ and Bobbi move into the building where Kate and Sophie live, and set up their surveillance. However, Sophie soon finds one of their hidden cameras-(that was disguised as a toy ball), backtracks its signal and stumbles upon the operation post. Confronting JJ and Bobbi, she blackmails JJ into keeping her company while she tries to fit into an American kid's life and make some new friends at her school Oaktree Charter School.
The film was first released in January but due to the COVID-19 pandemic having shut down theatres worldwide in April the distribution rights for the film were purchased by Amazon Studios. 'My Spy' was released digitally on Prime Video and in some theatres in the United Stated in June. With the opening of theatres after lockdown, 'My Spy' was released in a number of theatres around Colombo.